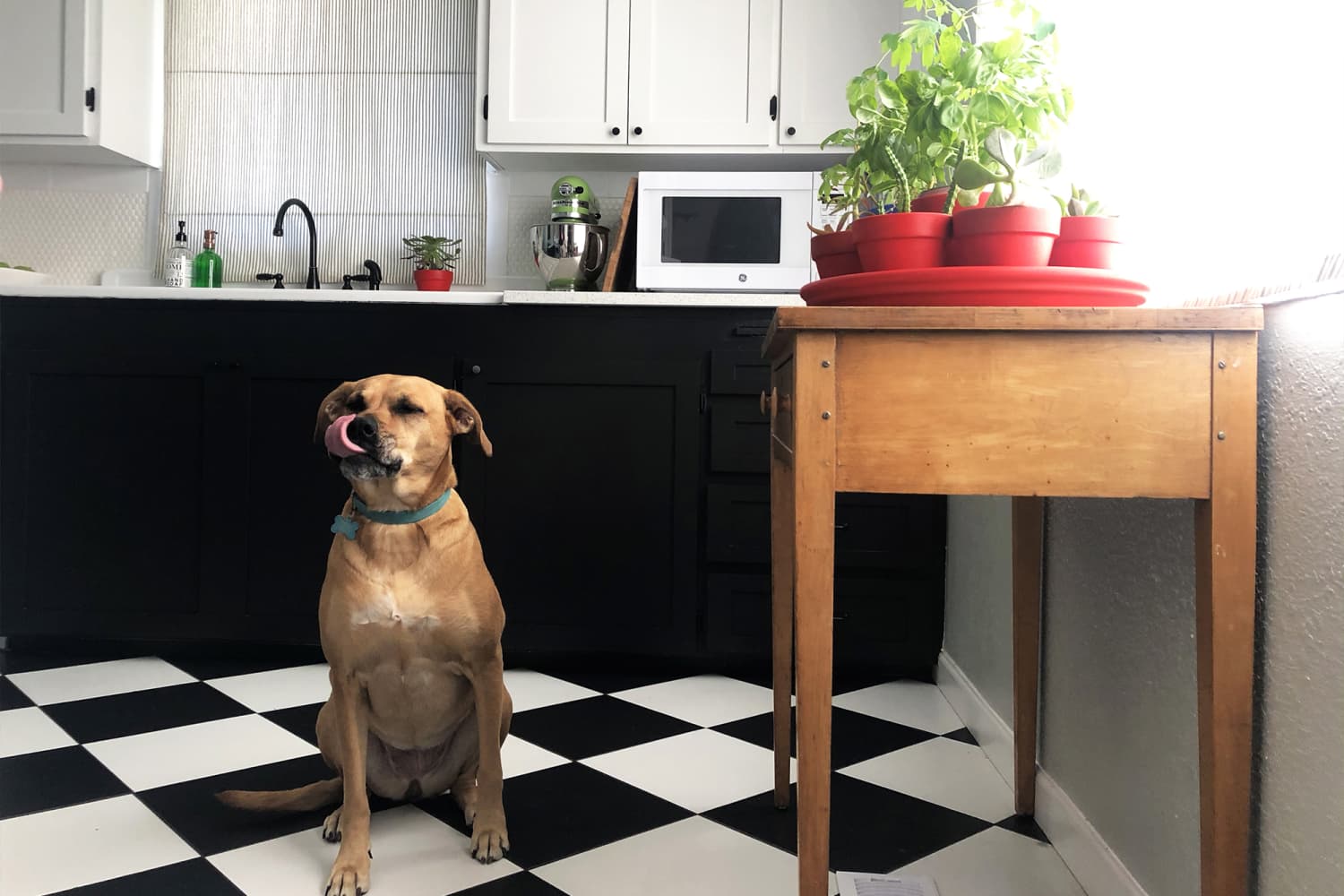 We independently select these products—if you buy from one of our links, we may earn a commission.
Name: Adriana Vawdrey, husband Cal, two kids, and Boloney the dog
Location: Salt Lake City, Utah
Type of home: House
Size: 950 square feet
Years lived in: 8.5 years, owned (We just sold it!)
Tell us a little (or a lot) about your home and the people who live there: I work as an illustrator, and we have two young daughters, so "art mom" feels like a good title. Telling stories is a favorite part of my mom/work life. Over the eight and a half years we lived here, our little 1950s bungalow evolved and grew to reflect our own family story and interests. Our home's aesthetic was inspired by childhood memories, experiences in nature, travel, heritage, and history. Nothing matched perfectly because we like variety. There was also a strong love of clean lines, high contrast, and giant art or busy patterns in small spaces.
The house itself was an experiment — kind of a living sketchbook. It was the place we lived but also a place to try out new ideas. It doubled as a controlled studio space and gallery from the day we moved in. I used it as a workspace for years … painting large canvases and scrolls hung on blank walls or rolled out across the living room floor while the kids were napping or at school. Many unfinished personal pieces lived on the walls (and floors) where I added to them slowly. The largest painting I've ever made used to live on our younger daughter's floor. It was another experiment — a 9-by-12-foot canvas drop cloth "rug" I painted with acrylic. It is still not 100 percent finished because I am a perfectionist about clean lines … but I like to live around the larger pieces and add to them a little whenever there is time. Also peppered throughout the house were smaller portraits I drew of beloved relatives, paintings of favorite vacation spots, and colorful mid-century fiber art made by my great-grandmother.
The biggest struggle about living in this home for so long was space, but that limitation was also a blessing. The creative challenge of making it function well for us was so rewarding in a lot of ways. I'm actually really proud of our space efficiency, and I think it prepared us to live more simply in our new home. We truly enjoyed reimagining this last home to serve our family and lifestyle.
What is your favorite room and why? I didn't have a favorite room, but I loved spending time in the kitchen because it was so bright, open, and the main place the kids and I liked to get creative together. I also loved our primary bathroom. A few years ago, we transformed the laundry room into a second bathroom, which literally transformed our lives! Not exaggerating. I was so glad we did this. We opened the wall from the old laundry room to our bedroom, closed the original entrance, hired some help with plumbing and tile, then put a stackable washer and dryer in the bathroom. It worked perfectly for us!
Describe your home's style in 5 words or less: Playful, maximally minimalist, moody kaleidoscope
What's the last thing you bought (or found!) for your home? I recently bought some awesome wooden hanging poster frames from Gift Day Studio on Etsy. I LOVE them. I like the flexibility to switch out prints in our living spaces occasionally, and these magnetic frames make it so easy! I love that they let the artwork be the star, but add a clean, schoolhouse-y finishing touch.
Any advice for creating a home you love? We are getting ready to start over in a new space, so I'm advising myself, too. My advice is to take your time. Experiment with colors and textures that make you and your housemates feel good. Be thoughtful about the things you bring in, and use design to honor stories that matter to you. Don't be afraid to break the "rules" and do something different if current decor trends are not interesting to you or compatible with your lifestyle.
This submission's responses and photos were edited for length/size and clarity.