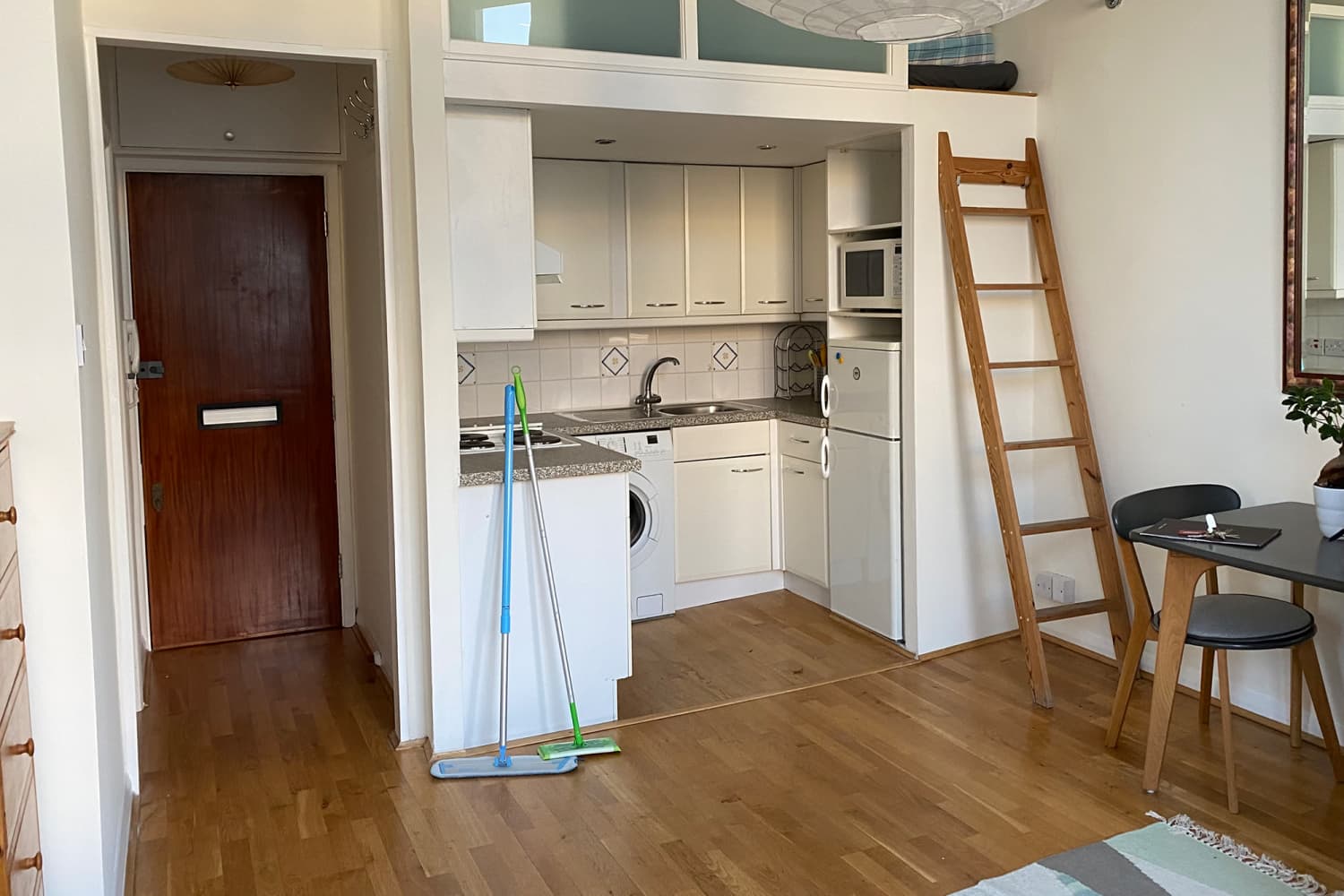 We independently select these products—if you buy from one of our links, we may earn a commission.
Name: Rosie
Location: London, UK
Size: 390 Square foot
Type of Home: One-bedroom apartment
Years lived in: 1 year, renting
Though my apartment has a small square footage (390 square feet), its super high ceilings, beautiful bay window, and mezzanine space make it feel full of grandeur and natural light, even in murky London weather. I adore my apartment's character and classic Victorian features; they accentuate all my vintage decor, of which there is now quite a collection! I love antiques, colour and art, and have filled my apartment with all sorts of interesting objects and pieces I've collected from all over.
As a creative, I feel that it's important for my space to be inspiring, lively, and to fuel me with artistic energy and positivity to take out into the world. I love creating art, reading, journaling, relaxing, and running my Etsy business from my apartment — it really is a multifaceted space. As a proud gay woman I also have queer art speckled throughout my flat. Queer culture is so full of vibrancy and I love having art I can look at every day and say, I back myself.
Notting Hill is a fantastic neighbourhood, abundant with rows of brightly coloured houses, independent shops and Portobello Road Market which is just a stone's throw away! Finding antiquities and old gems amongst the throngs of sellers at the market is one of my favourite things to do. In addition, I can hear the chiming of church bells each hour from this apartment. The ringing is definitely an unexpected charm of living in this space and absolutely keeps me on time…and awake.
Apartment Therapy Survey:
My Style: Eclectic. Playful. Vibrant. Maximalist. VINTAGE — I'm always channeling a 1950s advertising design aesthetic. I love the bold colour palettes and am inspired by the specific signage and kitschy vibe from this time.
Inspiration: My gorgeous neighbourhood! I love wandering through the characterful vintage markets, cobbled mews, and colourful houses, peeking into beautiful home interiors… of which there are many. Going to antique markets always provides me with fresh ideas as well as my extremely curated Instagram feed, which predominately consists of interiors and art!
Favorite Element: I'd have to say my gallery wall. My landlord wasn't thrilled at the idea of me painting the walls so I had to think up another approach to fill such a tall, empty space. I loved the idea of exhibiting all my art and posters in an eclectic way. Each piece has its own story: artwork that I made myself, antique posters found at markets, magazine cuttings that inspire me, one of my dad's own childhood drawings of Beethoven, and a huge 1950s butcher's sign uncovered during a shop renovation. Everything feels meaningful and carefully selected. Some pieces are framed, some are taped, some just float happily up there — I like the variation this brings to the wall.
Biggest Challenge: I think working with the vertical space has definitely been challenging as I am rather small in stature! Even with a ladder some of the cupboards in my bedroom are pretty hard to reach so I've needed to utilise storage much closer to the ground without clogging up the apartment floor. I have a large, vintage, chocolate-themed cabinet that holds a lot, including most of my Etsy supplies and WIFI unit. It acts as both decor and a really accessible storage unit!
Proudest DIY: My retro kitchen was a big labour of love. I created a diner-inspired, checkered backsplash with blue vinyl stickers, which made this small space pop with colour and have its own personality. I also wanted to jazz up the shelving above my countertops so I unscrewed and removed the cabinet doors, creating room for a fun, quirky display. It completely brightens up the kitchen! I also unscrewed all the handles and replaced them with some cheap red versions — for such a small change it makes a big difference.
Biggest Indulgence: Probably my vivid orange floor lamp, which sits next to my sofa. I bought it from notonthehighstreet.com for £190. It was a splurge but adds so much to the space and really is a piece in itself. I love the springs, the bright blue cord, and the Pixar energy it radiates. I also pretty much never turn on my main lighting fixtures — I am all about atmospheric lighting so I have this lamp on constantly.
Is there something unique about your home or the way you use it? It was such a dream come true to find a space that had a mezzanine. I love having a quirky nook tucked away above the kitchen. I go up there to read, relax, and think — having the whole apartment below to look over. It also acts as a second sleeping area and my friends often stay up there when they visit.
What are your favorite products you have bought for your home and why? An element of my home that I adore, and love visitors unearthing, is the sheer array of 'tinies' all around. By my kitchen, for example, I have a wall of very small cocoa tins from the early 1900s which, displayed together, form a lovely little collection. There are vintage milk bottles, postcards, and all sorts of other small items scattered about. I love the detail these knick-knacks bring to the apartment — they take a little more looking to spot but add so much flavour.
Please describe any helpful, inspiring, brilliant, or just plain useful small space maximizing and/or organizing tips you have: For me it's containing things and making sure belongings stay out of sight as much as possible. Keeping items separated in containers / bins / baskets within cupboards and drawers is a smarter use of storage space and ensures organisation both practically and mentally. Relaxation, for me, comes with a clean space.
Finally, what's your absolute best home secret or decorating advice? I think not rushing decor is key. I really enjoyed the process of finding and curating pieces for the apartment over time as I got to know the space. As much as it can be tempting to fill everything up immediately, it leaves you with nowhere to go — quite a few of my ideas came later and I'm glad I waited for those lightbulb moments.
This house tour's responses were edited for length and clarity.