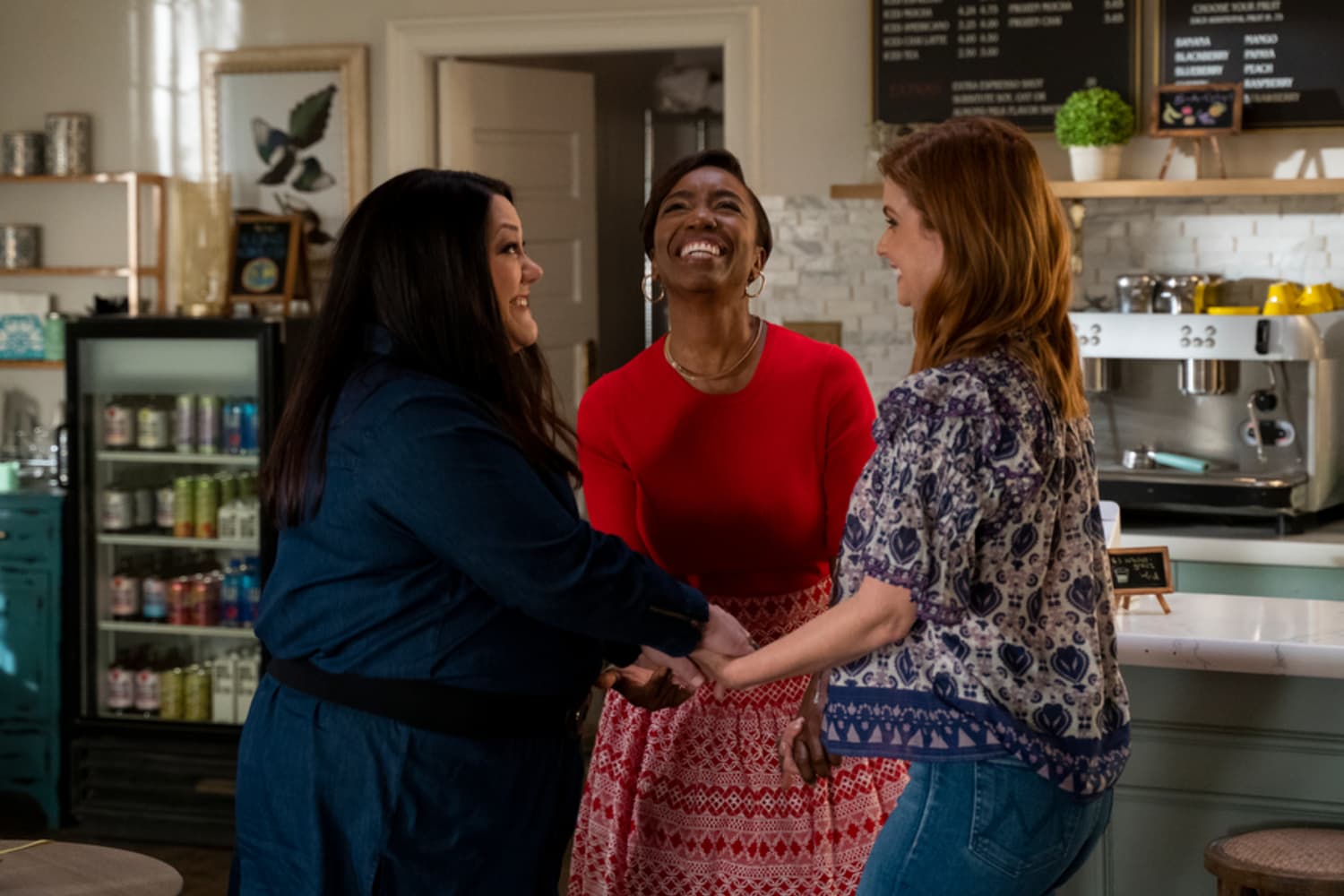 We independently select these products—if you buy from one of our links, we may earn a commission.
If you've already binged all of "Sweet Magnolias" season two, which premiered Feb. 4 on Netflix, you might be craving a few more shows that share similarities. While no one can replace the sweet magnolias themselves — Maddie (JoAnna Garcia Swisher), Helen (Heather Headley), and Dana Sue (Brooke Elliot) have a truly enviable friendship — you have lots of option when it comes to shows with small town hospitality, a good mix of family drama, and of course, romance.
If you love "Sweet Magnolias," the six shows below should easily find a place in your heart — or, at least, your streaming queue.
Like "Sweet Magnolias," Netflix's "Virgin River" is also based on a series of romance novels (written by Robin Carr) and takes place in a small town full of quirky citizens. "Virgin River" follows nurse practitioner and midwife Mel Monroe (Alexandra Breckinridge) as she takes a job in a small Northern California town while processing a profound loss. In the town of Virgin River, she finds healing, lots of drama, and an extremely handsome bar owner by the name of Jack Sheridan (Martin Henderson). I think you can guess where this goes.
Available to watch on Netflix
Bluebell, Alabama isn't exactly Serenity, South Carolina, but the small town at the center of "Hart of Dixie" has all the romance and weird town traditions you could want. You'll meet Dr. Zoe Hart (Rachel Bilson), who moves down south from New York City to take over her long-lost father's practice and gets into trouble (the fun type), falls in love, and wears fancy shorts along the way. If you enjoy love triangles (so many love triangles), this is the show for you.
Available to watch on Amazon Prime Video
Speaking of romance, this CW dramedy — which kicks off with heroine Jane Villanueva (Gina Rodriguez) getting accidentally artificially inseminated — is full of it. It's also full of smart writing, magical realism, knockout performances, and clever parodies of various TV genres, including the telenovela. The three women at the center of the story — Jane, her mother Xiomara (Andrea Navedo), and her abuela Alba (Ivonne Coll) — will make you laugh, make you cry, and will definitely make you wish you had a porch swing for heartfelt conversations.
Available to watch on Netflix
If you like the family vibe of "Sweet Magnolias," give the stellar but often overlooked family drama "The Fosters" a try, which ran on ABC Family and then Freeform from 2013 until 2018, The series tells the story of the Fosters, led by matriarchs Lena (Sherri Saum) and Stef (Teri Polo) Adams Foster, who are just trying to get their brood of five — a mix of biological, adopted, and foster-to-adopted kids — through high school. The show is poignant and heartwarming and takes just as much care with its adult storylines as it does its teen ones. Watch for a healthy mix of drama and heart to hearts.
Available to watch on Hulu and Amazon Prime Video
Adapted from Lucy Maud Montgomery's classic novel, "Anne of Green Gables," "Anne with an E" tells the story of the bright, orphaned 13-year-old Anne Shirley (Amybeth McNulty) taken in by a brother and sister who own a farm in a small Canadian town. Its three seasons offer a wholesome series that is true to its source material while still being able to go deeper and darker to adapt it for a modern audience.
Available to watch on Netflix
Kevin (Probably) Saves the World
If you're a fan of JoAnna Garcia Swisher, she's great in this gone-too-soon ABC dramedy from 2017. She plays Amy, the twin sister of the titular Kevin, who is played by Jason Ritter. Kevin moves in with Amy and her daughter after he survives a suicide attempt, and shortly after, he's visited by an angel-like being named Yvette (Kimberly Hebert Gregory). She tells him that he's been tasked with saving the world and he has to perform good deeds in order to do so. Is the concept wild? Definitely. Do the performances make it easy to fully buy in? Absolutely.
Available to watch on Amazon Prime Video