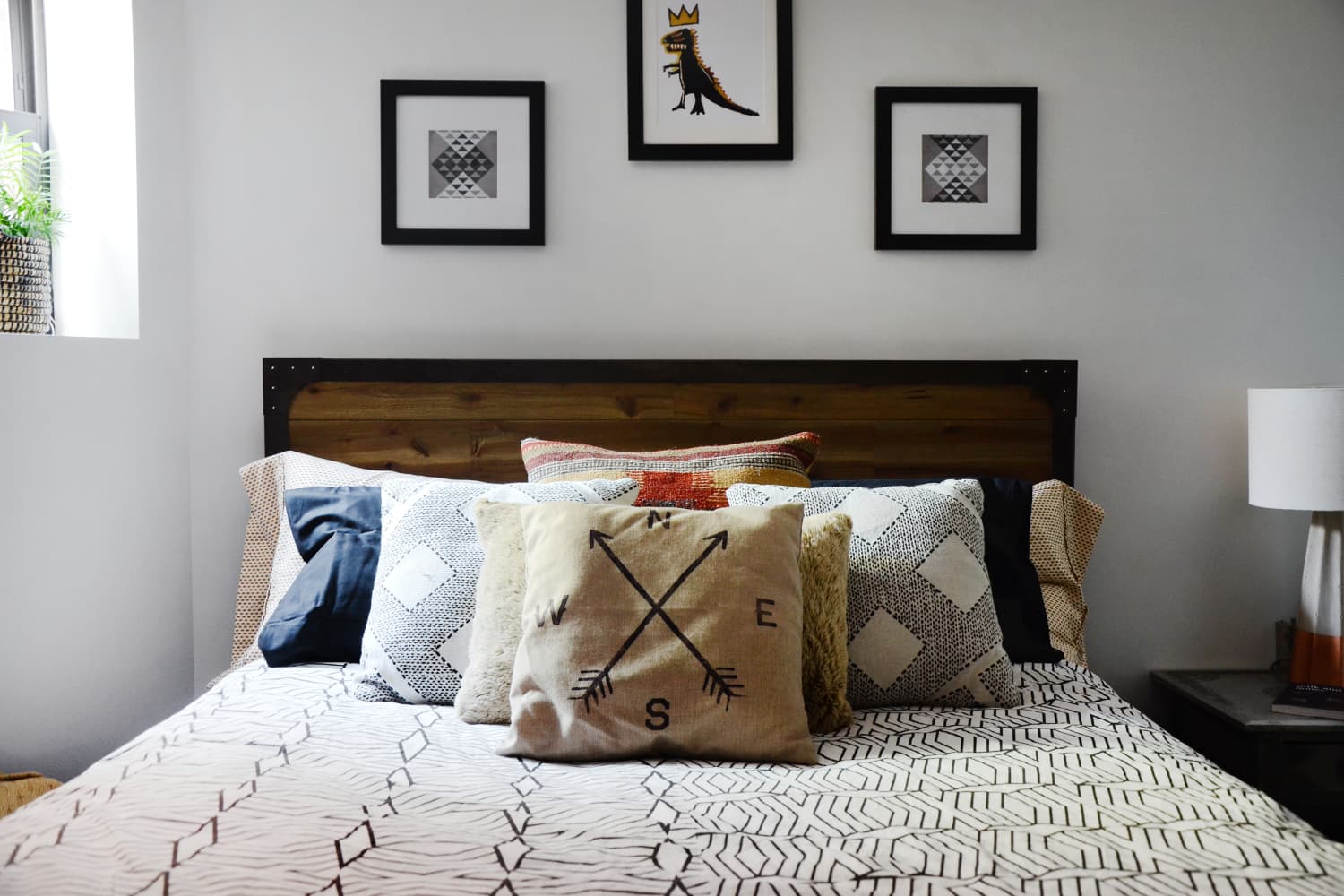 We independently select these products—if you buy from one of our links, we may earn a commission.
I don't know about you, but I feel like the biggest transition into adulthood came for me when I finally stopped letting my mattress float on a rogue metal bed frame and got myself a real bed. Apart from your sofa, your bed is the piece of furniture you'll probably spend the most money on in your home — and the most time. Studies show we spend one-third of our lifetimes sleeping (or attempting to do so), so having the right place to lay your head down at the end of the day is a must. But where to begin shopping for one? From affordable favorites like Walmart and AllModern to luxury retailers like West Elm and Pottery Barn, the options can seem endless — which is why we rounded up our favorite picks to make things a bit easier on you. Whether your style is boho, Mid-century, or anything in between, read on for the 10 best places to buy a bed — whatever your budget.
Note: All prices listed are for Full/Queen size.
For an affordable bed that's still stylish and durable, check out the selection over at AllModern. You can shop by size, box spring requirements, design, material, and price to find the perfect piece for your space. This upholstered option— available in seven colors — will serve as a show-stopping centerpiece in your bedroom.
You already love West Elm for their sofas, but don't overlook their bed selection. From upholstered options to wooden frames, they've got a nice range of styles that are totally worth the investment. For a classic bed that will fit with a Scandi or Mid-century vibe, check out the Wright Bed. The slight angle of the headboard makes it perfect for reading or watching TV, and the gorgeous wood finish is sure to elevate your space.
For a one-of-a-kind upholstered bed, The Inside is the place to shop. Customize by fabric pattern, material, and bed shape to create the upholstered bed of your dreams, like this Art Deco Bed in Henna Cheetah by Scalamandré. The timeless shape of the frame paired with the contemporary cheetah fabric will add a vibrant pop to your room — and if you don't love this pattern, there are over 100 other options to choose from.
For sustainable designs that make a statement, keep an eye on Floyd — in particular, their iconic Bed. A sleek platform bed made of solid wood, The Bed takes no tools to assemble and is modular in design, making it perfect for apartment dwellers. It's also totally customizable, with options to leave off the headboard or add under-bed storage.
You can always count on Urban Outfitters to deliver all the boho vibes, and their bed designs are no different. From rattan to velvet, UO's diverse array of materials makes for an eclectic collection of beds. For the ultimate boho oasis, you'll love this rattan bed, made from natural wood. Add some greenery to your space, and you'll have the perfect escape.
If you're overwhelmed by options, look no further than Thuma, the thoughtfully designed millennial bed. Their iconic platform bed, appropriately named "The Bed," is designed and crafted to elevate every bedroom, with cushion-covered slats and a walnut frame. The simple design is perfect for a minimalist look — and even better, it's easy to set up.
From traditional styles to clever space-saving storage beds, Pottery Barn's bed selection has just about every style you can think of. Filter by size, type, features, material, and even eco-friendliness to find the exact bed for you. If your vibe is rustic, check out this sleek farmhouse bed, which is available in four classic finishes.
If you're looking for a gorgeous investment piece, check out the beds at Horne. Their ultra-modern designs come in a variety of materials and will make a statement in any bedroom. If you're short on space, this platform bed with clever storage solutions is for you. With eight large rolling drawers, your bed can double as a dresser and your nighttime oasis.
A somewhat under-the-radar choice, One Kings Lane has a surprisingly large selection of beds. You can shop by type, price, color, brand, and size to find exactly what you're looking for — from sleigh beds and canopy beds to bunk beds. With its dark fabric and striking lines, this linen wingback option is stunning. Pair it with crisp white bedding and you'll have a simple, sophisticated bedroom look.
Sarah M. Vazquez also contributed to reporting.