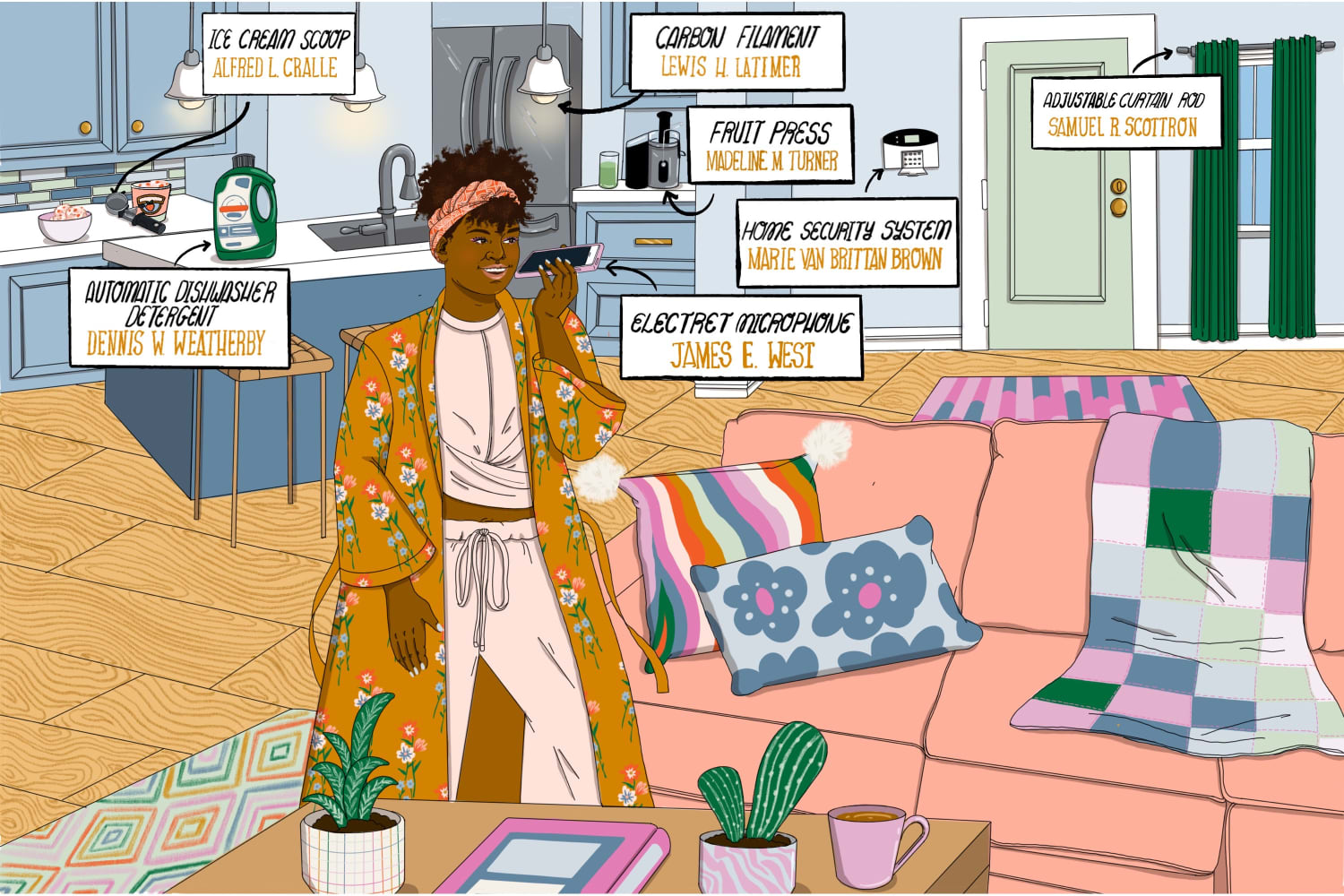 Thomas Edison may have invented the light bulb, but Lewis H. Latimer made it better. The Murphy Bed may be the most popular name for a folding bed, but Sarah E. Goode was its pioneer. And you might be grateful for Google Nest's home security features, but Marie Van Brittan Brown thought of them first.
The contributions of African American inventors are why modern homes are as comfortable, functional, and as secure as they are today. But they haven't always gotten the credit or recognition they deserve. A Black man is to thank for that perfect scoop of ice cream; a Black woman is the reason why your home is warm through the winter. The talent, innovation, skill, and foresight of these gifted minds persevered, even when the damaging limits of abject racism tried to stand in their way.
It was illegal for enslaved Black inventors to obtain patents because they were considered property — not American citizens — and laws prevented them from applying for them. And even when slavery was abolished, Black American inventors still faced the uphill battles of racism, misogynoir, and legal barriers that at times hindered and, in some cases, prevented them from reaping the financial benefits of their inventions. But none of this stopped the free-thinking minds of Black people from expressing the gifts that came to them through hard work and natural talent.
In honor of Black History Month — and all-around Black excellence — here are 14 home essentials used every day that were invented by African Americans.
1. Ironing Board, Improvements (1874; 1892): Elijah McCoy; Sarah Boone
U.S. Patent No. 150,876: Ironing Tables; U.S. Patent No. 473,653: Ironing Board
As simple and as straightforward as ironing seems today, the practice used to be much more cumbersome. Ironing in much of the 19th century was typically done on a smooth wooden plank across two chairs. But when Michigan-based mechanical and locomotive engineer Elijah McCoy's wife desired to have a more convenient way to iron, McCoy came up with an improvement to the already-existing ironing board that made it foldable and easier to store. McCoy was granted U.S. Patent No. 150,876 for his ironing board improvement in May 1874.
Eighteen years later, another notable improvement to the ironing board was made by Sarah Boone. Boone, a dressmaker who was born into slavery in 1832 North Carolina but later lived as a free woman in New Haven, Connecticut, realized the limits of current ironing boards and sought to provide an easier way to iron the sleeves and curved-waist seams on dresses. So in 1892, Boone invented an improved ironing board that was narrow and curved enough to easily press garments for men and women, and she was granted U.S. Patent No. 473,653 in 1892.
2. Home Security System (1969): Marie Van Brittan Brown
U.S. Patent No. 3,482,037: Home Security System Utilizing Television Surveillance
Think about how easy it is to use your smartphone camera to see what your cat is doing or lock your door with the press of a button. It's largely thanks to a woman named Marie Van Brittan Brown, who paved the way for this technology with her 1960s invention of the home security system.
Brown, who worked late hours as a nurse, wanted to feel safer when her husband was working and she would be alone in their Jamaica, Queens, home in New York. With her husband's help, Brown pioneered a home security system that allowed her to see who was at the front door without having to open it. The invention consisted of a radio-controlled wireless system to stream the video surveillance on any TV, a two-way microphone and intercom system, and an emergency panic button that would call the police or security, among other things. Brown was granted a patent for her home security system in Dec. 1969.
3. Central Heating System (1919): Alice H. Parker
U.S. Patent No. 1,325,905: Heating Furnace
If you've ever survived a northeast winter in the U.S., then you know that having heat throughout your home is very important. If the thought of cold weather has you reaching for the thermostat, you have Alice H. Parker to thank. A native of Morristown, New Jersey, Parker was tired of freezing in the winter due to the lack of heat distribution from a fireplace. To combat the harsh Northeast winters, Parker invented a natural gas-powered furnace that would evenly distribute heat throughout the house. What's more, she also came up with special air ducts that could be individually controlled from each room.
Parker was granted U.S. Patent No. 1,325,905 in Dec. 1919, and her innovative design was a precursor to modern heating, thermostats, and the cozy warm settings you use for your perfect hygge winter.
4. Foil Electret Microphone (1964): James E. West
U.S. Patent No. 3,118,022: Electroacoustic Transducer
In the last couple of years, you might have watched videos of the latest TikTok dance or tutorials on how to make sourdough bread. And that's all largely possible thanks to a small but important sound-capturing feature in cell phones invented by James E. West. A prolific African American inventor and acoustician who holds over 250 patents, West started his career at Bell Laboratories where he invented the foil electret microphone alongside his business partner, Gerhard M. Sessler, in 1962. They were granted U.S. Patent No. 3,118,022 in Jan. 1964, and almost 60 years later, that invention now exists in more than 90 percent of all microphones produced for cell phones, hearing aids, baby monitors, and video cameras.
At 90 years old, West is a professor at Johns Hopkins University and has been a staunch advocate of the advancement of women and underrepresented minority groups in STEM fields throughout his career. As the son of Matilda West, one of NASA's Hidden Figures, West knows first-hand the damaging effects of racism after seeing his mother fired from her job as a human computer at Langley Research Center due to her involvement and support of the NAACP. Despite the racism West said he has faced in his life and professional work, it never deterred him from pursuing his talents and abilities to the fullest and helping others like him along the way.
5. Carbon Filament (1882): Lewis H. Latimer
6. Toilet Paper Holder, Improvement (1982): Mary Beatrice Davidson Kenner
U.S. Patent No. 4,354,643: Bathroom Tissue Holder

In the early 1900s, Mary Beatrice Davidson Kenner grew up surrounded by inventive thinkers — her grandfather created a tricolor light signal for trains, her father patented a clothing presser that fit inside a suitcase — which contributed to Kenner's interest in coming up with creative solutions to everyday problems. Kenner invented many things throughout her lifetime, but one that has influenced today's home is her improved toilet paper holder, which made the item much more accessible by retaining the loose ends of the roll.
"The free end of a toilet paper roll frequently becomes difficult to grasp when it is disposed in surface-to-surface contact with the periphery of the remainder of the paper roll," she wrote in her patent's description. "This is especially difficult to individuals whose fingers have reduced dexterity capabilities."
And that's far from the only accessibility-improving invention she came up with. Kenner filed four other patents in her lifetime, including a type of walker that could help her sister who suffered from Multiple Sclerosis and a precursor to women's menstrual pads. The racism Kenner experienced kept her from profiting off her inventions, but she continues to be an example of a Black inventor who persevered in the face of adversity.
7. Automatic Dishwasher Detergent (1987): Dennis W. Weatherby
U.S. Patent No. 4,714,562: Automatic Dishwasher Detergent Composition
Dennis W. Weatherby created an automatic dishwasher detergent in the '80s that changed the dishwashing game forever — and it's another invention that boggles the mind as to how much has happened in the last 50 years.
Born in Dec. 1959 in Alabama, Weatherby studied chemistry and chemical engineering in his academic career and eventually got a job at Procter & Gamble, where he worked as a process engineer. At the time, dishwashing solutions contained dyes and pigments used in bleach-based solutions that stained dishes and the interiors of dishwashers. To combat this unwanted effect, Weatherby — along with fellow inventor Brian J. Roselle — invented a solution that could be used in products containing bleach and gave it a scented, lemon-yellow color that wouldn't stain dishes. It's now widely known as Cascade.
Weatherby and Roselle were granted U.S. Patent No. 4,714,562 in Dec. 1987. Today, the dishwashing solution serves as the basic formula behind all lemon-scented cleaning products containing bleach.
8. Folding Cabinet Bed (1885): Sarah E. Goode
U.S. Patent No. 322,177: Cabinet Bed
Raise your hand if you live in a tiny (but charming!) apartment where every inch of free space counts. Back in the 1800s, Sarah E. Goode pioneered efforts to make those small apartments more livable. Goode owned a furniture store in Chicago where she lived with her husband Archie, a carpenter. After hearing complaints from tenement residents about how they couldn't fit furniture in their small spaces, including a bed, Goode came up with a solution: the folding cabinet bed.
Goode's bed folded up into a rolltop desk when not in use, saving space, providing a functional desk, and creating additional storage. Goode received the patent for her cabinet bed in July 1885, becoming one of the first Black women to receive a U.S. patent. Her invention was a precursor to the Murphy Bed, which was patented in 1908.
9. Portable Pencil Sharpener, Improvement (1897): John Lee Love
U.S. Patent No. 594,114: Pencil Sharpener
Not much is known about John Lee Love's early life, but he lived in Fall River, Massachusetts, where he worked as a carpenter throughout his adult life. It was there that he came up with a few handy inventions, including the portable pencil sharpener that he called "Love Sharpener." The simple design used a hand crank to sharpen a pencil, and it would also collect shavings inside a compartment. But the functionality didn't stop there: the portable pencil sharpener could also double as a paperweight or desk ornament.
Love was granted a patent for his "Love Sharpener" in Nov. 1897, and his influence can still be seen in modern designs that sharpen pencils in homes and classrooms.
10. Adjustable Curtain Rod, Improvement (1892): Samuel R. Scottron
Samuel R. Scottron — a Brooklynite inventor of the late 1800s who was actively involved in politics and anti-slavery activism — was granted several patents in his lifetime, but among the most notable was his improvement of the curtain rod. In his 1892 patent description (U.S. Patent No. 481,720), Scottron introduced a fastening and adjusting device for the ends of curtain rods that were made to be "quickly and conveniently detached from the window whenever desired." In other words, Scottron made it possible to hang curtains in any window in a safe, quick, and affordable way.
11. Ice Cream Scoop, Improvement (1897): Alfred L. Cralle
U.S. Patent No. 576,395: Ice Cream Mold and Disher
Sometimes the best things in life come in small packages — and in Alfred L. Cralle's case, small scoops of ice cream. Cralle was working in Pittsburgh as a drugstore and hotel porter in the late 1800s when he first noticed a problem with scooping ice cream. Servers were struggling to get ice cream off spoons used to scoop servings for customers, at times using both hands to dislodge the frozen treat from the spoon. So, Cralle thought of a way to improve the process: he designed a scooping device with a built-in scraper that could be operated with one hand while preventing ice cream and other foods from getting stuck in it.
He received his patent for the ice cream scoop, or what was officially called the "Ice Cream Mold and Disher," in Feb. 1897. Cralle's ice cream scoop is the same functional design that's used in ice cream scoops today.
12. Mechanical Egg Beater, Improvement (1884): Willis Johnson
U.S. Patent No. 292,821: Egg Beater
It's common to have a mixer at home, but little do many bakers know that Willis Johnson — the inventor behind an improvement of the mechanical egg beater — helped make the culinary tool possible.
In the late 1800s, the Ohio native tweaked the design of the existing egg beater to provide a faster, more efficient way to mix ingredients in the kitchen. The device had two chambers that allowed for mixing batter, eggs, and other items at the same time while making it easier on the arms — and anyone who's mixed batter by hand knows how much arm power is involved. "If it is desired to beat up a limited quantity of eggs, batter, or other ingredients…the lower cylinder is applied, the result being a thorough mixing of the ingredients," Johnson wrote in the patent description. And when the quantity was on the larger side, the other chamber of the mixer kicked in to increase the capacity of the "double-action" machine.
In Feb. 1884, Johnson was granted the patent for his device, and baking hasn't been the same ever since.
13. Dustpan, Improvement (1897): Lloyd P. Ray
In the late 1800s, Lloyd P. Ray of Seattle invented an improvement to the dustpan that would make it easier to sweep waste into the pan (and who doesn't want that?). By positioning the receptacle closer to the floor and adding an adjustable, removable vertical handle, Ray made it so cleaners didn't have to bend over to collect waste, therefore making the process a lot more bearable. In addition to the pan shape, Ray designed the wooden handle with a spring fastening device that kept the pan in a parallel position, and he made the pan more durable by making it with metal.
Ray was granted U.S. Patent No. 587,607 in August 1897, and to this day, dustpans sold in stores resemble his model.
14. Fruit Press (1916): Madeline M. Turner
U.S. Patent No. 1,180,959: Fruit Press
Nothing sparks more joy than the thought of relaxing on a hot summer's day with a glass of freshly squeezed juice — or in this case, freshly pressed. Enter Madeline M. Turner, the brilliant mind behind the Turner's Fruit Press, a complex, first-of-its-kind juice extraction invention.
Born and raised in Oakland, California, Turner grew tired of the long and uncomfortable process of hand-squeezing fruit, yearning for an easier way to enjoy fresh juice. So, she launched into action and invented Turner's Fruit Press, which pushed fruit into an opening and cut it in half, shifting the fruit between different plates until it was juiced.
Turner was granted U.S. Patent No. 1,180,959 for her fruit press in April 1916, which patent examiner Patricia Ives called "ingenious" upon review. Turner would go on to exhibit her pioneering invention at the Panama-California Exposition.