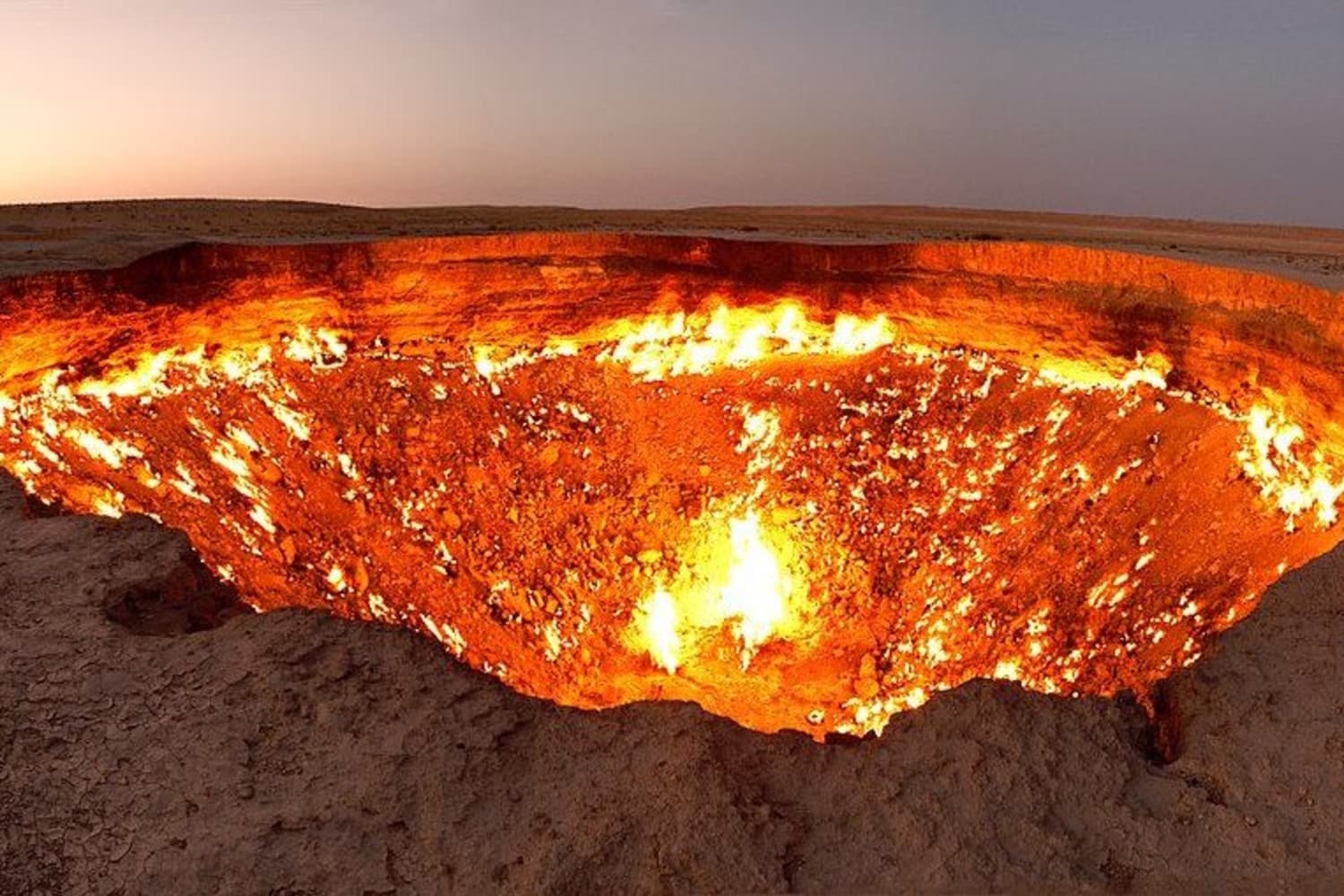 If it's on your bucket list to visit the Gates of Hell—a fiery crater that has been burning in Turkmenistan's Karakum Desert since 1971—you'll have to be quick. The gates are closing (the fire is being extinguished) after more than fifty years as Turkmenistan's President Gurbanguly Berdymukhamedov has ordered the government to begin researching how to put the fire out.
The crater came to light after a Soviet drilling rig accidentally punched into a massive underground natural gas cavern, which caused the ground to collapse and the entire drilling rig to fall in. This punctured a pocket of gas made poisonous fumes leak at an alarming rate, and the Soviets decided to set the hole alight to wade off a potential environmental catastrophe. Decades later, the 230-feet hole is still burning and has been dubbed the "Gates of Hell", attracting a number of visitors each year.
Atlas Obscura offers a once-in-a-lifetime trip to Turkmenistan, including a visit to the Gates of Hell to see the miraculous flaming pit in person. The only major travel company to offer a trip of its kind, the first departure sold out in less than 24 hours. As a whole, Turkmenistan only receives a few thousand visitors each year, but this relatively unknown country is a must-visit destination.
On the trip, travelers can marvel at impressive architectural structures and roam through barren deserts and a world-class canyon. There will be the opportunity to visit underground lakes and relax in the seaside city of Turkmenbashi, named for the controversial former president, before heading to the Gates of Hell for a dinner and overnight stay right next to the crater.
The ten-day Turkmenistan and the Gates of Hell trip has a capacity of 12 people, making for an intimate group that will gain an abundance of knowledge from Atlas Obscura's professional tour guides. Prices begin at $3,475 and departures are available from September through November 2022.