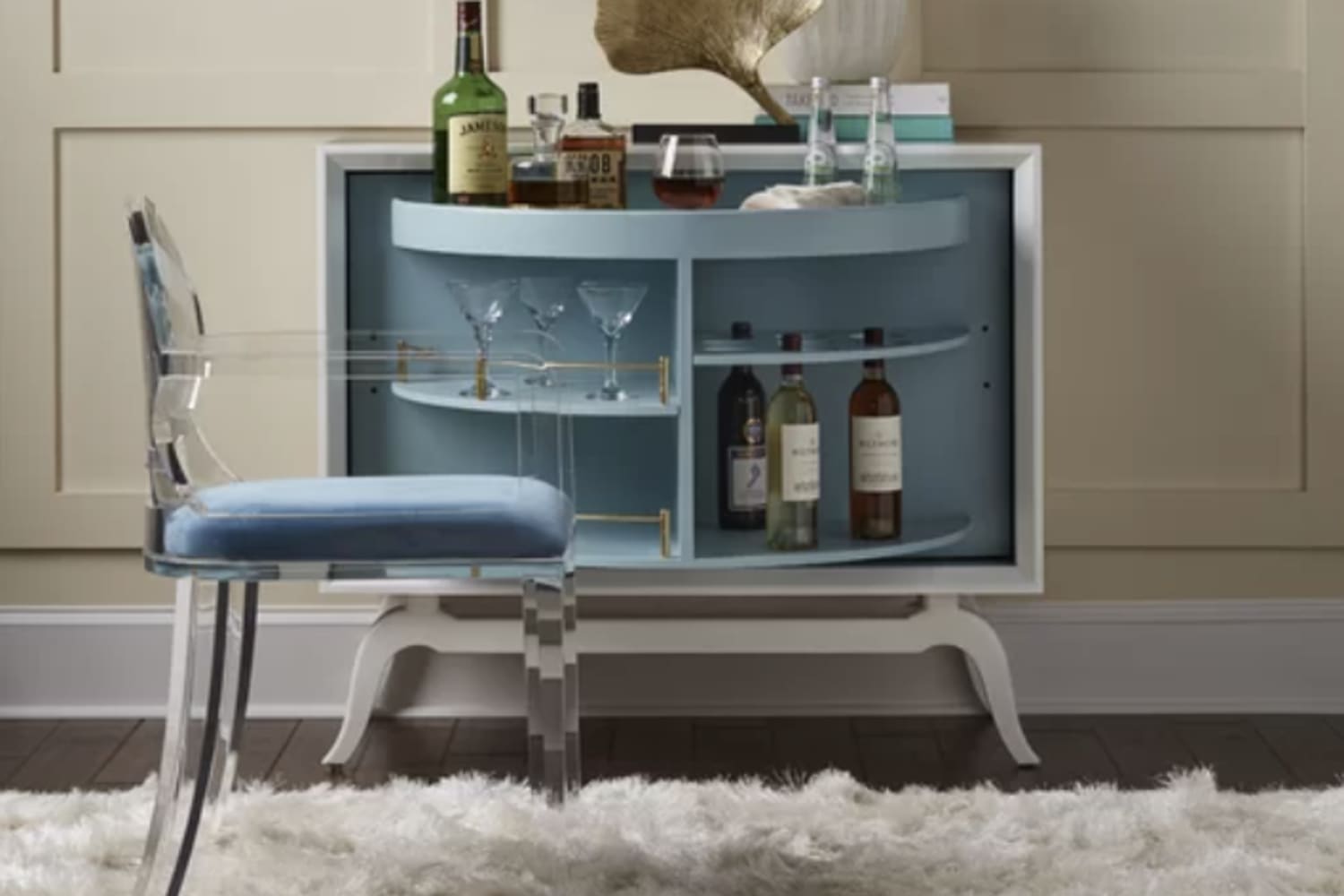 We independently select these products—if you buy from one of our links, we may earn a commission.
Bar carts are fun, functional, and versatile additions to your home. In addition to storing your alcohol and favorite glassware, you can also place a bar cart near your front door and even have your it double as your entry table. If you don't keep alcohol in the house or prefer a dry lifestyle, you could also turn one into a coffee station or use it for bathroom storage. While the decorative possibilities of bar carts appear limitless, a pricey new piece of furniture offering style and secret storage for all your bottles and drinkware recently went viral on TikTok, and it's just too good not to talk about.
Right after the holidays last year, TikToker Megan Sullivan shared her fancy new bar cabinet from Wayfair. While at first glance, it looks like your everyday storage cabinet, her video showcases that the piece actually features a 007-like revolving door, which reveals three levels of ample shelving inside. The video is less than 10 seconds long and already has 3.3 million views, and folks are still watching and debating whether or not this piece is worth the investment.
With over 350,000 comments, tons of people wanted to know one thing above all: Where is this from? This piece is called the Sinatra Bar Cabinet by Wildwood, and it's available at Wayfair. Shortly after this TikTok went viral, the cabinet completely sold out online. It's currently on back-order but available to purchase. I wouldn't be surprised if it sold out again though because people are clearly loving the novelty of it and its subtle glam look
If you're interested in this bar cabinet, you'll want to take a few things into consideration. First, and most importantly, this thing is very pricey. Second, the cabinet only comes in one colorway. The exterior is painted a bright shade of white and features a gold linear design on the front with coordinating shiny gold hardware. On the other side of the revolving door you'll find a matte blue interior. Of course, if you love design but aren't sold on the colors, you can always paint it or work a little DIY magic. Either way, this baby went viral for a reason, and I kind of want one for myself.