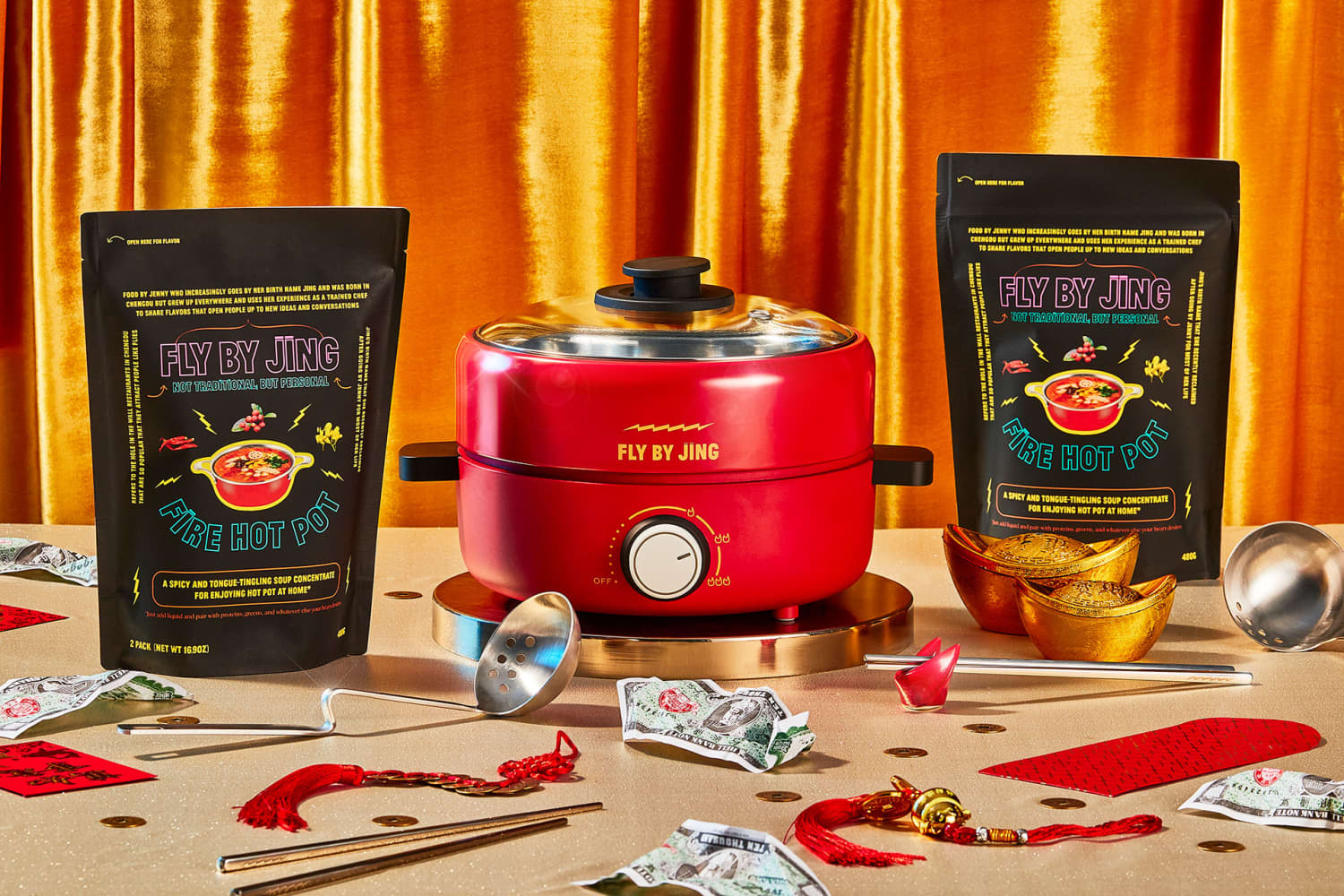 We independently select these products—if you buy from one of our links, we may earn a commission.
But what makes now an extra-special time to add Fly By Jing to your cooking routine? Well, to celebrate Lunar New Year, they've just released an incredible Year of Taste Collection that includes so many flavor offerings, including a finishing oil duo and their very own electric hot pot. And, to make this announcement even better, Fly By Jing is giving Apartment Therapy readers an exclusive deal to use on any item in this collection. Just enter APTTHERAPY10 at checkout to take 10 percent off!
There are three main product launches as part of the Year of Taste Collection, starting with possibly the most exciting of them all: a limited-edition hot pot exclusive to Fly By Jing! The Hot Pot Starter Set includes everything you need to enjoy your very own restaurant-quality hot pot at home. You'll receive a tabletop electric hot pot in the brand's signature red colorway. The set also comes with two pairs of silver chopsticks and slotted spoons that you can hook on the edge of the pot. Of course, it wouldn't be complete without the Fire Hot Pot Base, of which you'll receive two sachets. All you have to do is pour the base in the pot, add water, and turn it on. Then, once it starts to boil, you're ready to add your favorite hot pot ingredient.
Because it's the Year of Taste, the delicious flavors don't stop there. Fly By Jing has also released the Add Oil Duo to bring heat and flavor to all of your meals. The Chili Pepper Oil is a hot and fragrant oil made with a custom blend of chilis and infused with aromatics and spices. Drizzle it on just about anything that could use an extra kick. The Tribute Pepper Oil will instead bring nutty, citrus flavor with an "electrifying tingle" according to the website. It's a finishing oil recommended for mapo tofu, pizza, hot pot, braised fish, and more.
Clearly, this year is going to be a seriously delicious one thanks to Fly By Jing spoiling us with so many new products. Anyone who is tired of eating dinners lacking in the taste department needs to add a few of their oils, sauces, and spice mixes to their recipes for easy instant flavor.