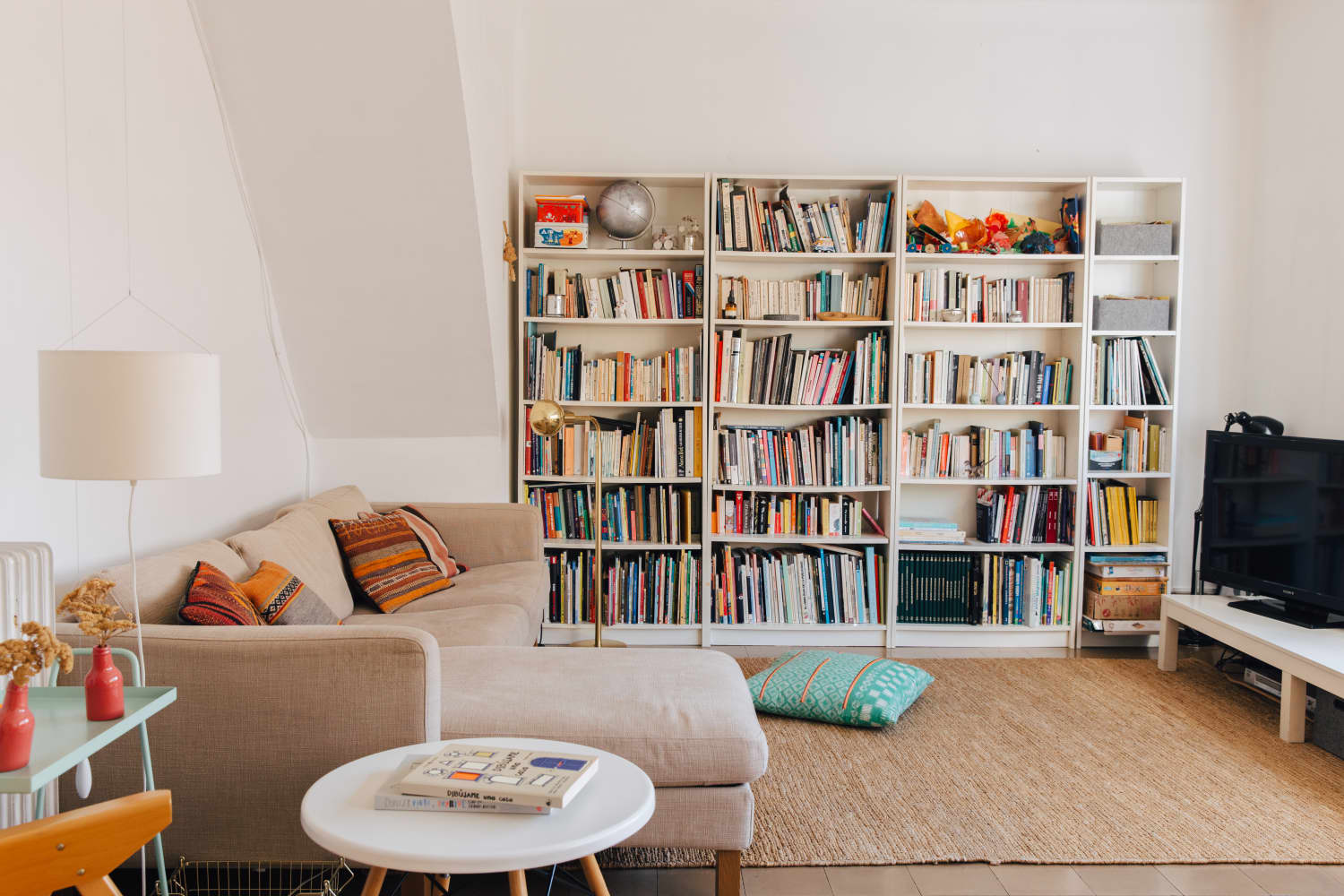 It's 2022: Much of your shopping is likely done online — the convenience really can't be beat. While you've probably expanded your categories past coffee table books and swimwear to jeans and even groceries, shopping for home decor online may still give you pause. It's just so unpredictable, shipping can be really pricey for oversized items, and returns can be difficult if something arrives looking nothing like what you expected.
You don't need to avoid shopping the web for your key home pieces though… quite the contrary, actually. "The internet is filled with retailers for home decorating lovers," says designer Sarah Thompson of Palley & Southard. "However, there are a few mistakes that are easy to avoid when shopping online." While online shopping in no category is foolproof, these thirteen tips from those trusted in the trade will help you feel a little more empowered when buying home decor sight unseen.
1. Order material swatches and samples if available
"Color and texture are nearly impossible to rely on when it comes to shopping online," cautions Thompson. "Items are usually photographed in studio lighting and, depending on display and environment, can make color matching very difficult." Her suggestion? "The best thing you can do is always ask for fabric and color swatches," she says. "Most reputable companies offer swatches at little to no cost." This way, you know exactly what you're getting before that little 6-inch square material is crafted into an entire custom couch you might hate.
According to designer Julie Kantrowitz of JK Interior Living, you shouldn't just stop at fabric swatching. "Metal finishes, fabric, wallpaper swatches, and even wood finishes are a few of the many samples available from most reputable retailers," she says. Designer Natalie Kraiem of Natalie Kraiem Interiors adds, "Most companies have them, even if the website doesn't mention it." To really cover your bases here then, it's important to call or chat customer service for swatch and sample availability.
2. Avoid certain materials
Even if you've asked for a swatch, consider what you're requesting. "Don't order shimmery polyester velvet upholstery items," cautions Kraiem. "The quality and appearance tend not to look great." Instead, she suggests going with something a little more classic, especially for upholstered pieces you want them to have true staying power in your design scheme. "Stay with matte fabrics for a higher end look," she says. "Bouclé and textured fabrics are very 'in' and usually look nice in person."
3. Measure twice — not once!
This actually goes for both in-person as well as online purchases, but it's important to visualize what you're shopping for in your space, and that entails measuring for every aspect of the piece of furniture you're buying. "Always take measurements so you know what will fit and work in your space," says Thompson, adding that it's important to take furniture heights and depths into consideration as well. You might think that the length and width is sufficient, but consider how you're going to use said piece of furniture. Thompson has a few words of caution here as well. "I know too many people who have bought beds that are too low to the ground or don't adjust to their bed frame, leaving a gap or space for your pillows to get lost in," she says. "You can't ever assume furniture or accessories are the right proportion for your space based on an image online."
To help with visualization, Kraiem suggests blocking out the footprint of a piece in your home before you buy it. "You can use painter's tape to mark furniture or art in the space," she proposes. Designer Alexia Sheinman, director at Pembrooke & Ives, agrees. "I am a big fan of taping out the dimensions of the furniture piece on the floor or building a scrappy mockup out of cardboard to understand the scale and relationship to the room," she says. These things take time upfront, sure, but you'll be glad you did them.
4. Make sure your measurements also account for installation
With regards to measuring, Sheinman agrees with Thompson but adds that measurements must go beyond just accounting for the space the piece of furniture will be living in. "When ordering larger pieces of furniture, make sure it can actually make its way into your home," she elaborates. "It is always a good idea to measure door openings, elevator cabs, and/or tighter corners, too." Kantrowitz seconds that advice. "If you are purchasing a sofa, confirm that it will fit through the entry-points available in your home — including any applicable staircase doorways and landings."
5. Read (and trust!) the reviews
Designer Rebecca Rollins of Rebecca Rollins Interiors swears by customer reviews. "The reviews will tell you everything," she states. "Look for pictures that other people have posted on the review of that same product. Make sure the fabric or wood finish looks like what is pictured." Kraiem seconds that notion. "Look for images of the product installed in real customers' spaces," she says. You might have to hunt a bit for these photos, but they're always worth taking the time to find.
You may even want to take your search a bit further by turning to social media to supplement what you find on a brand's site. "If I don't have enough information from the website I am ordering on, I will turn to the brand's Instagram or Pinterest to dig up tagged photos of the item," says designer Emily Wolowitz. "It's important to recognize that while the quality of product imagery on most sites is great, these photos have been edited to best highlight the item. I often find the customer photos to be more realistic."
6. Carefully consider lighting purchases
If you're shopping for a light fixture, a lamp is not just a lamp, and an overhead fixture is not just an overhead fixture. The size of said fixture directly relates to the amount of light that it will give off. "Lighting is very important in every space," says Thompson. She swears by this shortcut to find a properly-sized overhead fixture: "My rule of thumb when sourcing overhead lighting, like a dining room chandelier, is to add the room's length and width in feet. That number — in inches — is the diameter your lighting fixture should be."
Set some parameters when it comes to your online product searches, as that'll make what can seem like a bottomless pit of options seem more manageable to sift through. Cloud suggests applying filters. "The first step is to filter your search on a website, so it gives you exactly what you are looking for," she states. "This saves you time and alleviates getting distracted from your initial vision." Filters can touch on price, size, fabric/material, configuration, and even how long an item can take to get to you, so be sure to choose the parameters that are most important to you.
8. Broaden your online shopping horizons
Wolowitz urges all home decorators to consider shopping for antique pieces online, which can help with supply chain issues and be a more sustainable option than furnishing with all new things. "I am a big proponent of online estate sales and auctions," Wolowitz says. "I believe you can find some incredible deals if you're willing to put in the time and accept the imperfections that come with buying vintage. The most important thing to consider is the condition of the item."
Skip items in disrepair, which can end up costing you several times your initial investment to get them in good working condition. "After that, it's all about location," Wolowitz says. "The next thing to consider is whether the item needs to be shipped for an added fee or if it is local."
Another filter Cloud is a huge proponent of? The "in-stock" only one, particularly with current manufacturing and shipping delays. "Hit the in-stock toggle," the designer suggests. "There is nothing worse than falling in love with a piece only to find out it's out of stock."
10. Familiarize yourself with return policies
For best online shopping results, make sure you're covered by a return policy if you're at all unsure about an item you want to buy. Kantrowitz cautions, "Read the return policy carefully or have a written agreement from the seller stating if the piece does not work, you are able to send it back."
It's not enough to just know that a return policy exists either; take a beat to see what it really entails. "Keep in mind a restocking fee as well as freight back to the retailer will likely apply," says Kantrowitz.
If you're buying an item available at a number of online retailers, make sure you're getting the best deal possible by looking for coupon codes and comparison shopping. "Price check that item on other retailers' sites for the best deal," says Rollins. "Almost all big retailers online sell the same product."
Don't forget to reverse image search an item, too. This trick can help you unearth something that's being offered significantly cheaper somewhere but maybe bears a different product name, for example, and won't come up in a straightforward search because of this discrepancy.
Your entire home doesn't have to be decorated in a day, and that's something easy to forget when lost in the black hole of internet shopping and scrolling. "Come up for air," says Cloud. "Sitting at a screen for a long period of time can be a bit much on your body, eyes, and creative energy, so step away for a break every so often while you search." Bookmark or favorite contending pieces so you can come back to them.
13. It's all about trust
Regardless of whether you're shopping for budget or high-end pieces — vintage or new — carefully choose the retailers that you are shopping. "Finally, when purchasing an investment piece for your home, it's important to do it through a trusted website that offers some degree of customer service in case anything with the order is to go wrong," reminds Wolowitz. That doesn't mean just boring big-box retailers either. Even if you don't know a given seller personally, sites like eBay, Etsy, and the like also offer a lot of buyer protection, so educate yourself on those parameters before shopping for anything, whether large or small.