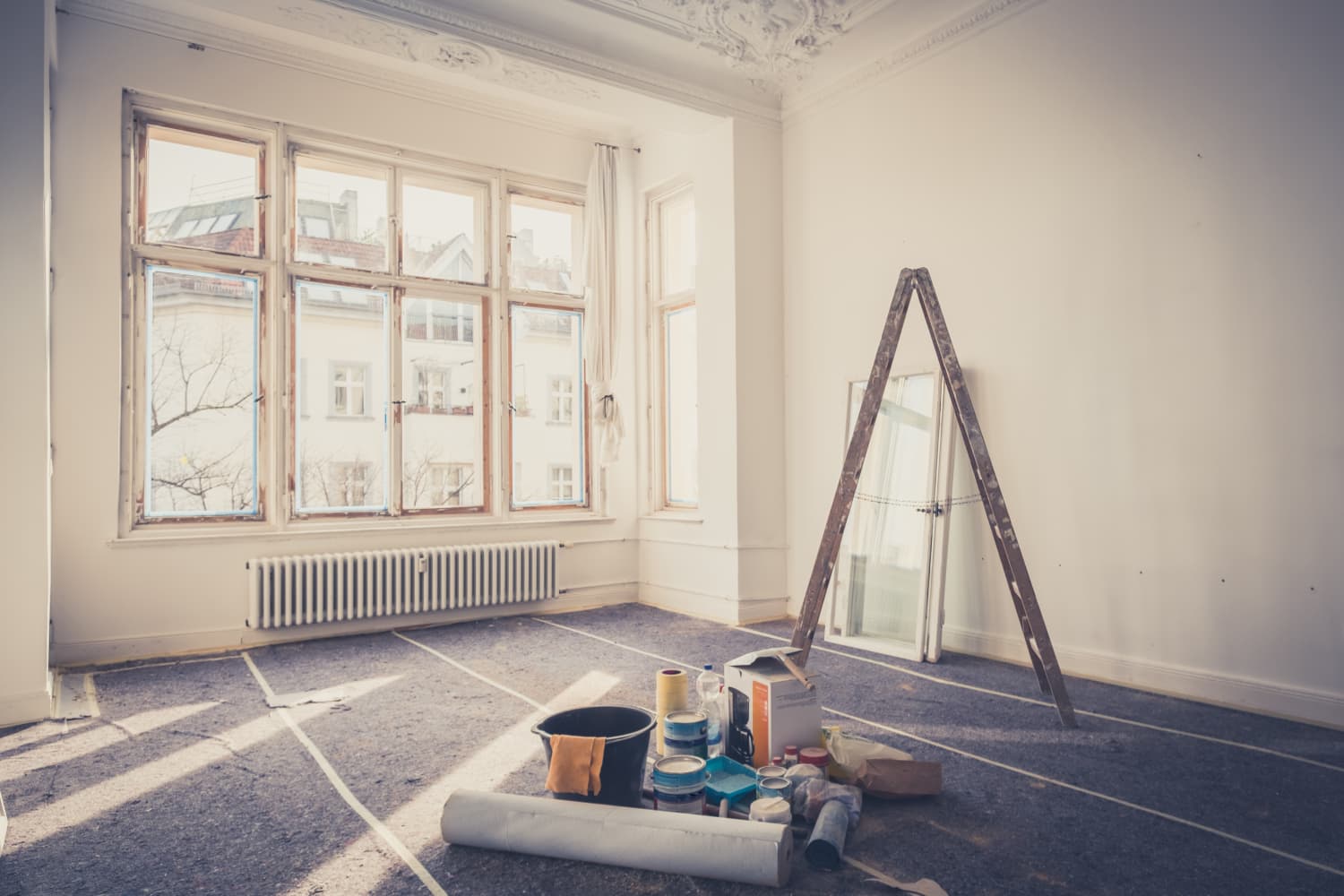 Studio apartments aren't exactly the most conducive backdrop for home renovations, whether we're talking DIY projects that require stripping and sanding or major remodels that turn a home upside down. There's no guest room to retreat to as you replace the crown molding in your bedroom, or home office to hide in while you rip up the flooring in your main living area. Your main living area is your living area. That's it. There's no staging space or extra room to serve as your DIY zone.
But all the dancing around drop cloths is worth it when the renovations wrap and your one-room studio becomes your perfectly appointed, tiny hideaway from the world. And, in the meantime, six small space dwellers and renovation experts are sharing their best tips for navigating the noise, the mess, and the dust (and more dust!) that comes with diving into DIYs and renovations in a studio.
Work quickly and clean as you go.
Studio dweller and renter-friendly DIY extraordinaire Imani Keal, of @imaniathome, has lots of experience with working in a small space. "Living and working in the same room is hard enough, but when you add drills, sanders and the resulting dust, it can get so much worse!" she says.
Keal's become an expert in lessening the stress of the mess by working quickly — she always tries to get projects done within a week and cleans as she goes. Mess is part of the process when DIYing and living in the same space, but Keal recommends a shortcut: "I keep trash bags at the ready and throw things away as soon as I'm done with a section," she says.
The annoyance of a renovation is one thing, but there's also the risk of inhaling toxic fumes, particularly when you're confined to a small apartment. "Make sure to protect yourself," Andre Kazimierski, CEO of Improovy, reminds small-space dwellers. "A lot of products and tools used in renovations recommend a well-ventilated space. Open your windows, turn on your fans, and put on those respiratory masks."
Take stock of what you need to use each day and cover everything else with plastic. Dust will get inevitably into every crack and crevice, and it's exaggerated when your space is only one room, notes Kathy Stracke, owner and color consultant for Five Star Painting, a Neighborly company. "Remember to cover items in closets or cabinets as well. It's amazing where dust can get into," she says. "Drape plastic over clothes and put food items that are stored in a cabinet into plastic bags for extra protection."
When you are living in the same space you're renovating, she recommends carefully removing the plastic each evening, taking care not to spill the dust, then replacing it with new plastic in the morning.
Get the bare minimum in place.
Sarah Jacobson of @_thegrantapt gut-renovated her Lower East Side Manhattan apartment and continues to make dreamy updates. Pulling it all off meant accepting the number-one rule of renovating a small space: You can't live there unless the bare minimum of living requirements are in place. "I couldn't really move in until it was 'mostly' done. And by 'mostly' done I mean, until I had running water and a working bathroom!" Jacobson says.
The other things took longer to come together. Jacobson lived without kitchen countertops, backsplash tile, or shelving, and became well acquainted with the drywall dust that defines a major renovation. Eating meals out and vacuuming daily got her through the early days, as did the reminder that a beautiful new apartment was evolving out of the dust.
Invest in a good pair of headphones.
Jessie Ruane, the DIYer behind @jessiefinds, is no stranger to renovations and redos in a small space. She and her fiancé live — and work in — a loft in Brooklyn. Her best tip? Headphones. "Quarantine made my fiancé and I pros at working in one giant room. Noise cancelling headphones are a must," Ruane says.
If your renovation isn't DIY and contractors are working all day, you may need to get out for a few days or weeks. Whether it's scooting down the street to work from a coffee shop, staying with friends nearby or renting an Airbnb and becoming a digital nomad for a month, sometimes the best plan is to leave and let the renovation magic take place without you watching from across the room.