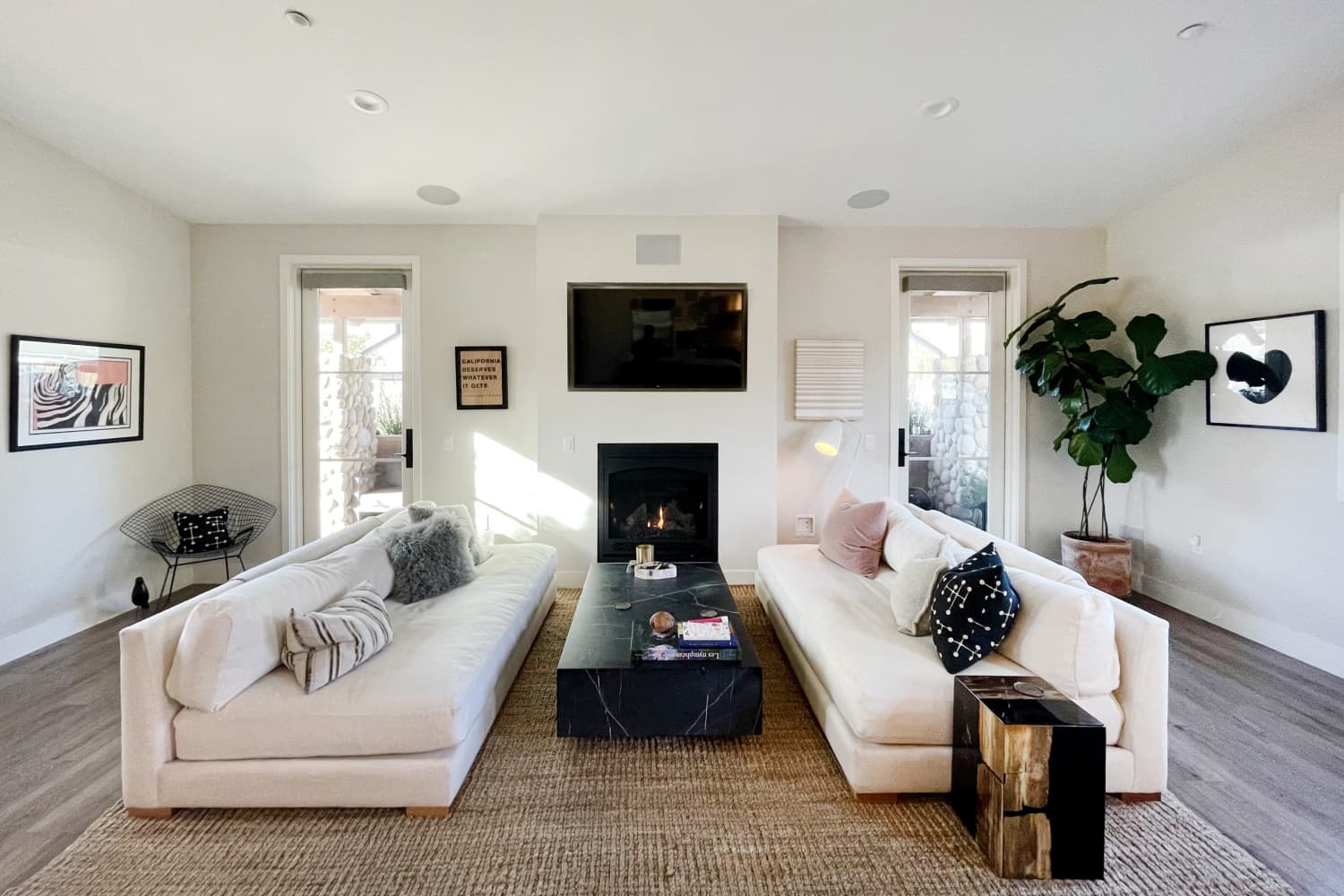 We independently select these products—if you buy from one of our links, we may earn a commission.
Name: Kristine Overacre and Peter, a rescued miniature dapple dachshund who also happens to be the furry love of my life
Location: Ojai, California
Size: 1,800 square feet
Type of Home: Townhouse in the country
Years lived in: 3 years, renting
For artist Kristine Overacre, her home, this rental townhouse in the country, is also her sanctuary. "It's where I work, play, and create — where I cook, entertain, exercise, and generally spend most of my time when I'm not traveling," she writes. "I live there with my adorable and charming mini dachshund Peter, who is my constant companion. I love my space because it encourages room for creativity — I'm surrounded by items that I find comforting, such as big soft blankets and plush textured pillows, as well as items that creatively inspire me, from art to books and objects from my travels. I feel like walking into my home is like a warm hug."
Apartment Therapy Survey:
My Style: My style is eclectic and gathered — I love traveling and collecting special objects, especially those that are made by hand. I also love collecting artwork and have many talented friends who have made me beautiful things over the years. Living with these pieces feels like my friends are always close by, even when I don't see some of them as much as I would like. Despite the eclectic, happy nature of my style, I do also enjoying having a relatively neutral, calming base palette that serves as a visual refresh from working with color all day.
Favorite Element: My favorite element of my home is the collection of books and art, many of which friends have made for me over the years (or published in the case of books). I also love the stories I remember based on collected items from my travels. I'm particularly in love with my hot pink laundry basket that sat on my lap the whole way back from Mexico city.
The runner up for favorite element is the tumbleweed hanging in my bedroom. I went hiking after one of the big fires up in this area and found this light scorched tumbleweed and it just spoke to me — I hiked about three miles back carrying it and have toted it around with me ever since. It makes me happy to watch it spin slightly — I find it mesmerizing.
Biggest Challenge: The biggest challenge of the space was also kind of a benefit — it was a newly constructed home, so while it was super clean and modern, it lacked some of the grit, funk, and character that I'm typically drawn towards. I've tried to add in some of that with color, handmade objects, and eclectic elements, as well as some architectural feature shelving to further ground the space.
Proudest DIY: Does making art for my own space count? Not exactly a DIY per se, but I do enjoy seeing select pieces of my own work in my home, especially in conversation with pieces that friends have made. It's enjoyable to look back on the process, where I was when I was making it, and what was going on in my life at the time.
Biggest Indulgence: Eek, I hate to answer this one — I'm all about saving in certain areas and seriously splurging in others. Balance, right? I have a vintage Moroccan wedding blanket that I would really rather not say how much I spent on it, but I do feel like it's an excellent symbol for bringing love into my life. I also love my handmade black sconces on my landing; they added so much character compared to the builder grade chrome with (gasp!) lamp shades. Probably the biggest splurge was the large Maggie Taylor piece in my guest bedroom — I fell in love with this piece many years ago when I was working for a non-profit and saved up for it.
Is there something unique about your home or the way you use it? I work from home and live on my own — it's just me and my hound dog, so we're constantly rotating between rooms during the day. My favorite spot in my home is my garage, as that's where I've set up my painting studio. I also have an office space that I paint in when I need a change of scenery.
What are your favorite products you have bought for your home and why? I love my Coyuchi bedding — I'm such a homebody, so I love crawling into bed at night. Their linens are so absolutely lovely. Also, candles! I love Diptyique Baies, as well as any candle that has a smokey scent — I want my home to always smell like a campfire.
Please describe any helpful, inspiring, brilliant, or just plain useful small space maximizing and/or organizing tips you have: I'm not always the best organizer — it depends on my level of motivation, as I can sometimes fall into the "shove it into a drawer/closet" variety if I'm being totally honest. But for the most part, I find that buying beautiful wood organizers for my drawers and cupboards motivates me to keep things tidy.
Finally, what's your absolute best home secret or decorating advice? Only buy what you truly love — from art to furniture, to functional objects. It took me ages to find kitchen utensils that I didn't fine utterly offensive, but am so glad that I held out for objects that are functional and aesthetically enjoyable. My theory is to buy once and buy well.
LIVING ROOM AND DINING ROOM
This house tour's responses were edited for length and clarity.