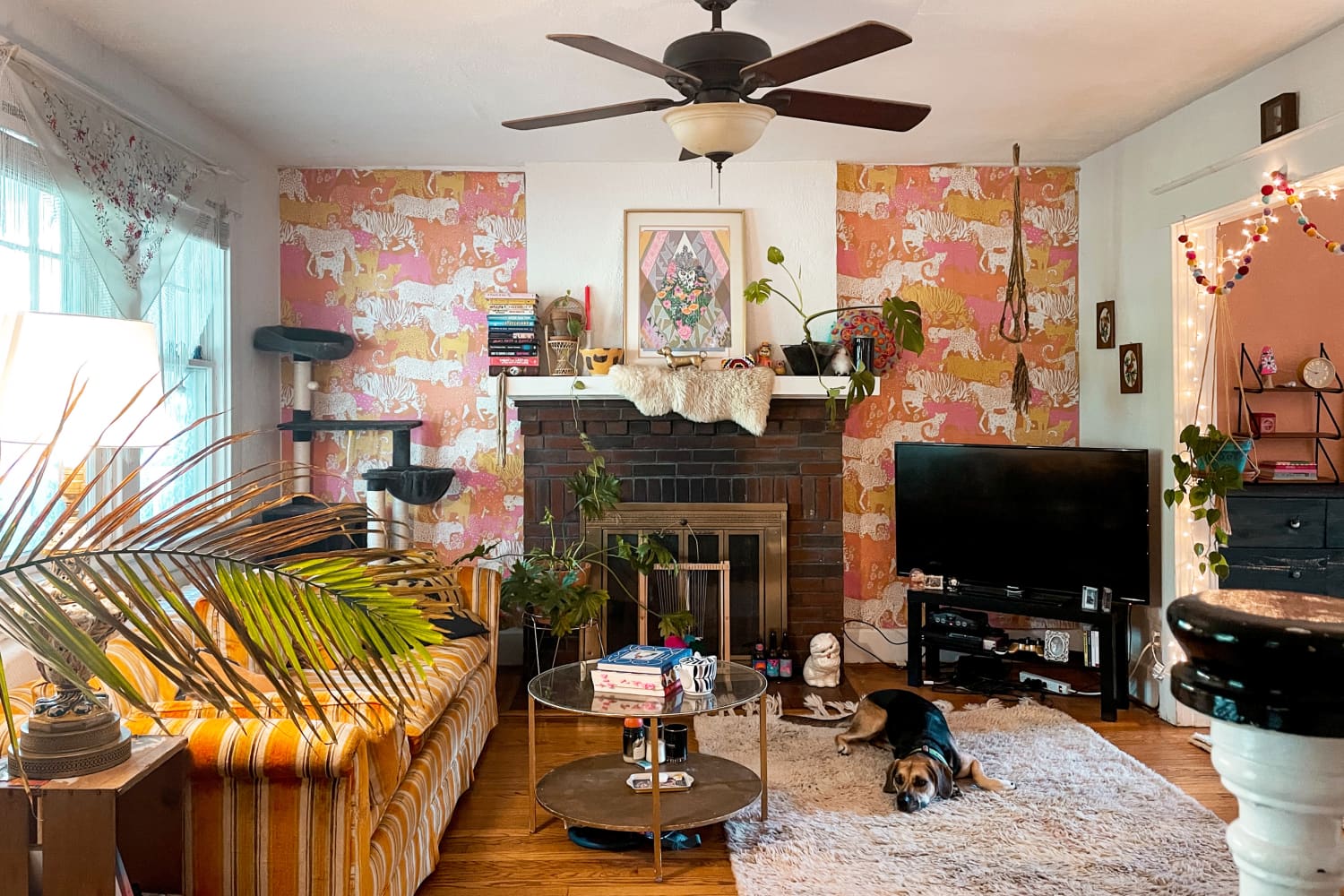 We independently select these products—if you buy from one of our links, we may earn a commission.
Name: Ashley Molesso, Chess Needham, Pepper the dog, Muffin the big cat, Cannoli the little cat.
Location: Richmond, Virginia
Size: 1,200 square feet
Type of Home: Stand-alone Colonial Revival two-story single family home, built in 1929
Years lived in: 2 years, rented
We found our house when we decided on a whim to leave Brooklyn in order to pursue our business, Ash + Chess, full time. We loved Brooklyn, but it was so expensive and we wanted to be able to both work full time while also not throwing all of our earnings on rent. We visited Richmond after a friend told us how much they'd loved living here, and after one visit, we were in love, too! We ended up coming back once more to look at rental houses after we saw the one we ended up with on Zillow and were like, we NEED to live in that one! We lucked out and got a viewing of it scheduled and immediately put down a deposit.
We were in love with all the natural light it got. We went from four and a half windows to 12 windows AND a backyard. We really wanted our pup to have a gated yard to hang in, plus some space for us to garden and grow our own veggies and herbs. And the cherry on top (or should I say, cherries) was that we had three porches. THREE. A front porch, a back screened-in porch off the back of the kitchen, and a balcony porch off the upstairs back bedroom. We didn't really know much about any of the areas in Richmond, and we lucked out that this area was super walkable with close access to grocery stores, parks, local shops, and so on.
When we moved in, we went through the attic and found some remnants from the homeowners who lived in our house sometime in the 1960s — we came across a brand new tea towel with a gift tag that said "To John, From Baby", an embossed wedding napkin with a date of 1962 marked on it, an old suitcase, some silk handkerchiefs, and a whole two-piece romper Hawaiian set! Unfortunately it didn't fit me, but it was still a neat find.
Our rental house was one in six identical colonial revival houses that were all built together in 1929 on our street. I only have been inside three out of the six, but it's so fascinating to see how people have remodeled and taken care of the houses throughout the years. Ours is only remodeled in the kitchen — with a bar window busted out looking into the dining room and probably an updated kitchen, and a new sink and toilet in the upstairs bathroom — but the rest of the house is essentially untouched.
Apartment Therapy Survey:
My Style: Colorful, bright and bold, vintage
Inspiration: The '60s and '70s, vintage thrift finds, street trash that we revived, bright risographed and hand-painted artwork.
Favorite Element: Ash – My favorite thing is that it still has its old 1929 charm. The glass doorknobs are still on every door, the original tile in the bathroom is still intact, the attic even had some old belongings from the owners who lived in the house in the 1960s. The only updated/renovated part of the house is the kitchen, which wasn't even recent so it still has that cool dated feeling.
Chess – My favorite thing is the yellow and white room — I love the shelf with the vintage Boy Scouts mugs on it. My other favorite object is the green velvet chair — a great thrift find and I'm pretty sure it's everyone's favorite, because the second I get up from it Pepper or one of the cats takes my spot… it's really comfy!
Biggest Challenge: Ash – I will be honest, my biggest challenge was forcing myself to do the laundry. I had to go up and down two flights of stairs since our washing machine was in the basement. Even though we have it good — we finally don't have to lug our laundry to the laundromat down the street anymore, or haul it to Chess's parents house in New Jersey (true story, it seemed easier to visit NJ for the weekend to do free laundry when we lived in Brooklyn than to spend the time at the laundromat doing it ourselves, hehe) — I still had trouble getting myself to carry it so far to the dark unfinished basement to get our clothes clean.
Chess – Renting in general has been the biggest challenge, since we had to really just focus on making non-permanent changes. It's been kind of frustrating seeing all these changes that could be made to improve the functionality of the house, but not being able to do anything about it. We've overcome it in a few ways, but I think mostly we've just been able to make the place feel like a home by decorating it with our own personal style.
Proudest DIY: Ash – In our living room on the fireplace wall, I repurposed some peel and stick wallpaper from one of our previous trade shows with a pattern of large cats I designed myself and had printed, called Safari. My first job out of college was designing wallpaper and it opened my eyes to all of the beautiful ways to decorate a house with just a simple (yet extravagant) accent wall. But also, since I am picky when it comes to patterns, especially as a textile designer, I was very excited to be able to reuse our booth interior in our house. I hung it myself, an easy job when it's removable.
Chess – I really wanted to find a space to workout in our house, especially after COVID shut down gyms. I love being outside, and my usual space was in our basement, so once the weather got nicer a friend and I built a free-standing pull-up bar in the backyard that I used to hang gymnastics rings. When we moved out, I dug it up and plan to rebuild it in our new yard — bigger, better.
Biggest Indulgence: Ash – I totally painted like every single room in the house upon moving in. When I move into a place, no matter how long we will be staying, I need to be surrounded by colors that I don't find boring. Upon moving here, the plan was to rent long term, about five years, and THEN dive into the whole buying a house process. However, that did not happen as we expected, so we only got a good two years out of those painted walls. Even though paint can add up, it is something that I will always make priority when living in a space.
Chess – I hate painting in rentals because I know we'll just have to repaint it, usually because we always like something bold that's hard to cover up, too. But it's definitely worth it — changing the color of the room completely changes the vibe and mood and it has made this house feel like it's ours.
What are your favorite products you have bought for your home and why? Ash – A few months after we first moved in, we found this amazing glass and rattan dining table + swivel chair set for sale at a local Richmond vintage shop (there are so many good finds in this town!!). It was our first big and true dining table ever! We finally had space for one — back in Brooklyn, the biggest table we could fit in our apartment sat four people, which is totally fine because there are only two of us, BUT I've always wanted a BIG table so I can host dinner parties with friends all at one table instead of a few on the couch, a few on the floor, and a few at the table. And now I can!!
Please describe any helpful, inspiring, brilliant, or just plain useful small space maximizing and/or organizing tips you have: Ash – This may sound the opposite of keeping things organized and clean, but I love stacking books on the floor. We only have like one bookshelf but it won't fit all of our books, so I like to separate them into categories and stack them in rooms, or on a cart, or at the top of the stairs. I love the way it looks!
Chess – We're not the most organized by far. But the biggest tip I have is just make sure everything has a place. Half of the time we have clutter we realize it's because there's not designated spot for the things that are out.
Finally, what's your absolute best home secret or decorating advice? Ash – If you see something and you immediately know exactly where you're gonna put it, then that's that. I used to just collect garbage off the street (Bed-Stuy in 2012 had some of the best curbside furniture I've ever found), but these days I try to be more selective of what I bring in. When I see furniture or decorative goodies at the thrift store or on vintage IGs, I try to ask myself — is this piece part of my soul or will I be okay without it? The answer is always that I will be okay without it, but the things that are within reach and budget, the things I see in my dream home, I go for. LISTEN TO YOUR HEART.
Chess – Not everything has to be neat and tidy to look good. Maximalism and pattern mixing is cool too. A lot of people walk into our house and comment on how many things we have either on the walls or on shelves, but we like it!
This house tour's responses were edited for length and clarity.