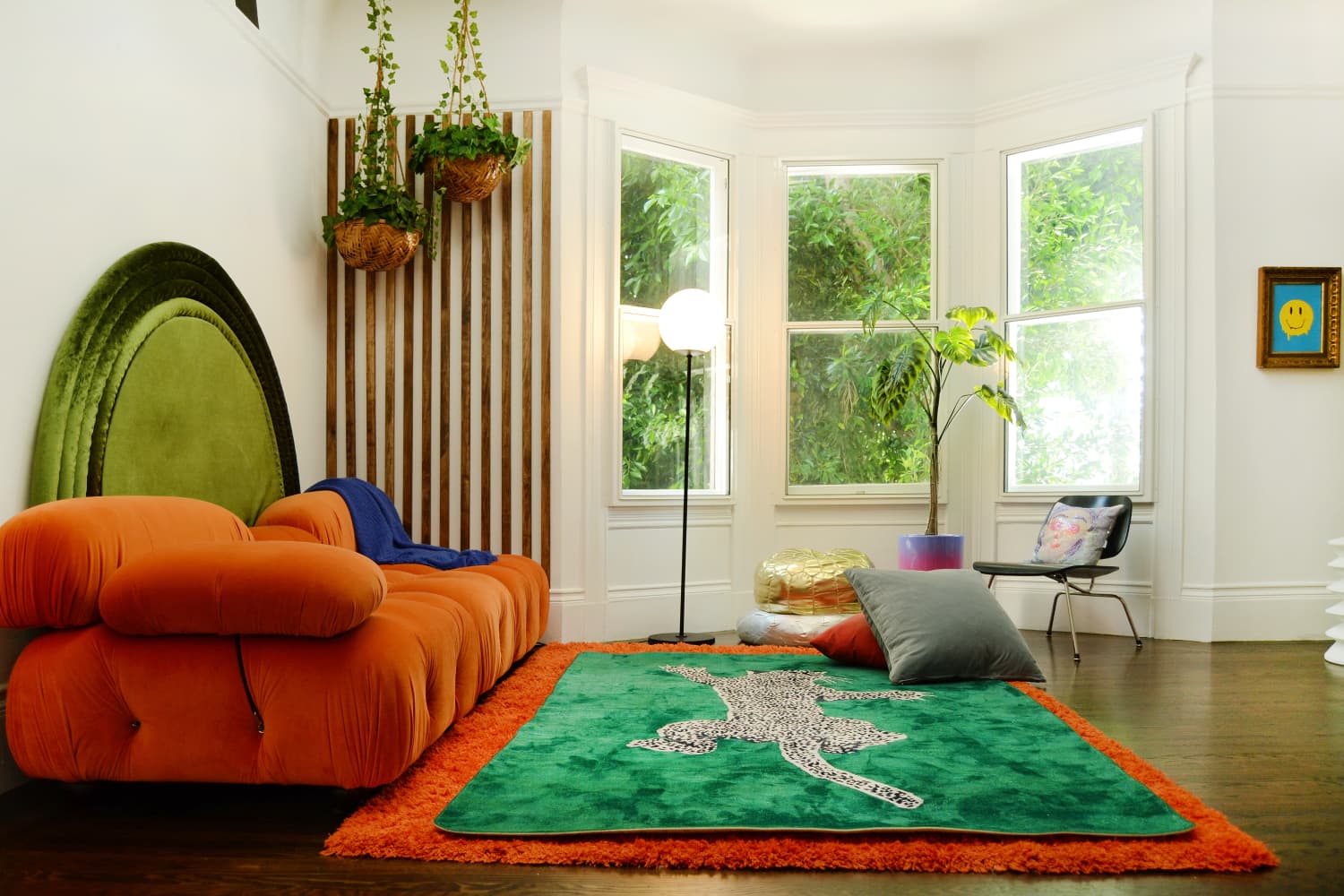 Total comfort is dominating interior design right now, likely because of how much time people are still spending at home. So anytime you can up the cozy factor of your space and add smile-inducing decorative punch, it's a win-win, particularly if your style is more maximalist than minimalist. That's why when I saw the San Francisco condo of TikToker Taylor BeepBoop (@taybeepboop on TikTok), I took notice of her unique way of marrying mood-boosting elements with just plain practical design decisions. "The goal for my home has always been to make it feel like the most fun place you've ever been in, and I want every room to have a surprise in it once you enter," says Taylor of her space. "Like you'll have no idea what you'll get."
That above design sensibility's on full display in her living room, which she's affectionately dubbed "The Orange Room" for obvious reasons: the tangerine color of the sofa and carpeting border. There, she and her partner, Andrew Stewart, fashioned a DIY sofa back for their Mario Bellini sofa — found on Craigslist, no less! — from a headboard, and the project is brilliant for a couple of key reasons.
First, anyone who has sat on a low-slung sofa like this knows that, while extremely comfy for fully reclining, ground-level sofas tend to have lower profile backrests, which aren't totally supportive for sitting upright, particularly if you're on the taller side. Bringing in a headboard not only adds extra comfort for things like reading or working, but it also introduces another cool, curved shape to a room that's pretty much a series of contrast colors and sharp angles, from the rectangular rug and the square floor cushions to the decorative vertical slat wall and vintage Eames chair.
You've probably seen a pool noodle Deco-inspired headboard DIY like this before. Photographer Margaret Wright created something very similar — down to the color of the velvet — in her home's guest bedroom, which Apartment Therapy published last year. In lieu of pool noodles, Taylor actually used pipe insulation tubes along with pegboard backing, a two-inch foam mattress topper, adhesive spray, and a glue gun with discounted fabric to pull her particular piece together. In fact, she actually prefers insulation tubes to pool noodles because they're cheaper, and they feature a pre-cut notch, which helps anchor the fabric around the tube as you're covering it.
Once installed in a living room, this DIY headboard turned sofa back hack certainly feels extra unexpected, but the best part is how versatile it can be later down the road. Should you change out your sofa and no longer need this piece for extra support — or move to a new place and want to redecorate entirely — you could always use it as a headboard again. Now, that's DIY with longevity!