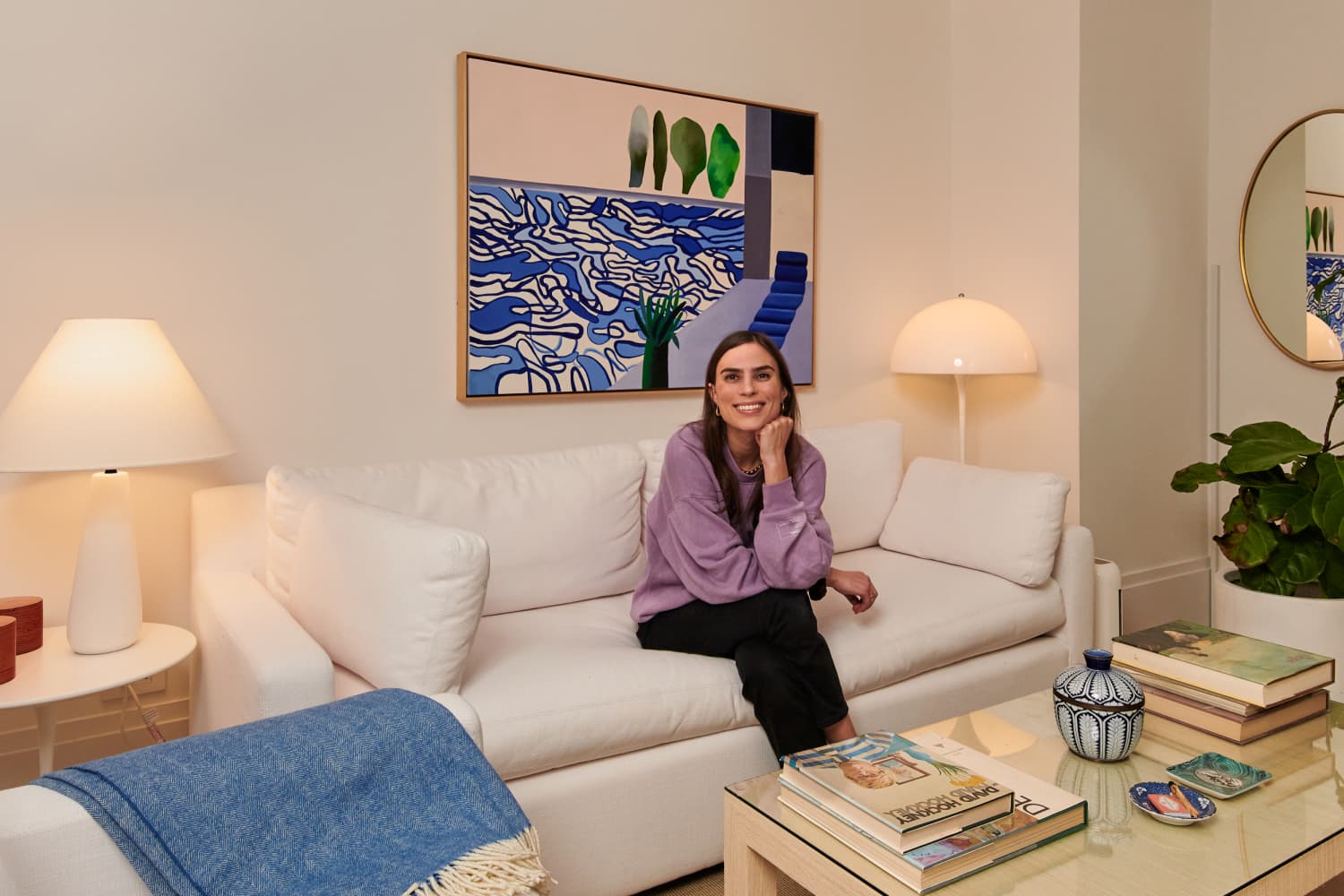 We independently select these products—if you buy from one of our links, we may earn a commission.
Name: Caroline Solomon, David Feig, boyfriend, Darlington the cat
Location: The Seaport District — New York City, New York
Size: 1300 square feet
Type of Home: Apartment
Years lived in: 1 year, renting
Starting the year off by touring the homes (and drawers, pantries, closets, and more behind-the-scenes spots) of professional organizers, small space dwellers, and other design experts has become a tradition on Apartment Therapy. After all, how your home functions is just as important as how it looks, and I personally never tire of seeing how the pros organize their spaces. You can find great home tours and even greater organizing advice from this year's fresh crop of inspiration (and catch up on last year's tours) all on this one page: Professional Organizer Home Advice.
Professional organizer Caroline Solomon of Caroline Solomon Home says that of the many characteristics of this apartment to love, she appreciates its peaceful and calming energy the most. "The bleached herringbone oak wood floors, white-washed wood detailing, and high ceilings all contribute to the serene atmosphere," she describes. "I'm also in love with the ceiling track lighting, which creates the perfect ambience (important since we don't get that much natural light in the afternoons)."
"Since the apartment is so beautifully designed to begin with, the bonus is that I don't need to add so many bits and bobs to dress the space up. The apartment speaks for itself, and as a minimalist, I appreciate the 'less is more' aesthetic," Caroline continues. "While the building was only converted into residential units a few years ago, it was built in 1931 as an office building and the exterior typifies classic Art Deco architecture."
Apartment Therapy Survey:
My Style: Minimalist/modern
Inspiration: Georgia O'Keefe / Matisse / James Turrell / David Hockney / Rescue Spa in NYC
Favorite Element: The powder room/front hall bathroom is my favorite thing about my apartment. The beige limestone walls with diamond detailing coupled with the warm recessed lighting is very soothing yet energizing. The walls remind me of the Temple of Dendur at the Met, which is my favorite place to visit in NYC. I feel the most at peace in this bathroom so I sometimes meditate here!
Biggest Challenge: I love cooking and sharing meals with my boyfriend and family/friends. While we have a countertop table, it's not big enough for more than two people. The living room is also not terribly large, so finding space for a dining room table was a challenge. We landed on a small glass table from Wayfair to place in the corner of the living room by the window. The glass is a great hack for a smaller space, as it blends in quite nicely. Initially, I was hesitant about placing a table in a random corner of the living room, but since it's by the window, it provides a nice view while dining.
Proudest DIY: Lining my drawers with cork! I was looking for a way to prevent my bamboo organizers from sloshing around in the drawer every time I opened them. I found a relatively inexpensive roll of cork online and trimmed it to fit any drawers in need of slosh prevention. It definitely requires some patience to get the dimensions of the liner the right (I recommend using a soft tape measurer for the drawer measurements), but once you nail it, it's so satisfying to slide them in. These work great in your junk drawer, silverware drawer, or any drawer that has organizers or drawer dividers.
Biggest Indulgence: Our sofa and armchairs from Restoration Hardware were definitely a splurge, but absolutely worth it. The living room is such a focal point of the apartment, and since we spend so much time here, we really wanted to make this space count! The only trouble is getting the cat not to turn the sofa into her scratching post, so we added a scratching post nearby. So far so good.
Is there something unique about your home or the way you use it? We converted the second bedroom into an office/workout space/guest room. Since the second bedroom has more light than the other one, it felt like a natural decision to convert it into a study. We also placed a pull-out sofa in the study for guests, so it can function as a second bedroom when needed.
What are your favorite products you have bought for your home and why? My Cire Trudon diffuser in the scent Abd el Kader, which is this super invigorating minty smell. I place this in the front hall bathroom (next to the kitty litter box), so the bathroom and nearby entryway always smell minty fresh. Diffusers over candles when it comes to potency and longevity.
My pull-out trash can from simplehuman. Since we have an open plan kitchen that's also the first thing you see when you walk into the apartment, there was no obvious place to put a trash can that would keep it out of sight. Initially, our trash can was placed alongside the dining counter, but it was too prominent in the apartment. Installing a pull-out trash can is such a simple hack and I can't recommend it enough. It keeps your space so neat and tidy and frees up a lot of floor space, especially if you have a tiny kitchen. I'm now a total pull-out trash can convert! Again, the little things!
My Design Within Reach Panthella lamp. It really sets the tone for the living room. Since it's low to the ground, we placed it by the sofa, which creates this vibe that is both cozy and modern.
My wall-mounted hook for my ironing board. I love how this hook keeps my clunky ironing board off the ground, freeing up floor space and reducing clutter. It makes reaching for it every time a breeze and actually gets me more excited to iron. It's the little things!
The leather woven bins from Rejuvenation for the front hall. These woven bins are chic enough to be statement pieces in themselves, and the light beige color matches perfectly with basically everything in our apartment. I place them in the front hall to store all sorts of things like masks, mail, keys, and hats and gloves.
Please describe any helpful, inspiring, brilliant, or just plain useful small space maximizing and/or organizing tips you have: If you have small closet space as well as pantry space, the back of the door will be your best friend. Attach adhesive bins to the back of your pantry door and stock it with most frequently used items for easy access (for me, that's tea and chocolate). In your closet doors, place 3M adhesive hooks to the walls to hang hats, gloves, umbrellas, and totes!
Prioritize the easily accessible spots in your home for most-frequently used items. That means using shelves in your pantry, fridge and medicine cabinet for your everyday essentials and placing duplicates and less-frequently used items on the uppermost shelves.
Create homes for your items in the form of trays, bins, containers or zones. When you have a place for everything to live, you're less likely to lose track of what you have and to buy unnecessary extras. For instance, placing a bin in your front hall for mail reduces the chances it will accumulate elsewhere in your home. Another common pain point: keys! You're much less likely to lose them when they go in the exact same bin/tray/hook each time.
If you're short on space, try to own just one (or maybe two) of something that you might have owned multiples of in the past. This goes for items like corkscrews, pairs of scissors, measuring cups, measuring spoons, metal mixing bowls, etc. You'll find that you can function perfectly well on fewer of the same item and you'll spend less time searching for everything too!
This is the tip no one wants to hear, but own less stuff! It is by far the easiest way to stay organized and tidy in a small space. Since I have a smaller kitchen as well as limited storage space, I'm forced to be very selective about the items I'm bringing into my home and keeping. If I don't love it and don't need it, I don't hold onto it.
Finally, what's your absolute best home secret or decorating advice? Probably not surprising advice coming from a home organizer, but less is more when it comes to decorating. Clutter can come in many forms, and too many pieces of furniture can overwhelm a space. Especially in apartments like mine with smaller rooms, it's important not to overcrowd the space with furniture, art and tchotchkes. To keep your home feeling as clutter free and serene as possible, imagine it as your favorite hotel.
With any white space in my home, my first impulse is to fill it with art, stools, or random baskets but I try to exercise restraint here to keep things open and spacious. I stick to one or two statement pieces in each room, which feels like enough to give it personality without too much visual overload. I love balancing white walls and more muted tones in furniture with more bright graphic art. I think it's a really nice contrast that energizes any space and keeps it open and bright.
This house tour's responses were edited for length and clarity.