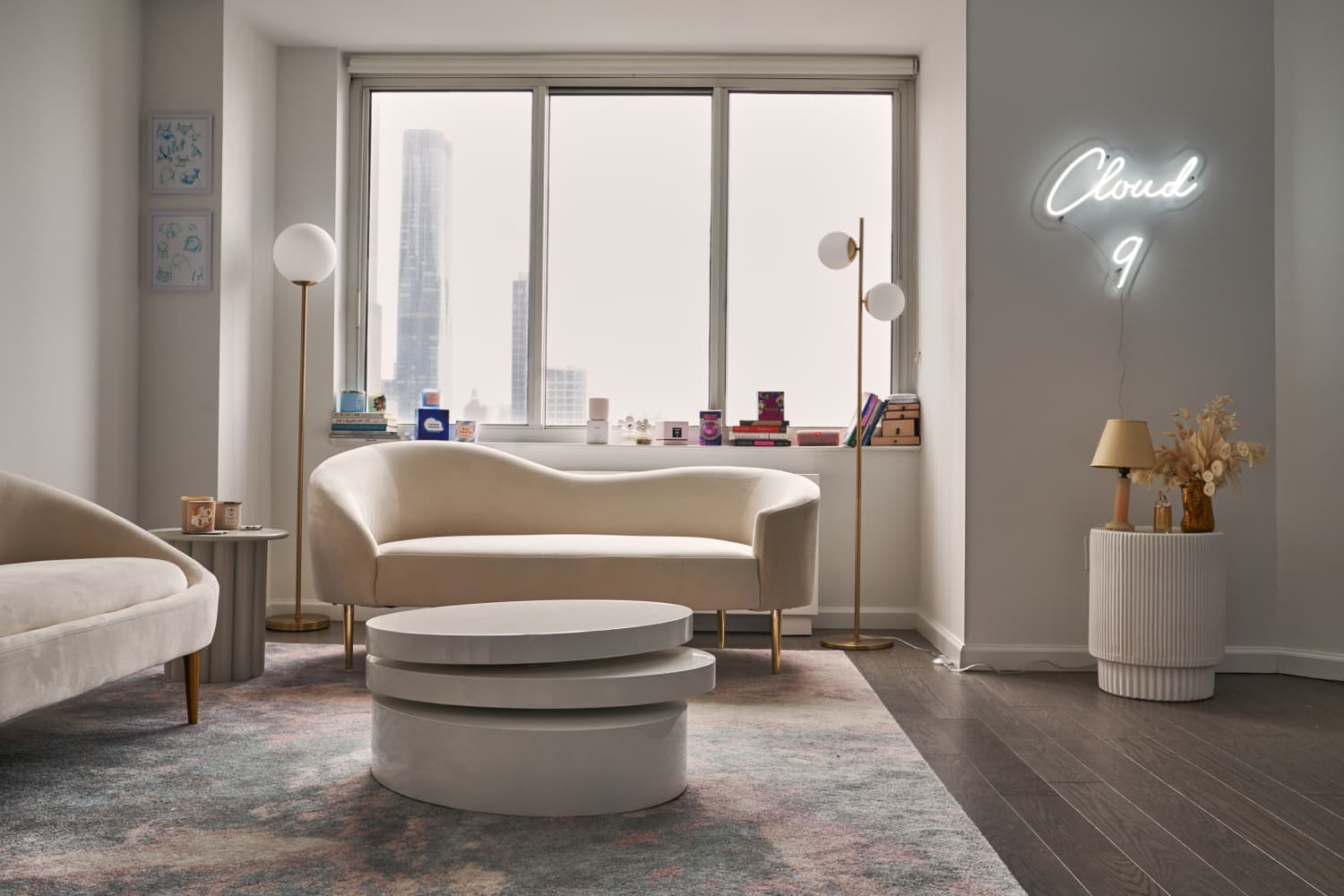 We independently select these products—if you buy from one of our links, we may earn a commission.
Name: Tynan Sinks
Location: Hell's Kitchen, New York City
Size: 450 square feet
Type of Home: Alcove studio
Years lived in: 5 months, renting
Tynan Sinks is a senior copywriter at a luxury lifestyle brand, does freelance brand copy for beauty and fragrance brands behind the scenes, and writes about all things beauty, fragrance, and more for publications like Vogue, The New York Times, Allure, Bustle, Elle, Nylon, and a bunch of other places in print and online. He also cohosts a podcast about scents called "Smell Ya Later." And the perfect balance to a busy career and work life is his super soothing, incredibly cute studio apartment that has a very specific design theme: Clouds!
"I love everything about my apartment, it is truly the perfect space for me at this point in my life," Tynan explains. "The thought of moving freaked me out, but there a few things my old place didn't have that I knew would really improve my quality of life, and the hassle of moving would be worth it. And I was right! As always. Those little things, a few amenities, a bit more space, and a nicer area, completely changed the feel of my day-to-day. Little things can add up to a lot, you know? It was transformative.
I had very (very) few must-haves when it came to finding a new spot, but even with that, I saw a bunch of places that I knew just weren't right, much less, really worth making the move for. I walked into this place and I immediately knew it was the one. I just saw what it was all going to turn into. What's that saying? When you know, you know? It was very that. I knew!"
Apartment Therapy Survey:
My Style: Plush, fluffy, pastel, clean, retro, and futuristic, in the way that "The Jetsons" are futuristic.
Inspiration: Okay so. My new place is cloud-themed. Obviously. But more specifically, I wanted it to feel like a 1950s honeymoon suite, a cocktail lounge, a powder room, the Playboy Mansion, a 1960s TSA terminal, and a little gay space station in the clouds. Frankly I nailed it.
Favorite Element: It's a toss-up between the cloud couch and the cloud light. They're both kind of the thesis of the place, do you know what I mean? The cloud couch is just… perfect. It's cartoony and curvy and soft and just totally unreal. And the cloud light above my bed really takes it all to the next level.
Biggest Challenge: I gotta be honest… the place really came together in a way that made me feel like it was all meant to be. Not that there weren't challenges; moving sucks, but once I got in here, the rest of it just sort of came to me. I mean, it took a lot of planning and A LOT of work, but I'm a Virgo so I thrive off of a heavy workload and a challenge, so when it came time for it all to happen, things just fell into place.
Proudest DIY: PLEASE!!! The cloud light! Isn't it insane? It's insane. There's this designer that does cloud lights for thousands of dollars, and one day I was like… I can DIY something inspired by the idea for myself. So I did! It took me an entire day and I couldn't feel my right hand for three days after, but it was worth it. It's so insane and gorgeous and stupid and it just makes me so happy.
And actually maybe this was my biggest challenge (if you're my leasing company stop reading now.) My ceiling is cement, so hanging it was a challenge. I knew I needed a little help hanging this, as well as a few other things, and it was very important to me to hire a handy person that was queer because I do not want any straight people in my house.
They came over and were like "yeah this will be a cinch" until we found out that my ceiling was cement. So it took two days and a few trips to the hardware store, but we (they) got it done. Also, the house rules for my apartment, which I did not read, clearly state to not drill into the ceiling so, oops. It's not like I was getting my security deposit back anyway, whatever.
Biggest Indulgence: All of it! Everything in here is new. The bed, the couches, the coffee table, nightstand, side table(s), everything. I knew I was moving since the beginning of the year, so I took every project that came my way, and got every bag I could, so I could have a little extra coin to buy some new stuff, and I'm glad I did. It sorta feels weird to just be like "I made a ton of money and then spent it all," but I did! I did this all myself and I'm really proud of that.
What are your favorite products you have bought for your home and why? COUCH CLEANER LOL. Everything in my place is white velvet, so I break this stuff out… weekly. I'm always like "Oh I don't care if anyone spills! It's fine!" But obviously I am extremely concerned about keeping this stuff clean. My friend Kara saw my place and just sent me the link and was like "Buy this now." I'm very glad I did.
Please describe any helpful, inspiring, brilliant, or just plain useful small space maximizing and/or organizing tips you have: I'm still perfecting this, and I think I will be for a while, in any new place I move in to. Because no one storage trick works for every space. The trick that always works for me is, if you paint your nails, to buy a nail polish wall rack. It gets your product out of your drawers and clearly displayed on your walls so you can see all your shades, everything has a place, and it works as its own little art piece.
Finally, what's your absolute best home secret or decorating advice? LEAN IN to whatever you love. I realized this a couple years back, and it's the best thing I ever did for myself. Your place is yours and yours alone, and even if you live with someone else, who cares! Surround yourself with things that make you happy, over and over again, to the most extreme degree. I'm the kind of person that only deals in extremes, so of course my place would be exactly what it is to the most literal degree. But it works.
Before I had this cloud bed that looks like I sleep on a sheet cake, I had a big plush pink bed. It was so crazy and silly but it was beautiful and it made me really happy. Like, what am I gonna look like with a gray couch and a navy bed? I dry heave at the mere thought of it. That's not me! What am I trying to prove, and to who? If someone doesn't like the way you decorated your home, then guess what? They can leave. Make your home a shrine to yourself, an altar. Once you start creating a home out of your life, you see yourself reflected back at you in the most gratifying way
This house tour's responses were edited for length and clarity.