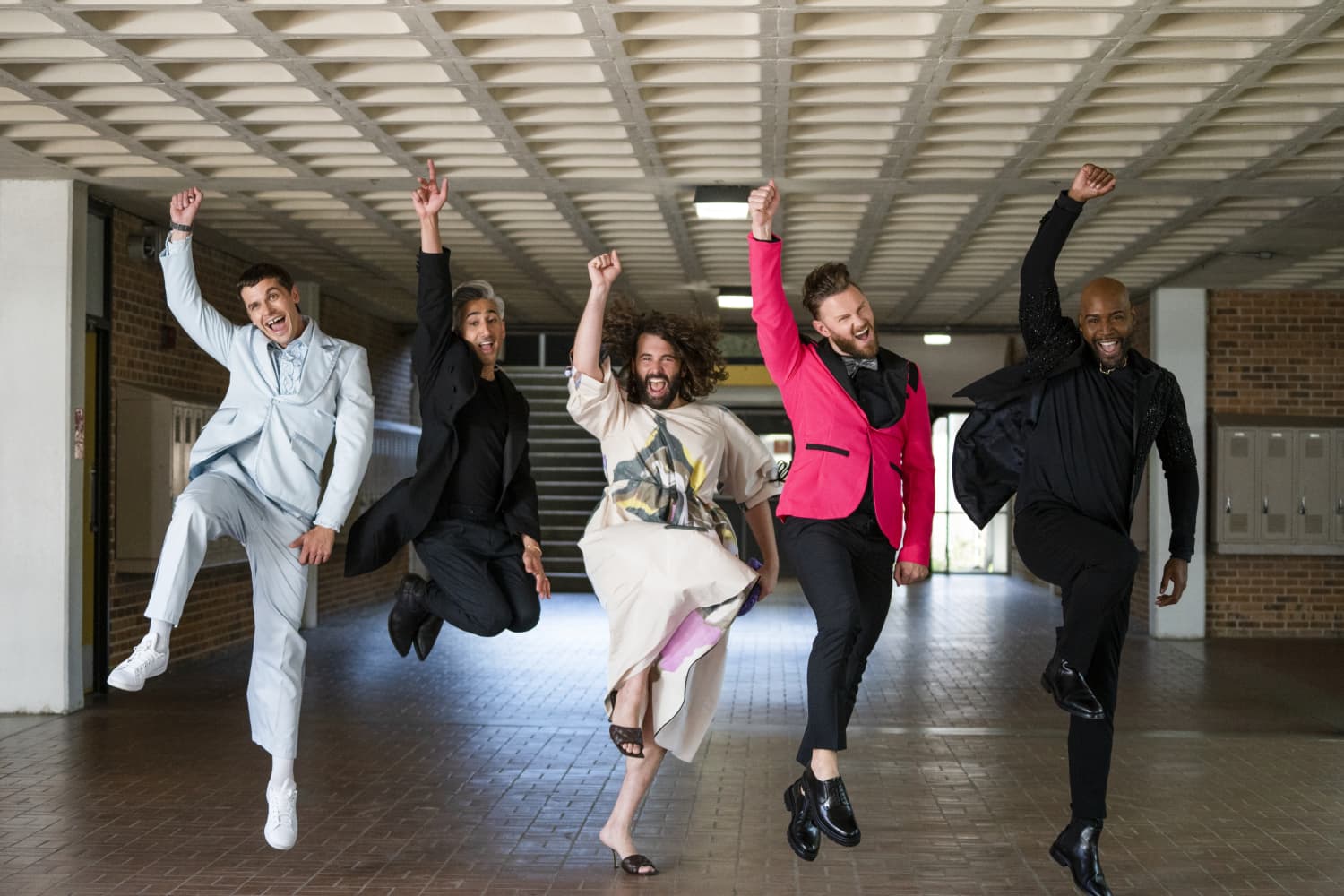 We independently select these products—if you buy from one of our links, we may earn a commission.
After an extended hiatus thanks to the pandemic, Netflix's "Queer Eye" has returned for its sixth season. This time around, the Fab Five — Tan France, Bobby Berk, Karamo Brown, Antoni Porowski, and Jonathan Van Ness — are helping people become the best versions of themselves in and around Austin, Texas.
The new season is filled with all the fun, heartfelt moments, big reveals, and teary-eyed chats (why do I cry so much while watching this show?!) that you've come to expect. This, of course, means that once again, you'll fly through the season.
So what do you do once you've finished? Well, aside from watching "Queer Eye" from the beginning, try one (or all) of these six shows:
If you love watching Antoni lovingly and patiently guide newbies in the kitchen, you'll feel right at home with Selena Gomez's endearing cooking show. Born out of necessity during the pandemic, the singer, actress, and self-proclaimed novice in the kitchen invites some real cooking pros — including José Andrés, Marcus Samuelsson, Candace Kumai, Kwame Onwuachi, and Antonia Lofaso — into her home virtually to walk her through cooking some of their favorite dishes.
Baking competition show "Nailed It!" is fun and vibrant, and the chemistry between host Nicole Byer and head judge Jacques Torres can't be beat — sound like any other show you know? Sure, it's about people epically failing at making baked goods, but in a hilarious, wacky, and joyful way. And a bonus for any "Queer Eye" fan: The Fab Five take turns in the kitchen (and Antoni joins the judging panel) in the finale of the second season.
Tidying Up with Marie Kondo
Really, it's all about what sparks joy, isn't it? In this series, tidying expert Marie Kondo visits various people and families to teach her KonMari method of organizing. Through this tidying journey, Kondo helps them declutter their lives — physically, mentally, and emotionally.
Speaking of joy: This crafting competition hosted by Amy Poehler and Nick Offerman is filled to the brim with it. The show is about people doing what they love, helping their fellow DIY makers, and creating beautiful things. It's an easy-breezy watch that'll make you feel good. But be warned, both the audience and Poehler end up misty-eyed at least a few times each season.
Yes, the fashion design reality competition show is still going, 19 seasons and counting! It's still about designers trying to make their fashion industry dreams come true by way of weekly challenges (and yes, the "unconventional materials challenge" is still, thankfully, very much a thing). But this current iteration — led by mentor and fashion designer Christian Siriano and the judging panel: Elle's Editor-in-Chief Nina Garcia, designer Brandon Maxwell, and writer Elaine Welteroth — feels much more celebratory than cutthroat.
Taste the Nation with Padma Lakshmi
The "Queer Eye" team always preaches the benefits of opening yourself up to new experiences, being curious, and learning new things — and so does Padma Lakshmi in her culinary travelogue series "Taste the Nation." Lakshmi travels the country exploring the cultures of various immigrant groups and the connection between food and identity.