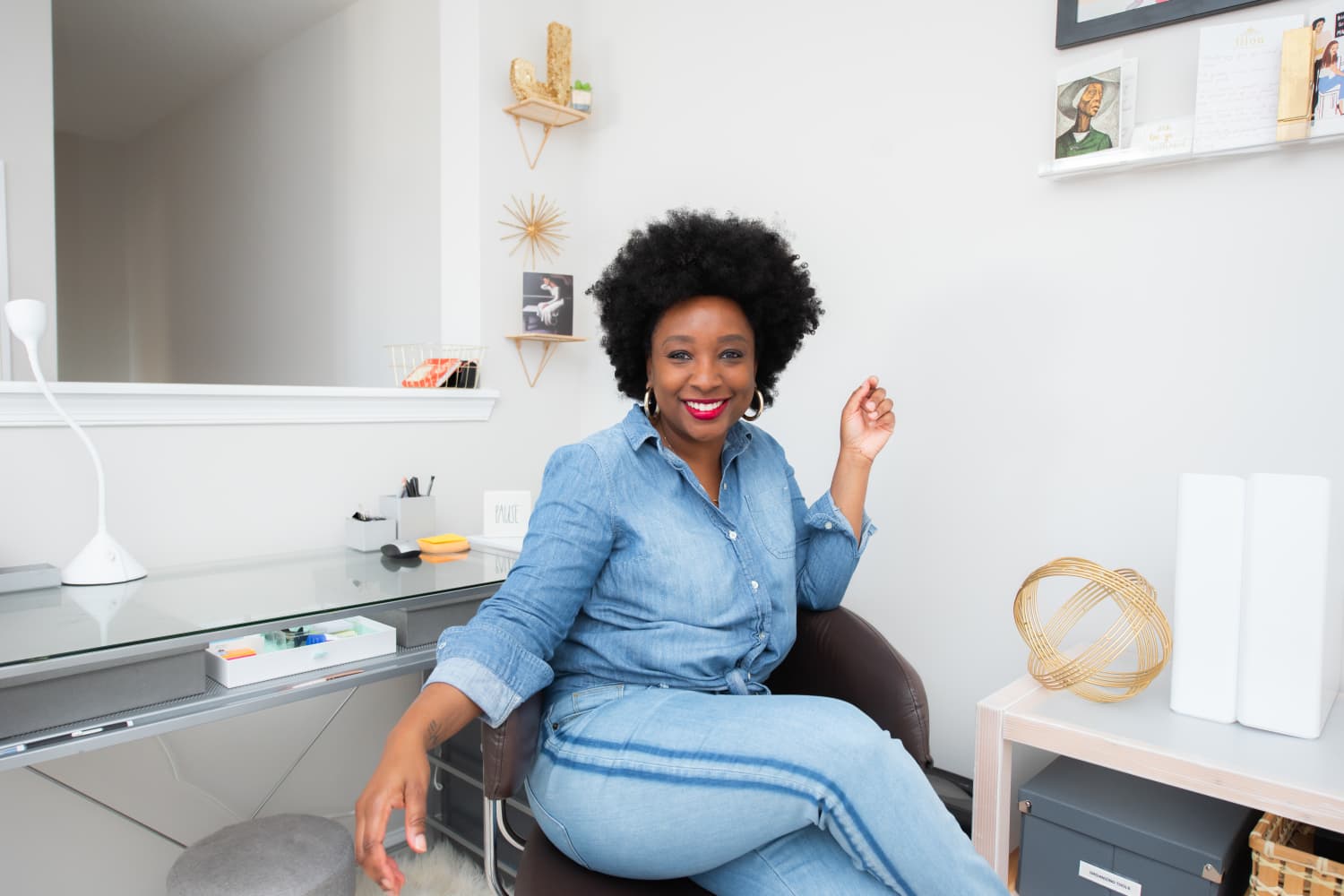 We independently select these products—if you buy from one of our links, we may earn a commission.
Name: Jakia Muhammad
Location: Between Baltimore and Washington DC
Size: 980 square feet
Type of Home: Apartment
Years lived in: 1 year, renting
Starting the year off by touring the homes (and drawers, pantries, closets, and more behind-the-scenes spots) of professional organizers, small space dwellers, and other design experts has become a tradition on Apartment Therapy. After all, how your home functions is just as important as how it looks, and I personally never tire of seeing how the pros organize their spaces. You can find great home tours and even greater organizing advice from this year's fresh crop of inspiration (and catch up on last year's tours) all on this one page: Professional Organizer Home Advice.
Jakia is the CEO and founder of SoleOrganizer, an organizing consulting boutique that provides home and lifestyle organizing services. And a year ago she found her compact rental apartment on a whim. "I needed a place and it had everything on my checklist, except for elevators," she begins. "The apartment that I live in is on the top floor because I really prefer not to have someone living above me. And the downfall to living on the top floor is that the complex didn't incorporate elevators into the design and so I have to walk up 6 flights of stairs. Let's just say going grocery shopping is an experience and I don't have a lot of company over because they despise the flight of stairs as well. But to make up for it, my apartment has a loft and a nice view of the pool. There's also a casino and mall across the way from my apartment, so when the lights are lit up at night for a quick moment, I feel like I'm in Las Vegas."
Though Jakia doesn't consider herself a minimalist, she's done a beautiful job of creating an uncluttered, organized home that holds just what she needs. It's a serene, soothing space that she works from and relaxes in. "As far as passing the time goes, I keep it pretty simple," Jakia admits. "I'm either curled up on the couch doing work or watching some of my favorite shows like 'Queen Sugar,' 'Curb Your Enthusiasm,' and 'Insecure,' or a good movie."
Apartment Therapy Survey:
My Style: I have a very simple style and I tend to purchase whatever catches my eye but I try to ensure that it flows with what I already have at home. While I don't consider myself a minimalist, I don't like to overwhelm my space with a lot of belongings because then it will require more work for myself to maintain.
Inspiration: I found a lot of inspiration on Instagram and gathered some ideas from there.
Favorite Element: My favorite room would have to be the laundry room because of how organized and functional it is. It motivates me to want to do laundry even when there isn't a large load of laundry to complete. I also didn't have to spend a lot of money to organize the space and the products used range from Dollar Tree products to products from IKEA. I remember when I finished putting the final pieces together that I just beamed with joy. One thing about myself is that it's really the simple things that make me happy — even if it's just an organized laundry room.
Biggest Challenge: I found it challenging to work within a budget but it also allowed me to really stretch my skills. I know that this apartment is a temporary space and it's not my forever home, which is why I wasn't focused on making major changes within the space. However, I did want to set it up in a manner that I would enjoy occupying. So, I made sure to keep a close look out for sales and shop at some of my favorite stores such as FiveBelow, BigLots, Ross, HomeGoods, and Target — and made sure to shop the clearance section. I always head straight to the clearance section within any store because many of the items are in great condition; they just may be a discontinued product.
Proudest DIY: This may not even be considered a DIY — but I spray painted a few Command Hooks. Again, because this is a temporary home on my journey, I tried to refrain from putting any holes into the walls if it could be avoided. But I needed a way to put up a curtain rod so I could hang up my curtains. But the color of the Command Hooks were silver and I didn't like how the color was a contrast against the wall and didn't match the curtains. So, I purchased a $3 bottle of spray paint from Michael's and transformed silver hooks into a cream color. It may seem very small but it makes me feel good when I have an idea, I execute the idea, and the outcome comes out better than expected.
Biggest Indulgence: The kitchen table was probably the biggest indulgence and while it's nice and really complements the space, meals really aren't eaten at the table. But I'm going to try to be more intentional about making use of the table because it sits by the window, which offers an amazing view of the pool.
What are your favorite products you have bought for your home and why? My rule for when it comes to purchasing organizing and lifestyle products is to make sure that there is an immediate need for the product and that it guarantees to solve a problem. I have purchased multiple Command Caddys, which have provided additional storage space in the pantry to store my spices. They're inexpensive and can be easily removed.
I'm also using the ClosetMaid 21" Stack or Hang Wire Shelf. I first discovered this product a couple of years ago while perusing the aisles of Target and used it in my aunt's laundry room that I organized for her. And ever since then whenever I encounter a space that has wire shelving, I tend to incorporate these shelves into the space because they provide instant storage. It's such a versatile product and is currently priced around $20. Target has really increased their storage and organization product line with Room Essentials and I love their drawer organizers. I use the drawer organizers from Room Essentials, which come in various sizes to contain items in the catch-all junk drawer, vanity drawers, and kitchen drawers. The organizers can prevent items from moving around within the drawers. And you can't beat the price as they range anywhere from $2 – $6.
Please describe any helpful, inspiring, brilliant, or just plain useful small space maximizing and/or organizing tips you have: I actually enjoy living in small spaces because it forces me to be creative and think outside of the box. I love using over-the-door hooks because they provide additional storage. The items that I tend to store on hooks are robes and clothing items that I may be able to get a second wear out of, therefore it doesn't need to go back into the closet.
When living in a small space, storage can be limited or non-existent. Therefore, I recommend the use of storage ottomans because they serve multiple purposes. The first purpose is that they add to the decor to any space and come in a variety of shapes, colors, and textures. Second, they provide storage, which means that items that you don't want to be out in the forefront can be tastefully concealed within the ottoman.
Lastly, labeling products to assist with identifying how to locate an item can save time. But if someone doesn't own a label maker, here is a hack that I have tried and it's worked. When I was visiting my grandmother in South Carolina, I decided to organize her laundry room using the Closet Maid 21" Wire Shelf and Room Essentials organizers. The organizers were great but at quick-glance it wasn't possible to determine what the contents inside were. So, I used some Scotch tape and a Sharpie and created my own labels. After writing on the tape, I waited a few minutes to allow the ink to dry up and then gently touched the writing to ensure there wasn't any transfer. Now this may not be a permanent solution but it's definitely still useful and a solution until you're able to apply real labels.
Finally, what's your absolute best home secret or decorating advice? My shopping trick is to check out the clearance section because many items located in that area are functional but the store may be discontinuing the item. Also, if an item has a small stain on it or is slightly damaged but you can repair it or remove the stain — ask if a discount can be applied. The ottoman that I purchased had a few stains on it and I got home and cleaned it and the stains easily came off. I've done that and 9 times out of 10; I've been able to have a few dollars knocked off of the price. I think the stores rather the product be purchased than have it just "sitting" in the store.
This house tour's responses were edited for length and clarity.