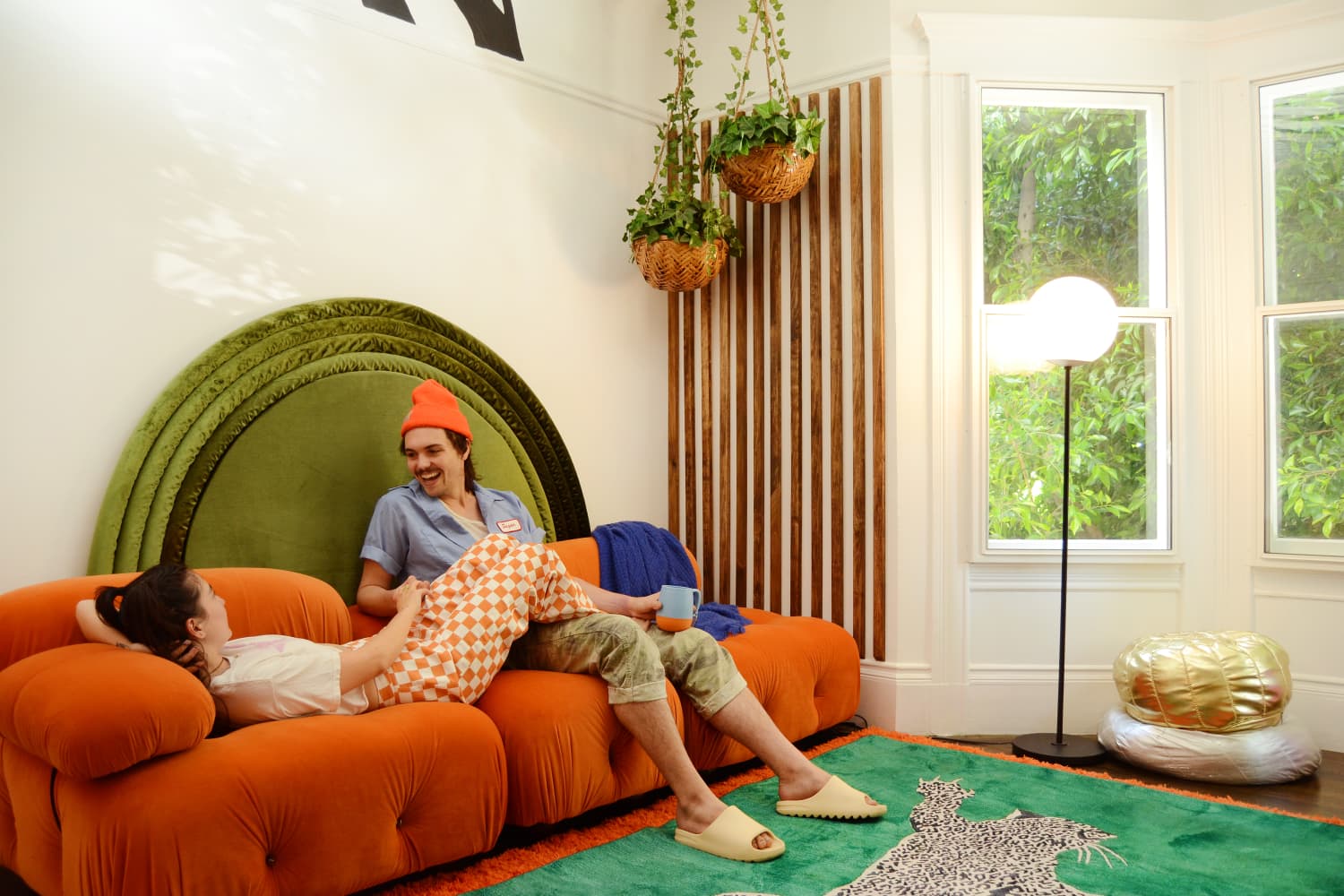 We independently select these products—if you buy from one of our links, we may earn a commission.
If you've spent any time at all on home decor TikTok, chances are you've come across a 'tok or two from Taylor, a freelance motion graphics artist who's recently gained fame for the videos of her colorful and quirky DIY projects. She shoots the entertaining and inspiring toks around her home, this airy San Francisco condo she bought a year ago. The aim behind all the DIYs isn't just to fill her home with decor, though. She's crafting happiness.
"I bought my home on my own during the pandemic, and quickly after I had a lot of health problems," she begins. "I felt really cooped up, alone, and a bit trapped in my new home. I decided to change my surroundings so that it would become my safe and happy space. I worked on it with all of my free time and made any changes that I thought would bring me joy."
She shares her home with Andrew, a professional toy inventor at IDEO, an artist that makes monster heads, and Taylor's partner in life as well as DIY project production. Just a few of the handmade creations in the home include: a green art wall above the bed, a wood slat wall in the living room, a headboard turned sofa back, painted murals, and a few disco ball DIYs.
"It's a beautiful historic building and I would never want to take away from the charm that comes with that, but it felt bland and cold. I love the old aspects of the place and just wanted to add life and color back to it," Taylor describes of her approach to home design. "The goal for my home has always been to make it feel like the most fun place you've ever been in, and I want every room to have a surprise in it once you enter. Like you'll have no idea what you'll get."
Apartment Therapy Survey:
My Style: I have no idea what to call it, someone online said "Mid-century Eccentric" and I really liked that. It's also very Pee-Wee's Playhouse chic.
Inspiration: Anything colorful brings me inspiration. I'm constantly just trying to think of new ways to incorporate more color into my space because it brings me happiness. If I see art out in the world I think of a way I could incorporate that into my interior design. I want my home to feel like an art exhibit.
Favorite Element: My blue squiggle hallway took me 30 hours to paint and was a labor of love. With my warped checkerboard runners it feels like you're entering a playhouse and I love that!
Biggest Challenge: The place was made around 1900 so it has old Victorian-era home problems. The electricity is an issue when using power tools on the left side of the house! I've become very familiar with restarting the breaker in the basement.
Proudest DIY: My greenery wall headboard DIY turned out so incredibly well, even better than I imagined it in my head. I enlisted my creative friends to help choose what shape the wall should be and it was really fun to get friends' opinions as I did the project.
Biggest Indulgence: This is so unexciting but my first major homeowner purchase was having extremely expensive soundproof windows installed. We live in a city and being so close to a really popular going-out scene is fantastic but also NOISY. The difference in sound has been amazing and it actually turns out to be so worth it!
Is there something unique about your home or the way you use it? During lockdown Andrew was my neighbor so he could stop by often, he designed and created an at-home tiki bar for me since we couldn't go out to any. It was a really fun massive project to take on during all that down-time of being at home. I can't tell you how lucky I am to live with an industrial designer!
What are your favorite products you have bought for your home and why? Almost all of my favorite furniture is in our dining room. I love mid-century pieces and I scored the most amazing hutch for FREE off FB Marketplace. Then my dining set I got from Rose Bowl Flea and I reupholstered the chairs myself to make it my most prized possession.
Please describe any helpful, inspiring, brilliant, or just plain useful small space maximizing and/or organizing tips you have: I personally hate clutter and I think it makes spaces look really busy. All pieces become invisible when there's too much going on so nothing can stand out. I like to have a lot of statement pieces that stand out on their own and no knick-knacks around it. Andrew feels differently hahah.
Finally, what's your absolute best home secret or decorating advice? I will ALWAYS suggest this to people: Don't be afraid to use color. The world needs more of it. It'll make you happy to wake up to!
Thanks Taylor and Andrew!
This house tour's responses were edited for length and clarity.