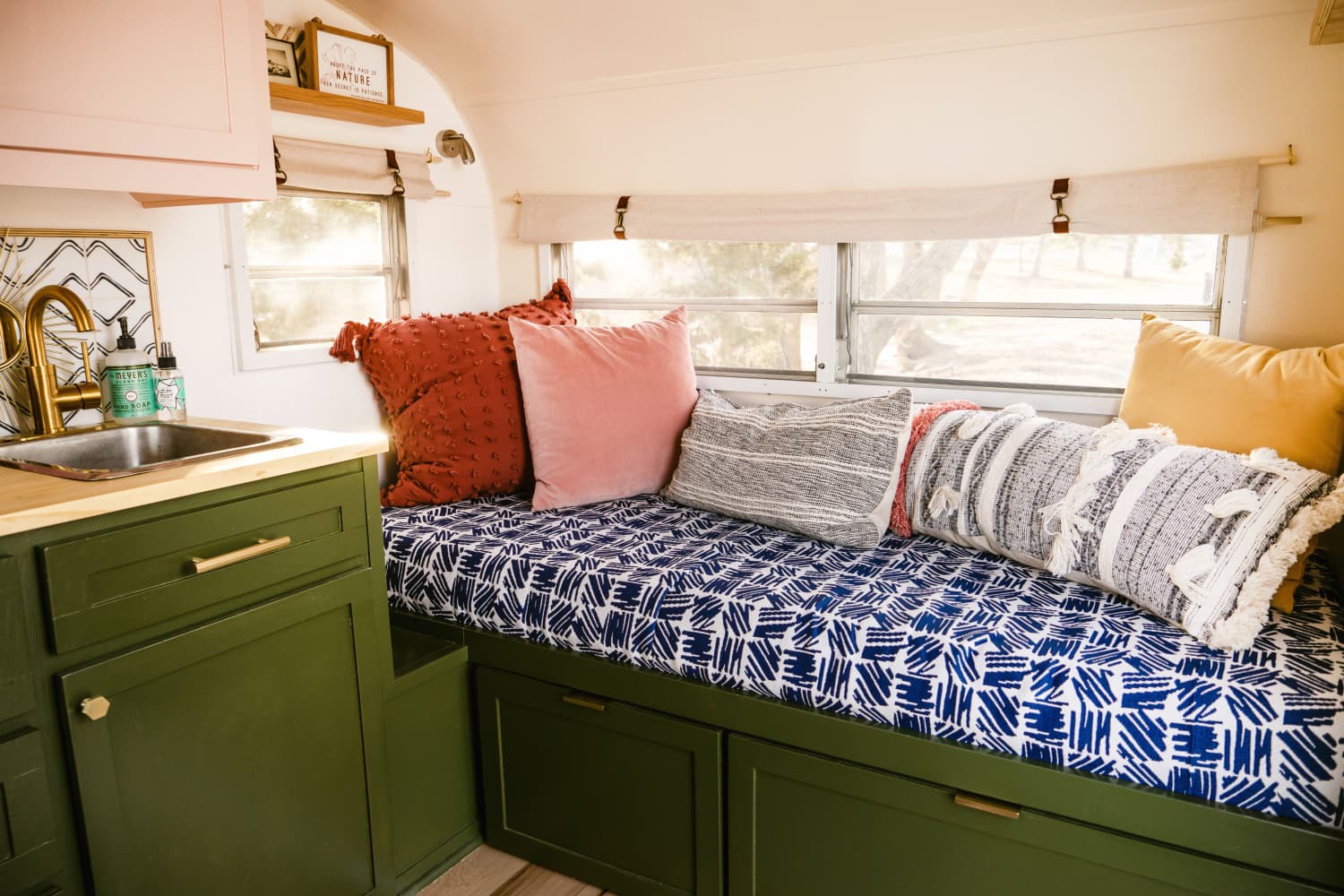 We independently select these products—if you buy from one of our links, we may earn a commission.
A small space is its own beast in the design world. There are multipurpose uses to consider, efficiency to maximize, storage to produce out of thin air, and that careful line between embracing simplicity and making the home your own.
But with limited square footage struggles come incredible creativity. Several of the most popular small house tours over the past year include owners and renters who chose to move into a tiny space and cultivate a cozy life. From working with the space you have rather than the space you want, to putting sustainability first, to planning design ahead of time, this is the best advice from Apartment Therapy's small house tours this year.
Secondhand is sustainable.
Caleb Brackney bought a 36-foot 1995 school bus on Facebook Marketplace for $3,000 and turned it into his own tiny home. The architecture and landscape architecture grad student, who has an undergrad degree in interior design, created a space that feels industrial, traditional, and warm — and he did it all sustainably.
Inspired by the efficiency of sailboat interiors, he focused first and foremost on upcycling on a budget. Brackney advises others to use what they can find and notes, "Don't resort to buying new items first. The best and most inspiring solutions for decorating and organization come from thinking outside of the box (or big-box store in this case). For me, Facebook Marketplace expanded my opportunities to recycle items, meet people, and prevent items from going to a landfill simply because I refused to shop online for most of my items."
A 450-square-foot studio with sterile poured-in concrete and minimal character presented a unique design challenge for Franco Cheng in Toronto. How could he make this space feel both larger and welcoming? Inspired by both industrial, clean design and warm, cozy winter cabins, he completely renovated the space and maximized the square footage. Cheng offers a tip for those looking to make the most of a smaller space: "Large mirrors help increase visual perception of the room. However, this won't work if you just leave the mirror leaning against the wall on the floor as your eyes will quickly catch the slightest slant in the reflection before your brain proceeds to understand it as just a mirror. To create the illusion of an extension of the space, you will have to mount the mirror flat on the wall."
A $600 vintage 1968 camper was absolutely dilapidated when Conan and Katherine of Wichita, Kansas, got their hands on it. But these two veteran camper enthusiasts knew the 62-square-foot space was a diamond in the rough. They spun it into a traditionally styled (as in traditional design, not traditional camper!) pink and green jewel box, which they consider a tent on wheels — perfect for a quick weekend away.
The key to their project: embracing the size and not forcing it to be something else. They recommend, "Play to the strengths of the space. Don't try to make it something it isn't. If it's small, make it cozy. If it's big and open, resist the temptation to jam it full of things. Just let a space be what it naturally is."
A 350-square-foot studio on Manhattan's Upper West Side is Isabelle Eshraghi's home base, where she resides with her plethora of plants. An exposed brick wall, collages of photos and images that inspire her, and comfortable furniture create a welcoming, approachable space that she describes as "cozy, vintage, airy, and eclectic."
Eshraghi's advice is a reminder that the most important thing in your home is to make it your own — you need to be comfortable there! "Don't be afraid of mismatched decor, and fill the space with things that make you smile when you come home at the end of the day. Take advantage of the layout of the space, because you can turn any room into a home, however small it may be. Comfortable furniture is also a must!"
A 528-square-foot house sounds almost too small to be real — except it is, and Anne Marie Hankins and husband, Spencer Wyatt, have maximized every square inch. They've made this tiny 1950s home feel positively light and airy, perfect for their St. Petersburg, Florida, location. With ultra-functional clean-lined furniture, the couple created a Florida retreat that accommodates both of them living, eating, studying, and working from home.
There are subtle nods to its '50s origins, while feeling fresh with more modern furniture styles. Hankins advises, "Build your home around pieces you love that will never go out of style. I would also say not to pigeonhole yourself into one type of design style. Mixing pieces and styles is the best way to add character and depth to your home."
Multifunctional is the way to maximize.
The designers advise others looking to maximize storage in a small space to think unconventionally and multi-functionally. In this tour, they said, "Closed, vertical, and multifunctional storage pieces are key in small spaces. Storage in general is great, but open shelves and bookcases tend to get messy and/or overfilled. Closed storage allows you to utilize every square inch behind doors while not overwhelming your space with its contents." Oh, and don't be afraid to get creative. "We used a bench as the coffee table because of its shallow depth and the white wall system is a TV stand, bar, extra kitchen storage, and dresser!"
Create a vision board for clarity.
Karen Akpan, her husband Sylvester Akpan, and their son, Aiden, live full time in their 260-square-foot RV, which they drive around the U.S. as digital nomads. When they bought the home off Facebook Marketplace, it needed a total remodel. Neither had ever taken on a small space renovation. They started by painting all the walls white to keep the small space feeling light and airy. Then they brought in accents of a vibrant teal, a color that represents open communication and clarity of thought, the exact elements they hoped to draw into their space.
For those looking to tackle a new design project or anyone decorating or redecorating, Akpan has wise words to get started. She recommends, "Create a vision board of what you want the end product to look like. That'll help you pull things together for your final look.​​"
Kirsten Lindberg's 219-square-foot Manhattan studio is rent-stabilized and has a "do whatever you want" policy from her landlord. A New York City dream, right? She may have a bathtub in her kitchen, which is in her living room, which is open to her bed, but she's made it her own brand of antique-meets-Midwestern-cozy. Lindberg has maximized every inch of this tiny space and filled it with items she loves, from family heirlooms to Broadway memorabilia.
Her biggest splurge was her West Elm couch, but she needed it to fit the exact dimensions of her tiny space. "If you live in a small apartment, spend your money on the couch. Get a good one. It's worth it; your bottom will thank you!"
Educate yourself and be prepared.
A 350-square-foot NYC studio that also functions as a painting studio and small business hub is the place artist Clare Spooner calls home. With vibrant colors, a collected array of art, rugs from her time living in the Middle East, items "shopped" from her parents' attic, and reupholstered vintage items, she's made this space a colorful hideaway from the city streets.
An artist first, she delights in learning about the past and encourages others to do the same as they make a space their own. Spooner says, "Educate, educate, educate. I read a lot and follow many designers and tastemakers, past and present, and am always learning more about what makes good design. Then I take what I've learned and go vintage shopping! I snag almost all of my finds in person so I can really see the quality and lines and feel a connection with the pieces. The story and soul of the thing is important to me."