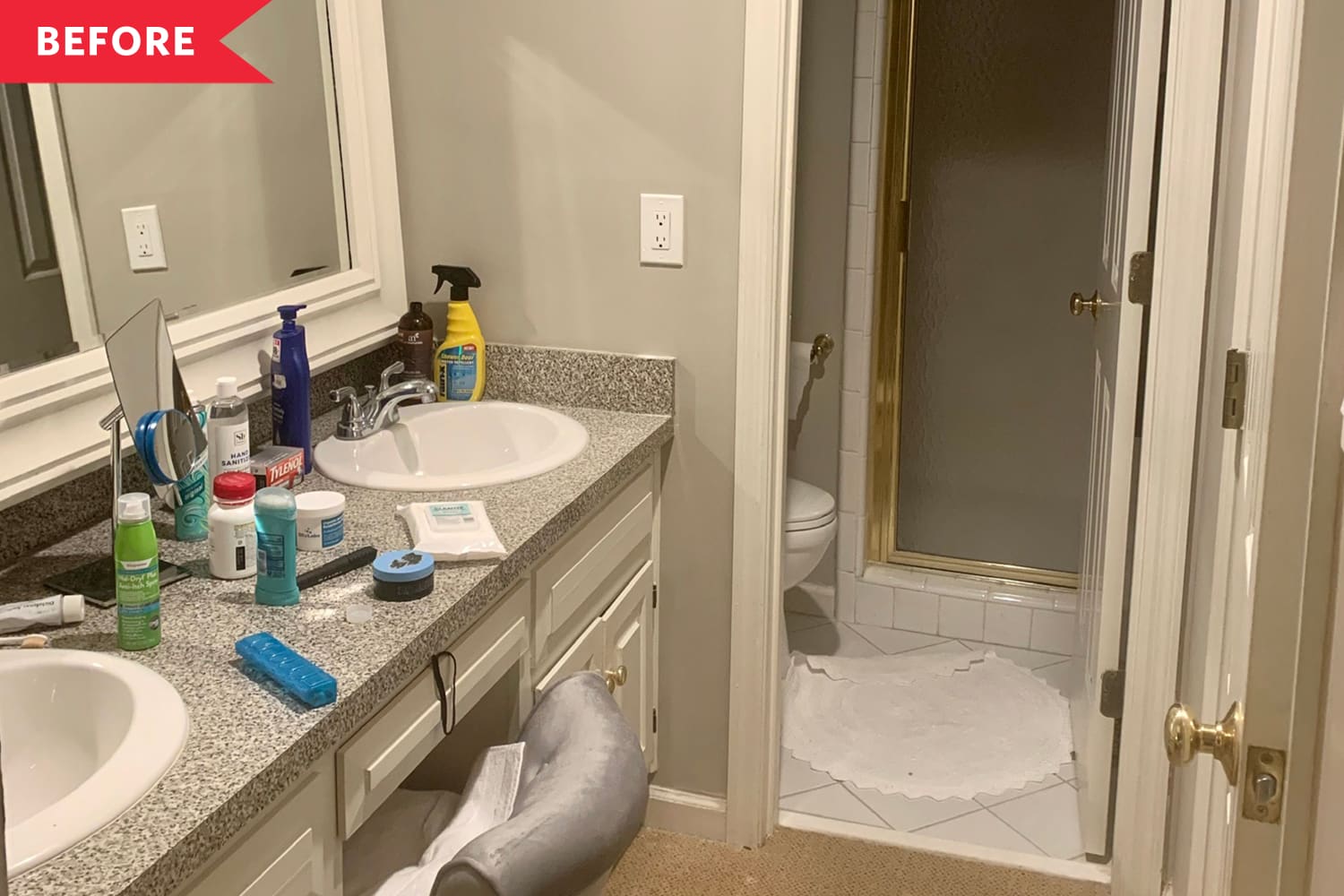 Wallpaper sometimes get a bad rap for being old-fashioned and stuffy. The truth is, though, that wallpaper can be the perfect accessory when you want to transform a room on a budget — and nowadays, there are so many fun and clever ways to use it.
So when it came time for Connie Blue to upgrade her home's en-suite master bathroom, she knew wallpaper would be involved. The space was very dated, with 1980s-era cabinets, Formica countertops, and, yes, very old wallpaper.
When Connie first moved into her home, she started by taking out the medicine cabinets, patching the walls, and replacing the mirror with a wide wooden-framed bevel mirror.
Out went the "small knobs and dated wallpaper" and in went vinyl faux grasscloth on the walls. The cool tone makes for a seamless transition from the attached bedroom.
"With the master bath vanity connected to my bedroom, the vanity now looks more like an extension of the furniture in my bedroom," Connie says. "It blends beautifully."
Connie then installed new lighting (perfect for a makeup vanity), added in modern brass fixtures, and covered the laminate countertop with a "heavy, waterproof, quartz-like vinyl."
Next, Connie painted the cabinets dark gray, creating the perfect contrast from those lighter elements. As a final touch, she painted the white-framed mirror a champagne gold to make for a bold statement and perfect play on the brass fixtures.
In total, the luxe en suite redo rang in at under $300.
Connie says she's proud of well she took the space from outdated to updated. Her advice to other DIYers? "Take time and think the project through the end, even if it takes time."