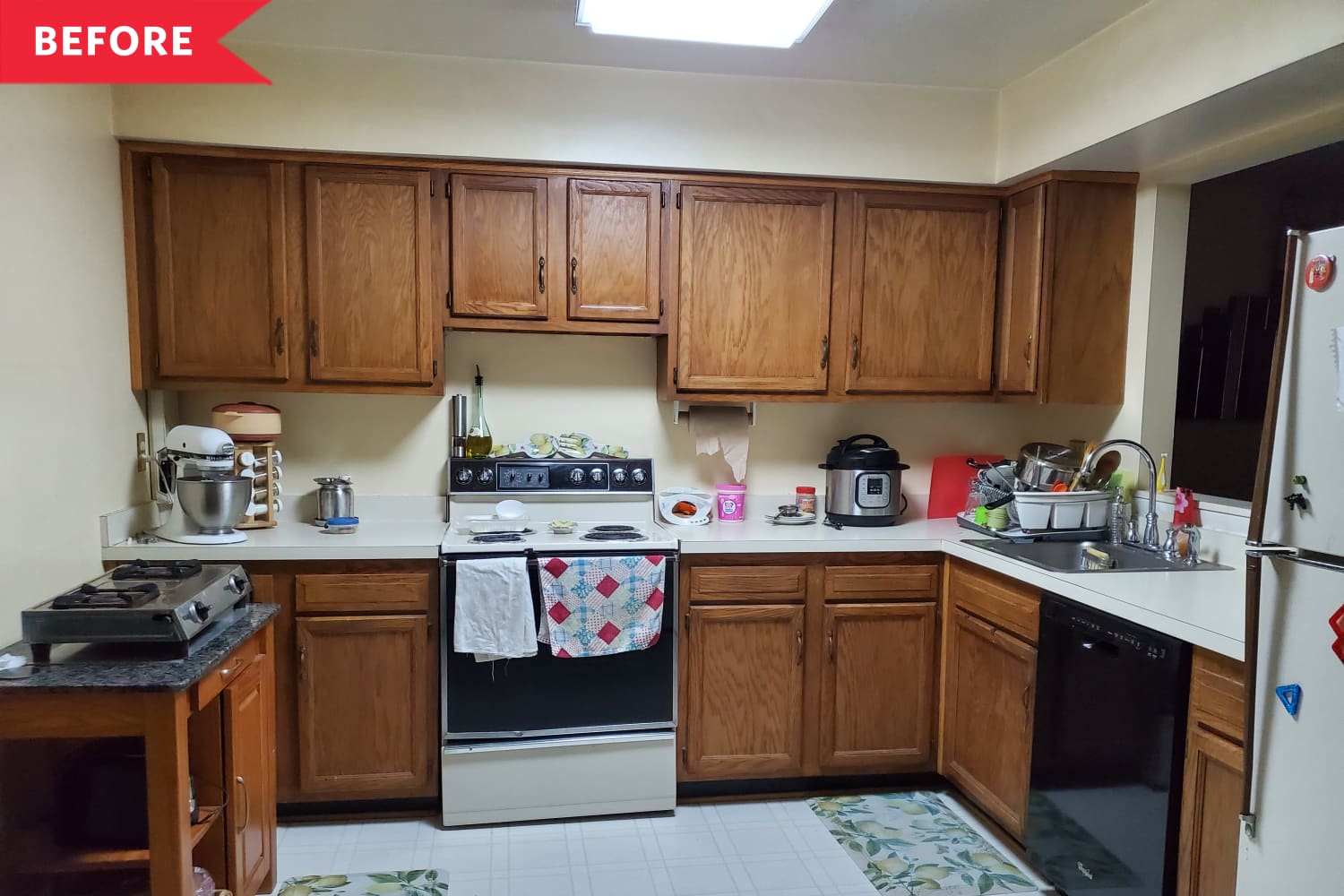 In an era mostly defined by the strengths of neutral tones, it can be tough to remember one simple fact: Color can make a big difference in a space. Whether you're looking to upgrade an outdated kitchen, overhaul a tired bathroom, or rethink a standard white wall, any rich color can immediately shift the mood. Bright and sweet shades like yellow or pink can make a small room feel alive, while saturated and rich ones like emerald or navy can dial up a sophisticated atmosphere. With a certain level of confidence, choosing a color that's anything but neutral can create a look that's entirely unique.
Our favorite showcases of color this year shy away from minimalist whites, grays, and beiges to prove that sometimes all a room needs to feel up to date is an unlikely hue (or two) to take center stage. From a bathroom that's awash in blue and a kitchen full of green, to a psychedelic accent wall and a colorful vanity mosaic, these spaces will have you reaching for a color wheel in order to get some new ideas. There's nothing wrong with a subdued palette, of course. But when it comes to color, sometimes it's better to just go all out.
Read on to see the eight best colorful renovations of 2021, and take notes of how their unique combinations made all the difference.
A Bold Green Cabinet Color Removes the Memory of Longstanding Grime
Martin Atwell had a 50-year-old kitchen that was in desperate need of some care — just ask the stained cabinets — but she only had about $200 to devote to its transformation. So, using many coats of paint and even more elbow grease, Martin meticulously prepped her cabinets before painting them in a smile-inducing shade of green. She then covered the walls in a bold orange, and added vintage items for an extra layer of charm. It's a maximalist look for sure, but it came in at a measly $160.
A Blue Palette Makes a Once Dingy Bathroom Feel Bright and Brand New
Lauren and Kameron Sears rarely used their guest bathroom, mostly because it was brown, bland, and entirely outdated. But seeing as they wanted their guests to feel welcome, they decided to update the space over the course of about a month. They painted the walls and ceiling in a shade of navy blue to coordinate with a floating vanity, and hired a professional to refresh the tub and floor tiles. With a few accessories to finish things off, the bathroom is now a place where they're more than happy to spend time.
A 1980s Kitchen Is Transported to 2021 With Help From Soft Pink Walls
Architect Dhara Sanghavi loved the memories she had of growing up in her mother's kitchen, but didn't exactly like that it looked the same after all those years. She decided to give her home-chef-extraordinaire mom a refresh using trends that are firmly placed in the here and now, using the skills she'd honed for others. Dhara painted the walls and ceiling in shades of pink to slightly contrast the wood cabinets and faux marble countertops, which all sit under an eye-catching gold light fixture. The results are charming and stylish, perfect for welcoming family and friends.
A Psychedelic Kitchen Looks to Midcentury Palm Springs for Inspiration
Bob Copani's home was built in 1979, and although it's set in the trendsetting city of Palm Springs, its stark white kitchen didn't exactly vibe with its more colorful surroundings. He turned to its groovy origin year for inspiration, and painted the lower cabinets in an avocado green to match a psychedelic mural on the opposing dining wall. It just goes to show that refreshing a kitchen doesn't always have to mean doing so by today's terms.
A Boring Bathroom Gets Reconfigured in a Yellow and Green Palette
Ash Appleton loved the location of her apartment, but the bathroom was a different story. It barely had character and completely lacked color, but Ash was determined to make it feel as lively as the rest of her living spaces. She had a handyman install a green mosaic tile to complement a yellow vanity, and painted the surrounding walls in a shade of teal. The far wall was covered in a floor-to-ceiling beach image from her travels, which defines the room's laundry area within an endless sunny day. The current bathroom is bold and cheerful, and tells a story of Ash's experiences.
A Warm Teal Shade Brings a Kitchen Into the Current Century
When Allie Affandy and her husband moved into an early 20th century home, they wanted its outdated kitchen to be a reflection of their bright and modern styles. They partnered with a designer and a contractor to get it just right, and settled on a warm teal color for their lower cabinets to make a statement within an open concept layout. Paired with wood tones and a bright white backsplash, the teal seems perfectly in place.
A Gray-All-Over Bathroom Gets the Emerald Accent It Needs to Shine
Shelbie Pletz and loved the gray and blue bathroom tiles that came with her 1950s home, but didn't appreciate how former inhabitants made the tiles fade into the background with a matching wall color. To give the tiles more attention, Shelby painted the walls in an emerald shade and her boyfriend Eric installed new vanity sconces. Alongside new flooring, a mirror, and plants, the bathroom feels mid-century in the best possible way.
Dark Green Cabinets Make a Tired and Dark Kitchen Look Brand New
Elise Zernis knew the kitchen in her home hadn't been changed in 20 years, even though she just bought the house. It was the space she wanted to update as soon as she moved in, since its bare wood cabinets made everything feel dark. Elise repainted the lower cabinets in a hunter green, and then replaced some of the matching uppers with open shelving. She also added subway tiles in a fresh geometric pattern, and installed new appliances. In the end, her kitchen looks and feels brand new.