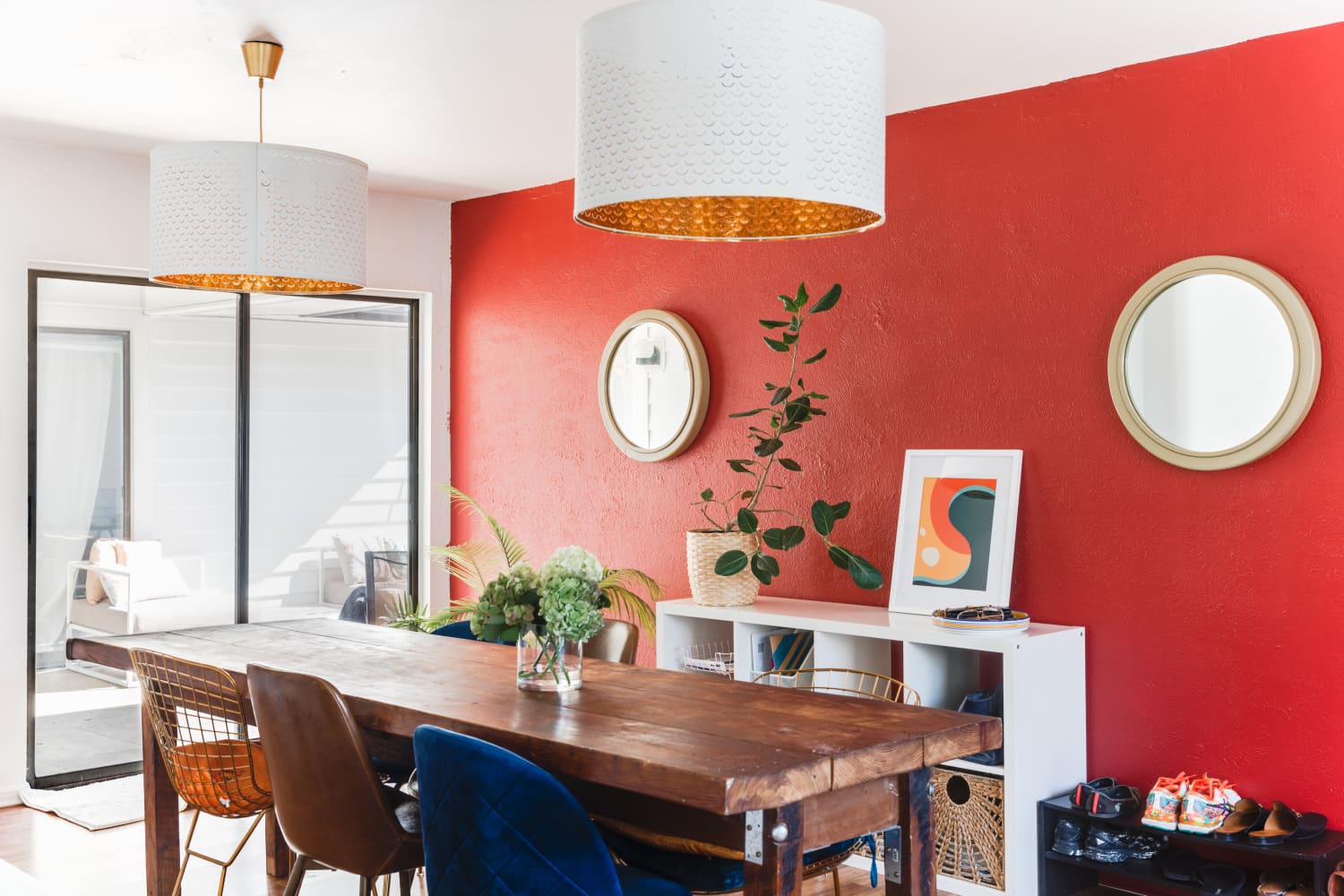 We independently select these products—if you buy from one of our links, we may earn a commission.
Name: LaMara Davidson
Location: Dallas, Texas
Size: 2050 square feet
Type of home: House
Years lived in: 3.5 years, owned
Le Cordon Bleu-trained chef LaMara Davidson is the daughter of an African American serviceman and a Korean émigré wife, and grew up eating Southern soul food and Korean food. Inspired by both, she calls her unique cuisine "Seoulfood." In 2020 she founded Cornbread + Kimchi, a line of products like flour blends, bread crumbs, and seasonings that blend her "love for Asian flavors and Southern home-style favorites" for "quick and easy use for the home chef."
The house she owns in a suburb of Dallas is also a blend, of bright colors, DIY projects, and high and low finds mixed to create her eclectic and cozy home. "Color and comfort is reflected in everything that I do," she writes.
Apartment Therapy Survey:
My Style: My style of home is definitely eclectic. Nothing really matches yet it all seems to work. I have amazing artworks from extremely talented artist friends styled with prints from Amazon. I am the queen of high /low. For example: CB2 couch and IKEA entertainment center.
Inspiration: I see in color. I consider myself to be a sunny, outgoing personality who loves being at home as much as I love traveling to new places and staying in hotels. Color and comfort is reflected in everything that I do.
Favorite Element: Currently I'm obsessed with my dining room /office that I painted "Sriracha" by Clare Paint, an online paint store led by a Black woman CEO. I love their paint! Admittedly, my friend Merv actually sent it to me when he saw that I was doing some DIY demo reno. It's only right that I give him some credit but I immediately fell in love with the brand and thank him for the intro.
Biggest Challenge: Doing a renovation while simultaneously going through a divorce and starting a new business in a pandemic has been the most challenging part. Both financially and initially emotionally. I didn't have the budget to hire professional painters but I knew I needed a change so I rolled up my sleeves and literally just picked up a brush (and a roller), turned on some music, and got it done myself. It was a lot of work but I have to say it was cathartic and so healing. There's instant satisfaction from seeing something through and seeing your vision come to life by your own hands.
Proudest DIY: Painting my brick fireplace wall that is in the center of the house is by far my proudest DIY project. It was an ugly brown brick wall that made the room dark, so I painted it white and it transformed the entire space.
Biggest Indulgence: My Tempur-Pedic mattress and adjustable bed was definitely my biggest indulgence. I spent an entire bonus check on it but it was totally worth it.
What are your favorite products you have bought for your home and why? My CB2 couches are my favorite pieces of furniture in and outside my home. I love that they are both modern looking and comfortable. Total "nap worthy" works of art in my opinion.
Is there something unique about your home or the way you use it? I made the family room my dining room because I had a 10-foot table I've had since my Brooklyn days that I just refuse to let go. It's a little worn in, but it has such history and character; it's part of me now. But she is just so big, so she needs space!
Please describe any helpful, inspiring, brilliant, or just plain useful small space maximizing and/or organizing tips you have: PURGE! Get rid of everything you don't need. Everything! You really don't realize how heavy it can feel when you're just surrounded by stuff. Once you set your mind to donating or selling things you don't use, I promise you will feel lighter emotionally, too. I also have a very deep pantry so I put items in baskets to help organize. As a chef I tend to keep a lot of pantry items.
Finally, what's your absolute best home secret or decorating advice? My best advice when choosing paint colors for a room is to buy samples and try it out in your home first. The lighting moves and can transform a space at different points of the day. Sit with it for a minute. It makes all the difference.
This house tour's responses were edited for length and clarity.