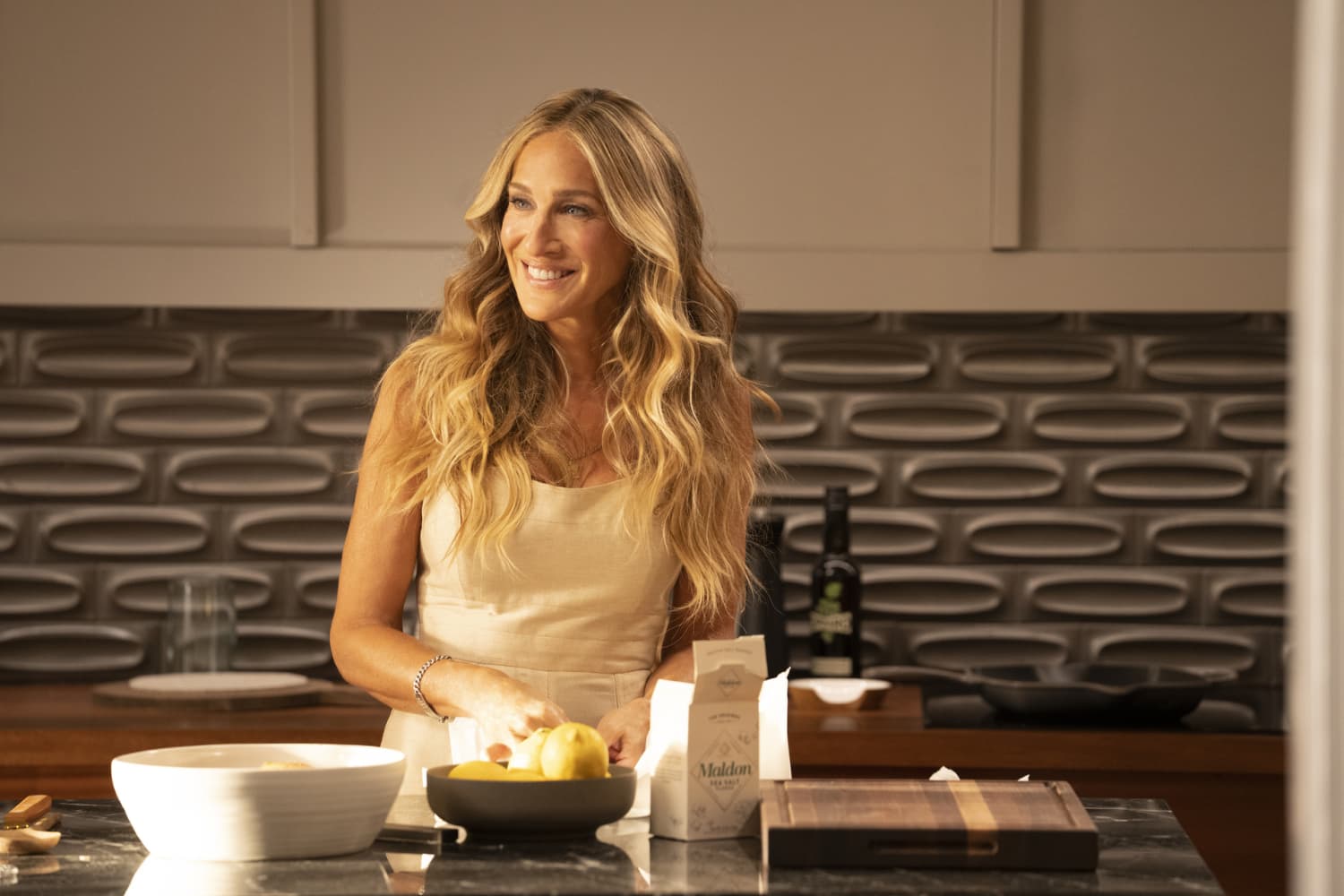 No matter how much time has passed, there's nothing like seeing old friends again. And with best friends Carrie Bradshaw, Miranda Hobbs, and Charlotte York of "Sex and the City" fame, you can always count on picking up right where you left off. That's why it's so exciting to see what's in store for the ladies as they dust off their Manolo Blahniks (well, mostly just Carrie) and take their sweaters out of the oven for the next chapter of their lives in HBO Max's new long-awaited series reboot, "And Just Like That…."
In the new series, more than a decade has flown by since the iconically fashionable women graced television screens around the world and, we couldn't help but wonder (had to) — how have Carrie, Miranda, and Charlotte changed? More importantly, how have their apartments and homes transformed since? The living spaces where the best friends laughed, cried, loved, and ordered many a Chinese takeout from Shanghai Garden in their 30s have surely changed over the years, especially with kids who have grown into teenagers, boyfriends who turned into husbands, and friends who became family.
To provide an intimate glimpse into the matured apartments of the show's stars, Apartment Therapy spoke to industry veterans Miguel López-Castillo, art director of "Sex and the City 2," and Carol Silverman, set designer for shows like "Saturday Night Live" and "Boardwalk Empire." Both were tapped to design the look and feel of the apartments, homes, and rooms at the center of "And Just Like That…," and the two dish on all the details about the inspiration behind the show's aesthetics.
Apartment Therapy: What made you want to work on the set design for "And Just Like That…?"
Carol Silverman: I actually worked for two weeks on the pilot in 1998, which is so weird. I wanted to work on a really exciting and fun project where we got to make a lot of really beautiful sets. That was my motivation.
Miguel López-Castillo: I art directed the second movie and it was a very ambitious shoot and scope, and it had a lot of complications, mostly having to do with the foreign travel component. But also, the stakes were way beyond what the series had ever done. It was kind of trial by fire, doing this kind of work. When John Melfi, the execute producer [of SATC and AJLT] called me and offered me the job and to meet up with Michael [Patrick King, executive director, producer, and writer of SATC and AJLT], I jumped in because I knew the support and ambition would be there to go all in on style and what the approach would be 10 years later. Time has passed. People's lives have changed. What did happen to these people in between?
AT: What are some of the biggest differences we'll see in the apartments and homes of the cast in the SATC reboot?
CS: It picks up right at the same time period that the movies leave off. It's as if just regular, normal time has passed. So it's about 12 years later. Charlotte, her apartment was always very white. She's grown up a little bit and looked around the color palette a little more. Carrie did sell her apartment when she moved in with Big, and then she got it back because she missed it. At that time, the idea was her friends could stay there, sometimes she would write there. So that's the idea that we carried over, that apartment has the same function in her life. Sarah Jessica [Parker] worked really closely with us for Carrie's iconic apartment. She had a lot of thoughts about what it should be and I'm excited for people to see her and our vision together.
MLC: No spoilers, but there are a lot of changes visually. One of the interesting things that Michael brought to us was that Carrie has kept her old apartment the way she always has, as her work sanctum, where she goes to write and whatnot. There is more of a feeling that she gets to do things there that she would not have in the apartment with Big, reflecting her travels, a different color sensibility, more her personality, whereas the apartment with Big had been decorated, for the second movie, very much with him in mind; it was very masculine and sort of austere. This, too, you will see has changed. We were asked to reflect both their personalities, more balanced. Also, [there is] a partial renovation expansion that was not there before. Color palette and stylistically, there's a fair amount of change in their apartment together.
AT: How have Carrie, Miranda, and Charlotte evolved their tastes now in their 50s?
CS: It's literally the difference between being in your 30s and being in your 50s. You have different tastes. You've seen more of the world, you've just seen more stuff. The kids are teenagers now. [Charlotte's] still involved with the museum. Miranda's settled in more in her home in Brooklyn. Mostly, they've matured and are comfortable in their lives and with themselves, and you can see that in their places.
AT: Miranda and Charlotte had young children in the show and movies. Now in their 50s, how do the kids factor into the production set?
MLC: In Charlotte's apartment, there's a sense of a little bit of chaos from the family. The girls are teenagers now and there's a little bit of tension between the decor and their bedroom being for a certain age. We were also asked to show a lived-in [space], more of a media/play area, electronic games, that kind of thing so that it's not quite as controlled as it used to be. Indirectly, it references the lockdown, so some of the things we'll see in the episodes will refer to that as in like, 'wow, we've been spending a lot of time indoors.'
CS: Kristin [Davis and I] had a conversation about how messy it would be. I had left some of the areas a little messy thinking they were the girls' areas and Kristin was like, "No, Charlotte would make them clean that up." That was funny.
MLC: Unlike Brady [Miranda's son]! He's established as having his own room, something we never seen before because now he's also a teenager. I have two [teenagers] and I was like, "Let me tell you something: teenage boys' bedrooms look like a bomb went off no matter what." So we had some fun with that.
AT: Are there any decor items or moments that were brought in from the original series and movies?
CS: Everyone should rest assured that Carrie's famous closets are the same. There are a couple pieces of furniture from Carrie and Big's that we kept, like the wallpaper in their foyer. I was able to find the same wallpaper. And [Charlotte's] famous flowers because I had the same floral designer who did the movies.
AT: What was your favorite part of designing the set of "And Just Like That…?"
MCL: What stuck with me from the moment I interviewed for the show, Michael Patrick said, "Bring the artistry to every set." [He said] he was never once disappointed in my sets. So that set the bar high.
CS: I can tell you that being in Carrie Bradshaw's famous closet with Carrie Bradshaw was a moment. Like, "wow, I'm here in this place." To be in there with the costume designer, Molly Rogers, and Michael Patrick King and they're just looking in the closet, "Oh, remember when she wore this? I remember when she wore that. The fashion roadkill outfit, right?" That was really cool.
AT: How can fans get the look from the set for their own apartments and homes (for a reasonable price)?
CS: I did keep in mind that people would want to take things away from the decor and the design. People could look at the color palettes, even the most upscale interior — everything's not so fancy. You can find different levels of similar objects and finishes at every price point. Like from Carrie and Big's, we have some taffeta curtains, those are pretty accessible. Patterned carpets and wallpaper finishes are pretty accessible. And the color palettes are really fun. Something people could look at and be inspired by.
MCL: They're very composed palettes, I would say. Very contemporary and inspired by current design. Literally, nothing was customized. Technology has changed. Now you can custom print just about anything and it doesn't have to cost you $100 a square foot.
Thanks for chatting with us, Miguel and Carol! Catch "And Just Like That…" now airing new episodes every Thursday on HBO Max.