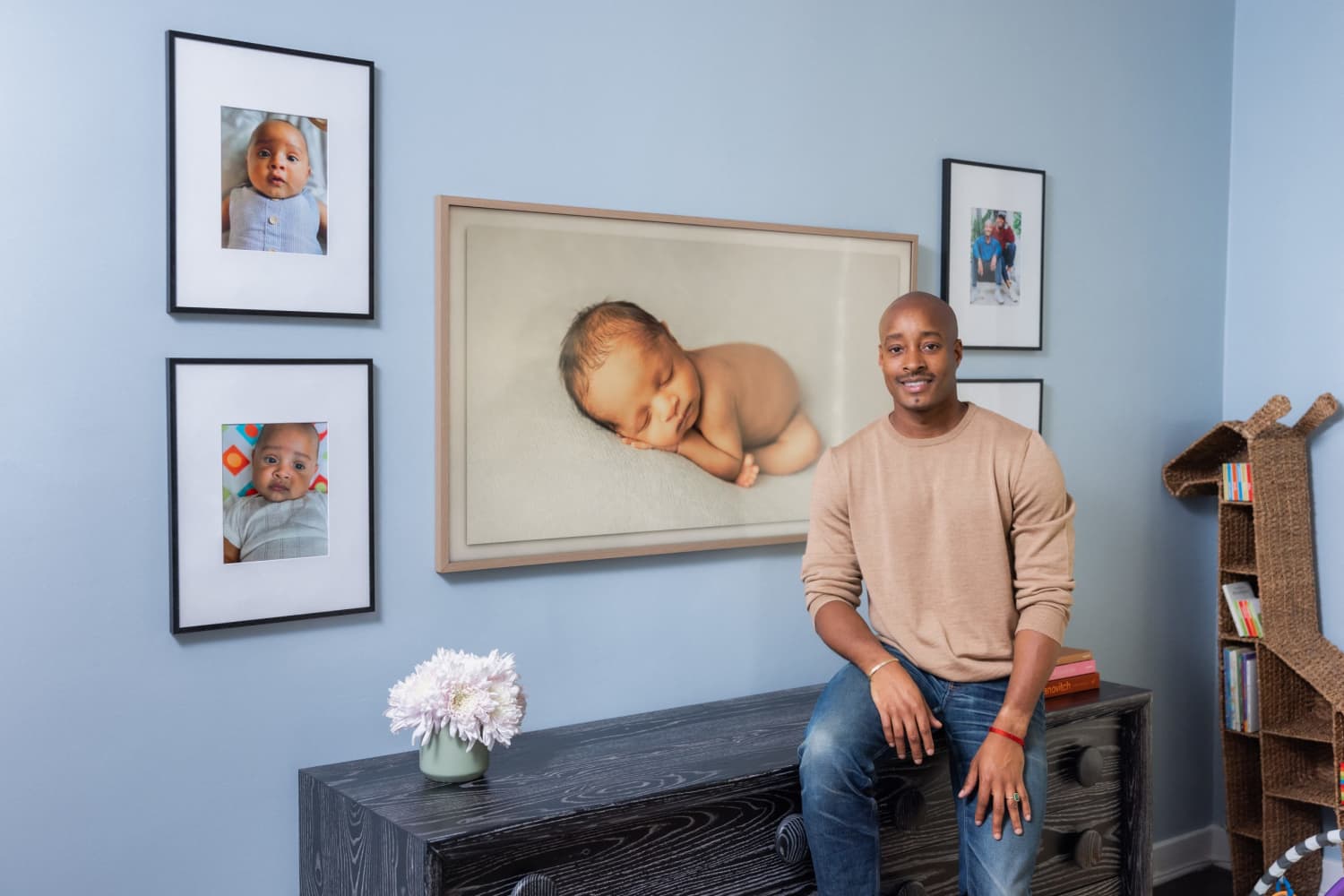 We independently select these products—if you buy from one of our links, we may earn a commission.
Celebrity designer Adair Curtis may be known for transforming the homes of his impressive client roster on the hit Netflix reality show "Styling Hollywood," but this year, he's taken on a new role: being a dad.
While Curtis is famous for his sophisticated, minimalist style with plenty of creamy neutrals, he went for something quite different for the playroom, which he designed through his partnership with Samsung. Curtis opted for brighter, bolder colors, but not because he had a personal change of heart when it comes to bright colors versus neutrals — that move was actually recommended by early child development specialists to help with baby development.
"We've [Curtis and his husband, Jason Bolden] had some really incredible help from early childhood development specialists that we work with, and they tell us how color is so important to a baby's development," Curtis told Apartment Therapy. "If it were up to me, things would be a little more neutral — I gravitate toward more earth tones — but I know that's not what's best for my son's brain development." As a result, Curtis leaned into blues, greens, reds, and more vivid colors to fill the playroom.
Yasmin Shaheen-Zaffar, a BACP-qualified psychotherapist, echoes that color plays a crucial role in the development of cognitive and motor skills in children.
"Babies can see color from around five to six months and sight development continues until the age of around 10," she explained. "Pre-verbal toddlers use color to communicate by drawing their emotions when coloring, for example. Color plays a big role in the lives of children."
Shaheen-Zaffar says that colors that are "too bland," like white and beige, will be under-stimulating, which can lead to behaviors such as loss of concentration and excessive emotional reaction. On the other hand, excessive stimuli can cause changes like an increased pace of breathing.
For the best results, Shaheen-Zaffar suggests a balance of the two.
"I would recommend neutral tones — cream, stone, pale pink — with bright splashes of color," Shaheen-Zaffar suggested. "Creating a feature wall or accessorizing the room with vibrant furniture that can be changed over time is the best way to accomplish this. It gives you a flexible approach as the child develops and forms their own taste."
And for Curtis, it was a no-brainer to change his color habits for the benefit of his baby boy. "I think a lot of parents will attest — and I've heard it a number of times — that a baby changes you and your outlook on life," Curtis said in an interview with Apartment Therapy. "In terms of design, I definitely embrace color a lot more than I would otherwise if I didn't have Arrow."