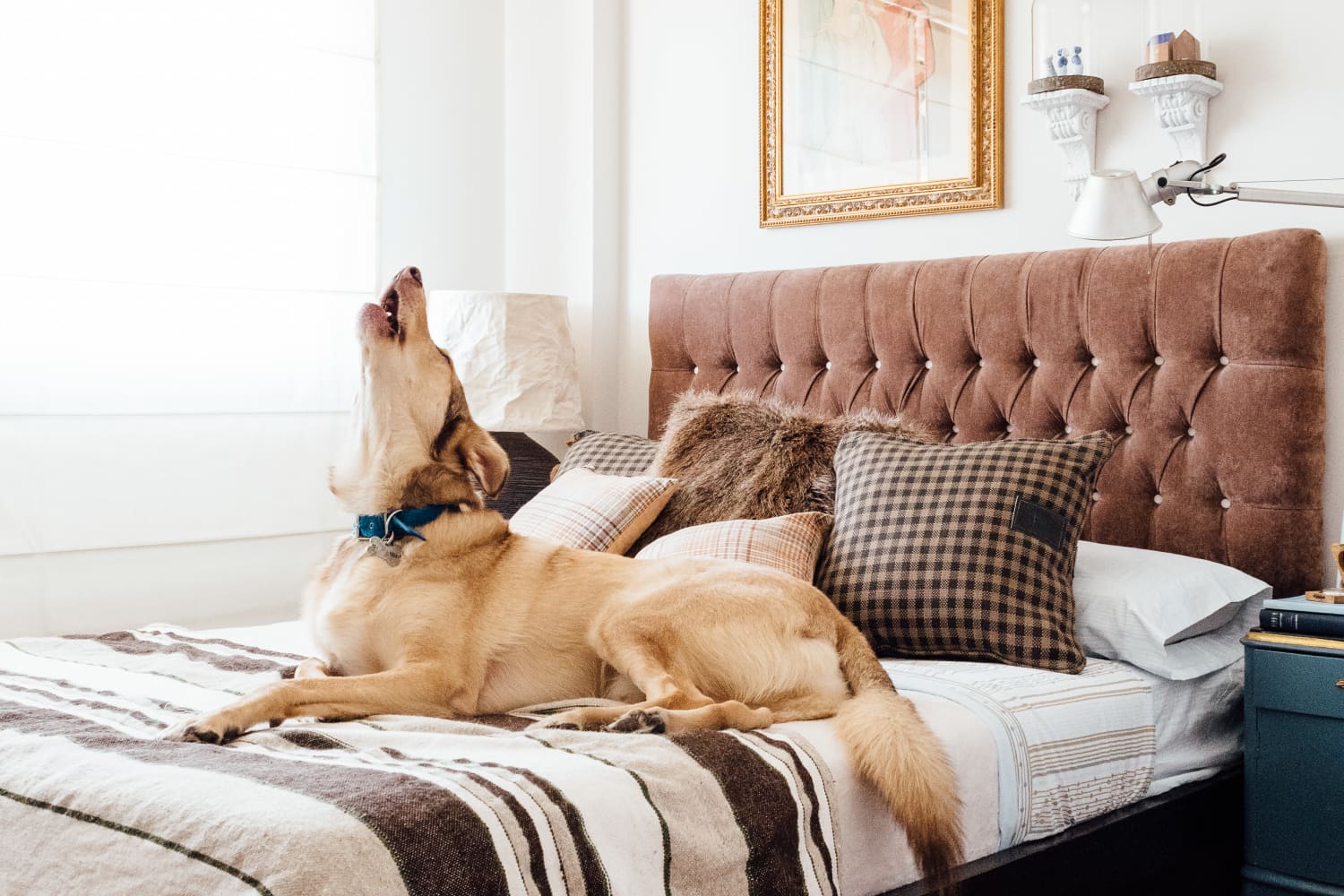 Preparing to go out of town can feel like a never-ending to-do list. That goes double if you have a pet, and especially a dog. Sometimes taking your pet with you can be more enjoyable for you both, but there may be times you'll need to enlist the help of a dog sitter, or a local kennel or boarder.
You may think that traveling with your dog is impossible. However, you can often bring your four-legged friend along, especially if you choose a pet-friendly hotel. To set you and your pup up for success, experts — from avid travel bloggers to pet behavior specialists — give their advice on taking your dog to a hotel for the first time.
Book a pet-friendly hotel.
Making pet-friendly accommodations is essential, but there is a difference between hotels that simply allow dogs and ones that genuinely welcome four-legged friends with open arms. "Don't take a hotel's claim that it is pet-friendly at face value," Steve Segner, the owner of El Portal Sedona Hotel in Sedona, Arizona, tells Apartment Therapy. "Hotels that are truly pet-friendly will take steps to ensure that human and non-human guests alike have a comfortable stay."
Andrew Hargis, the general manager of the pet-friendly Le Meridien St. Louis Clayton in St. Louis, Missouri, agrees that everyone should have a better experience at a hotel that is excited about hosting pets. "Don't look for just a dog-friendly hotel but rather one that treats dogs as part of their family — hotels that are pet-enthusiastic," he says. "A hotel that creates a welcoming environment can make the difference between an anxious dog and a content dog."
Practice makes perfect, and although a single simulation may not alleviate every problem, it could help determine how your dog behaves in a strange place. Gigi Chau, the founder of Wet Nose Escapades, suggests practicing with your dog beforehand, such as at a willing friend's apartment.
"Ideally, you should find a place where your dog has never been before so you can assess their reaction and behavior before taking them to an actual hotel," she says. "That way, you have a good idea of what shenanigans your dog may get into when left unattended in an unfamiliar place." During this trial run, you can try spying on your canine via a dog cam as you step out for a few hours. Then you can try to amend any behavior problems you encounter.
Have permission to bring your dog.
If you're thinking about smuggling your dog into your hotel room, don't — for many reasons. Unseen pet dander may cause problems for the next guest, and if the hotel discovers a rogue pet, you could receive a hefty fine. "Never sneak your dog in a hotel," says Daniel Gillaspia, who founded the travel blog UponArriving. "You can get hit with a big fee, and you might seriously affect people who have bad dog allergies."
Stephanie Craig, the travel blogger behind History Fangirl, often takes her canine on the road, although she's learned from experience that having permission is best. When Craig took her dog on her first hotel trip, the pup barked so much that she got caught. "Luckily, this hotel did not care, but I would never advise sneaking a pet into a hotel," she advises. "The risk and stress are just not worth it!"
Your dog may not understand why it's in unfamiliar surroundings, so try to bring a few familiar items to soothe them. "Helping a dog feel comfortable in a hotel is all about making the hotel feel like a familiar, safe, and predictable space for the dog," advises Dr. Crista Coppola, a certified dog behavior specialist for Senior Tail Waggers. "Bring along your pet's favorite bed, blanket, and toys."
Beyond your pet's comfort, there are other essentials you'll need to pack, and if you plan on traveling with your dog consistently, make a checklist of everything that has to go on every trip. "A crate is still necessary for your dog even when traveling," advises Hargis. Although some hotels have dog beds on hand, it's always a good idea to crate a dog for its safety and that of any staff needing to enter the room, so make sure you have both brushed up on your crate training beforehand. Hargis also suggests bringing pet bowls and your dog's regular food.
Request a first-floor room.
Although you may crave a room with a view, it's probably best for your dog to be as close to ground level as possible. Getting outside to walk your dog is also more convenient if you book first-floor accommodations, and waiting on a slow elevator when nature calls may leave your four-legged friend uncomfortable. "I always make sure to request a floor-level room if possible as this makes for quick access to the grass in case you anticipate a nervous accident," says Finn Cardiff, the founder of the travel blog Beachfix.
During your stay, you may encounter others who may not feel comfortable around dogs. "Not everyone loves your pup as much as you do," reminds Ashley Carpenter, a dog trainer at Limitless Canines in Severn, Maryland. "To make sure you are respectful to all guests staying in the hotel, keep your dog in a crate or on a leash when walking through public areas."
Conversely, if you don't want strangers interacting with your dog, try to stay away from others and avoid lots of activity in the common areas for the comfort of your pet and wary guests. "Try to check in and out during off-peak times of the day so you can minimize anxiety for both you and your pet in the lobby area," Sadie Cornelius of the Canine Journal tells Apartment Therapy. She also suggests getting anti-anxiety medication from your veterinarian if your dog is nervous.
Be prepared for emergencies.
Part of traveling is preparing, whether it's for a flat tire, missed flight, or the safety of your dog. While you are out of the room, use a camera so that you can have peace of mind and check on your pup. "​​Consider bringing a doggy cam," advises Cornelius. "You can use it to keep an eye on your pet if you need to leave them in the room at any point."
Additionally, Cornelius suggests making a copy of your pet's medical records in the event of a crisis. It's also essential to confirm that your dog has current vaccinations. Prior to leaving, do a quick Google search so that you can pinpoint the local veterinarian and after-hours emergency clinic. Hopefully, these are just preventative measures, but being prepared can have your pet one step closer to safety should the need arise.