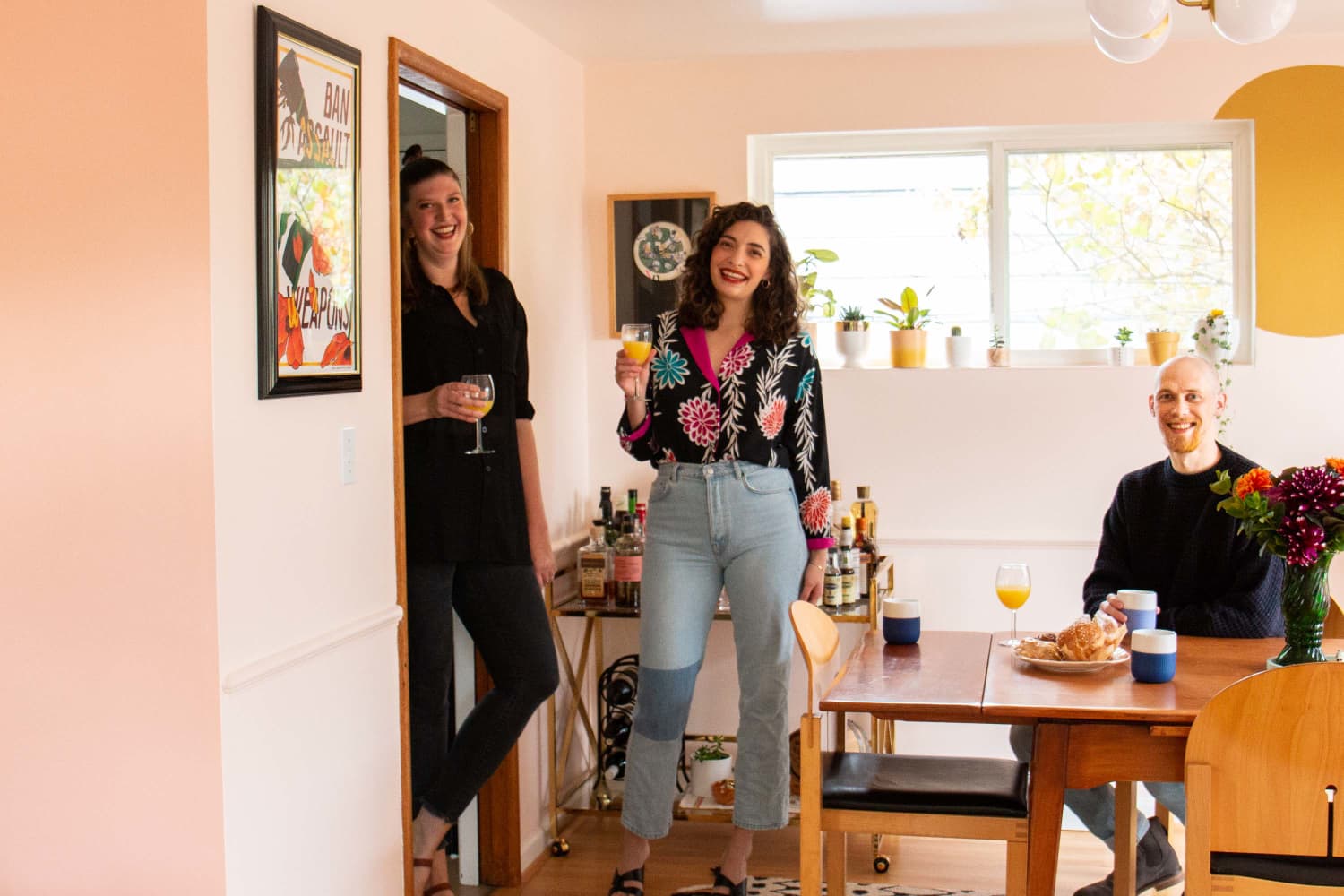 We independently select these products—if you buy from one of our links, we may earn a commission.
Name: Zoë Withered, partner Mark Lee, friend/roommate Emma Anderson, with cats, Sebastian (Siamese) and Cleo (Calico/Tortie)
Location: Seattle, Washington
Size: 2000 square feet
Type of Home: 1950s Ranch House
Years lived in: Almost 2 years, owned
Zoë Withered and her partner Mark Lee decided to buy a house in January 2020. "We had been talking about owning a home for several years and had managed to save up some money, but we were also first-time home buyers and we had no idea what we were doing," begins Zoë. "We spent months house hunting, and lost out on multiple places before finding our current home. We could only afford a 7 percent down payment, and in Seattle you're competing with pre-inspections and all-cash offers. Thankfully, we had a great realtor who encouraged us not to give up."
Zoë continues with her home buying story: "We saw this house the day before Seattle went into lockdown, and we were immediately in awe. It's a boxy 1950s build, so it doesn't have any of the gorgeous architectural elements you see in older (or more expensive) homes, but it has gigantic windows, ample outdoor space, and original hardwood floors. Also, coincidentally, when Mark and I first started dating, he lived in the house directly next door! The connection felt serendipitous and we both fell in love."
"We put an offer down immediately and wrote the sellers a letter about how much we loved the house. The sellers were also first-time home buyers who had bought the house with a VA loan — they saw some of themselves in us and were sympathetic to our situation. Even though there was a competing offer that was better financially, the sellers ultimately chose ours. I am forever grateful that they took a chance on us, and I hope to do the same if we ever sell our home."
Apartment Therapy Survey:
My Style: I would describe my style as eclectic, vintage, colorful, and just a little bit kitsch. I love mid-century modern, Art Deco, '80s Memphis, and Hollywood Regency. In general, I strive for a home that feels vibrant, cozy, playful, and unique. I don't want total chaos, but I also don't want to take my home (or myself!) too seriously. The goal is for my space to be intentional and aesthetically pleasing, while still maintaining its charm and imagination.
Inspiration: Travel, art, fashion, and the natural world. But also, as someone who is not an interior designer, I am forever inspired by ordinary people doing extraordinary things. Of course, I am always in awe of the spectacular, professional designs I see in magazines like Architectural Digest. But for me, a lot of inspiration comes from regular people (with budgets and setbacks and time constraints!) designing homes that are unique and inventive and beautiful. I am the handyperson of the house, and I fully credit the badass folks of Apartment Therapy and DIY Instagram for making me want to learn how to refinish the floors and install plumbing and learn basic electrical.
Favorite Element: The natural light! When we first viewed our house, it had seven and a half foot ceilings, a teeny tiny '50s kitchen, damaged wood floors, and outdated bathrooms. However, it also had stunning natural light! The living and dining rooms have floor-to-ceiling windows and the daylight we get is phenomenal (even our basement bedroom has a large, south-facing, light-filled window). The light got me and I fell in love with this place as soon as we viewed it.
Biggest Challenge: One of my biggest challenges is decorating with both plants and cats in mind. My first loves were my houseplants, and I now have over 50 of them. Then, a few years ago, Mark and I adopted our cats (who are the best pets in the world!). However, our cats HATE the plants (or maybe they love them? I honestly can't tell). I have to keep my plants out of reach of the cats or they will absolutely destroy them. When I design, I try to make sure my plants are 1) getting adequate sun 2) out of reach of claws and teeth and 3) aesthetically pleasing. It doesn't sound that challenging, but it's surprisingly complicated to find spots that fit the parameters. I use hanging pots, high tables (with tape and tin foil to discourage climbing), strategically-placed grow lights, and extra-tall homemade plant stands. It's made me get really creative with my plant displays!
Proudest DIY: Everything I do is DIY! But my first project is still the one I am the most proud of. When Mark and I bought our house, the first projects we did were paint the walls and refinish the hardwood floors. Painting is pretty easy, but we had zero experience refinishing hardwood. Literally everyone — from our parents to the internet — told us not to do it ourselves.
Like the stubborn millennials that we are, we decided to ignore everyone and DIY the floors. Our entire upstairs is hardwood, so we had a lot of ground to cover. It took us three days to sand, two days to seal and finish, and two days to do the prep/cleanup. We rented an upright orbital sander, worked 10-12 hour days on the weekends, and got really sick of one another. After two weeks of hard work, we finished the floors and they turned out amazing. They're not exactly "professional," but everyone who comes to the house comments on how great they look!
Biggest Indulgence: A few years ago, we bought our antique wooden step shelving on OfferUp (to date, one of our most expensive purchases!). Prior to that, most of our furniture cost less than $50. I still buy much of our furniture secondhand, but I'm now more willing to spend money on quality vintage pieces. As we've experienced greater financial stability, we've been able to invest in pieces we love and care about, instead of just taking whatever someone is giving away for free. It's a great feeling and a huge privilege to be able to curate our space so intentionally.
Is there something unique about your home or the way you use it? Almost all of the furniture and decor in our home is secondhand! I buy things like sheets and towels and curtains new, but most pieces of furniture are used. I get sucked in by flashy marketing campaigns as much as the next person, but I really do try to buy secondhand as much as possible. This began as financial necessity, but has now become a conscious, sustainability-focused choice. The environmental impacts of fast furniture (and fast fashion) are astronomical. One hundred percent ethical consumption is basically impossible within our current system but, by decorating my home with secondhand finds, I can at least lessen my impact. Plus, it makes our home hella unique!
What are your favorite products you have bought for your home and why? Paint! Because you can completely change the look and feel of a space for under $100. My favorite brands are Clare Paint and Backdrop! Both paints are low/no VOC, so there is literally no paint smell — it's amazing!
Please describe any helpful, inspiring, brilliant, or just plain useful small space maximizing and/or organizing tips you have: I'm pretty clean nowadays, but when I was a kid I was horribly messy. The biggest thing I've learned is to work with my brain instead of against it. For example, I always take my jewelry off at the bathroom sink before I wash my face or take a shower. I would never remember to put the jewelry away afterwards, so it would sit, littered on the counter, for days and days. Instead of guilting myself for the twelve pairs of earrings cluttering the sink (or pretending like I was going to somehow start becoming the type of person who puts their stuff away immediately), I started putting a little catch-all on the counter. It's a colorful tea saucer that I found at Goodwill for $2, and it acts as my jewelry dish — it actually looks kind of cute when it's filled with gold necklaces and hoop earrings! Then, when I finally remember, I put all the jewelry away. Don't fight your instincts!
Finally, what's your absolute best home secret or decorating advice? Decorate for yourself, but push your creative boundaries. Use color, even just a little. Buy weird thrift shop finds and display them proudly. Experiment and know it's okay if it fails. Fill your home with personality and fill it with love!
Thanks Zoë, Mark, and Emma!
This house tour's responses were edited for length and clarity.