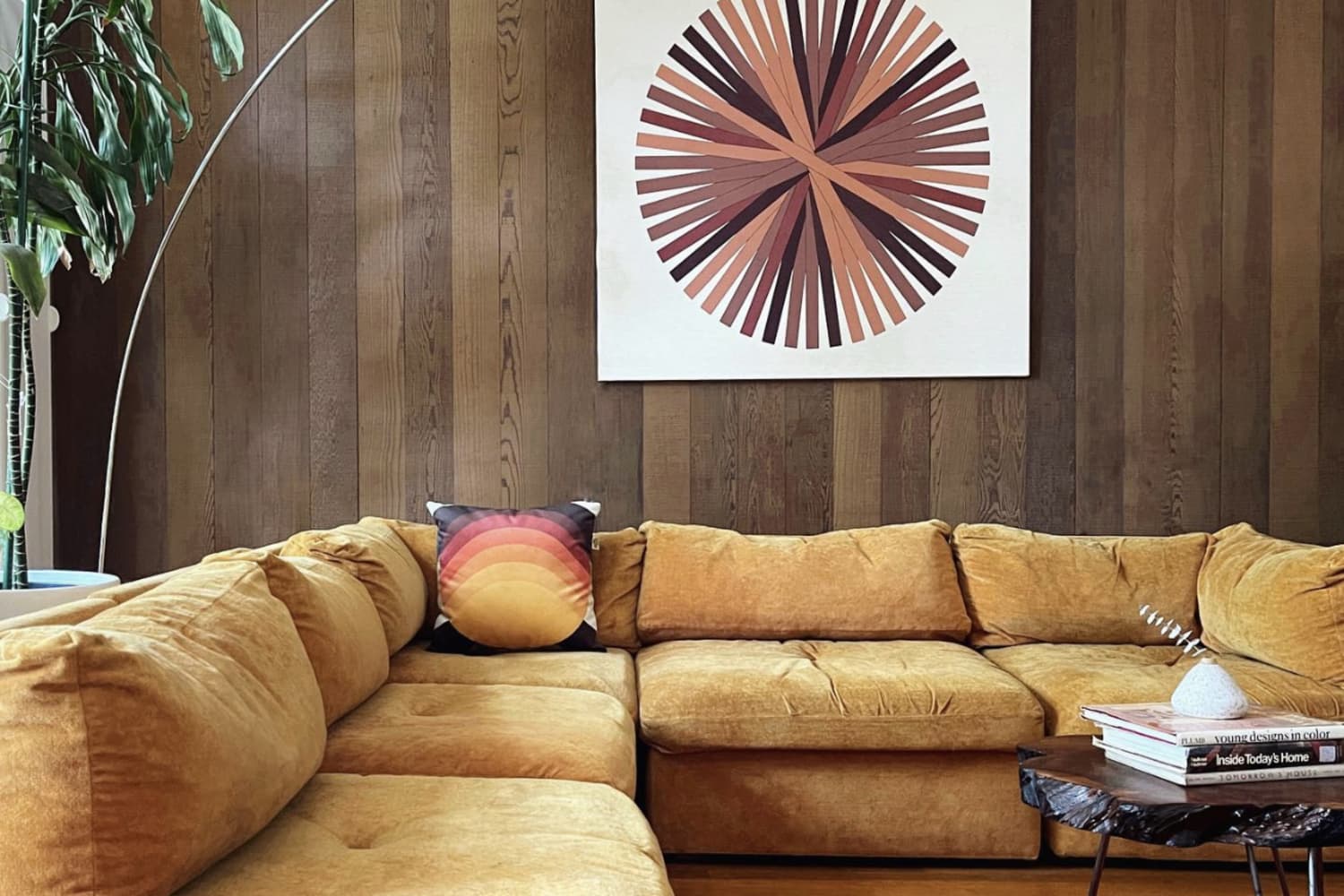 Name: Laura Olden, husband, Devin, and rescue dog, Nova
Location: Escondido, California
Type of home: Single Family
Size: 1,700 square feet
Years lived in: 6 years, owned
Tell us a little (or a lot) about your home and the people who live there: Our home was designed in 1969 and completed in 1970 by Fred Blecksmith for a local art teacher and his wife. The home has had several owners over the years, but many of the original features, including the old growth redwood paneling, remain intact. The home was thoughtfully designed with built-in vanity and light fixtures in the bathrooms and a hidden closet and bar built into the entry wall.
We weren't necessarily house hunting when we came across this house, but I had been keeping an eye out and immediately scheduled a tour when this listing popped up. It was love at first sight, and next thing we knew we were putting an offer in on the only house we toured. We have been working to restore some original details and refresh some things while keeping in mind the original intent of the architect.
We both work in creative jobs so feel our home reflects that. Many of the decor choices we've made are from the general era of when the home was built, and definitely influenced by nostalgia but with a modern twist.
What is your favorite room and why? The living room is our favorite because that is where we spend our down time. In the winter we love to sit by the fireplace and love looking out the floor-to-ceiling windows anytime of year. They give us the feeling we live in a tree house. We recently switched out our sofa for something more comfortable, and it is the best for movie night.
Describe your home's style in 5 words or less: Eclectic, nostalgic, mid-century, cozy treehouse
What's the last thing you bought (or found!) for your home? I am always hunting for things to decorate our home with, looking at online marketplaces, thrift shops and visiting estate sales. I had been looking for a slat bench for the entryway for years and finally found the right one at the right price last winter. It is perfect for putting on shoes or elevating plants off the floor.
Any advice for creating a home you love? We fill our home with pieces we love. We are both artists, so decorating is a collaborative process.
We love buying secondhand for many reasons, and we can resell pieces if our tastes change or it no longer works in our home, meaning our home is always a work in progress.
This submission's responses and photos were edited for length/size and clarity.