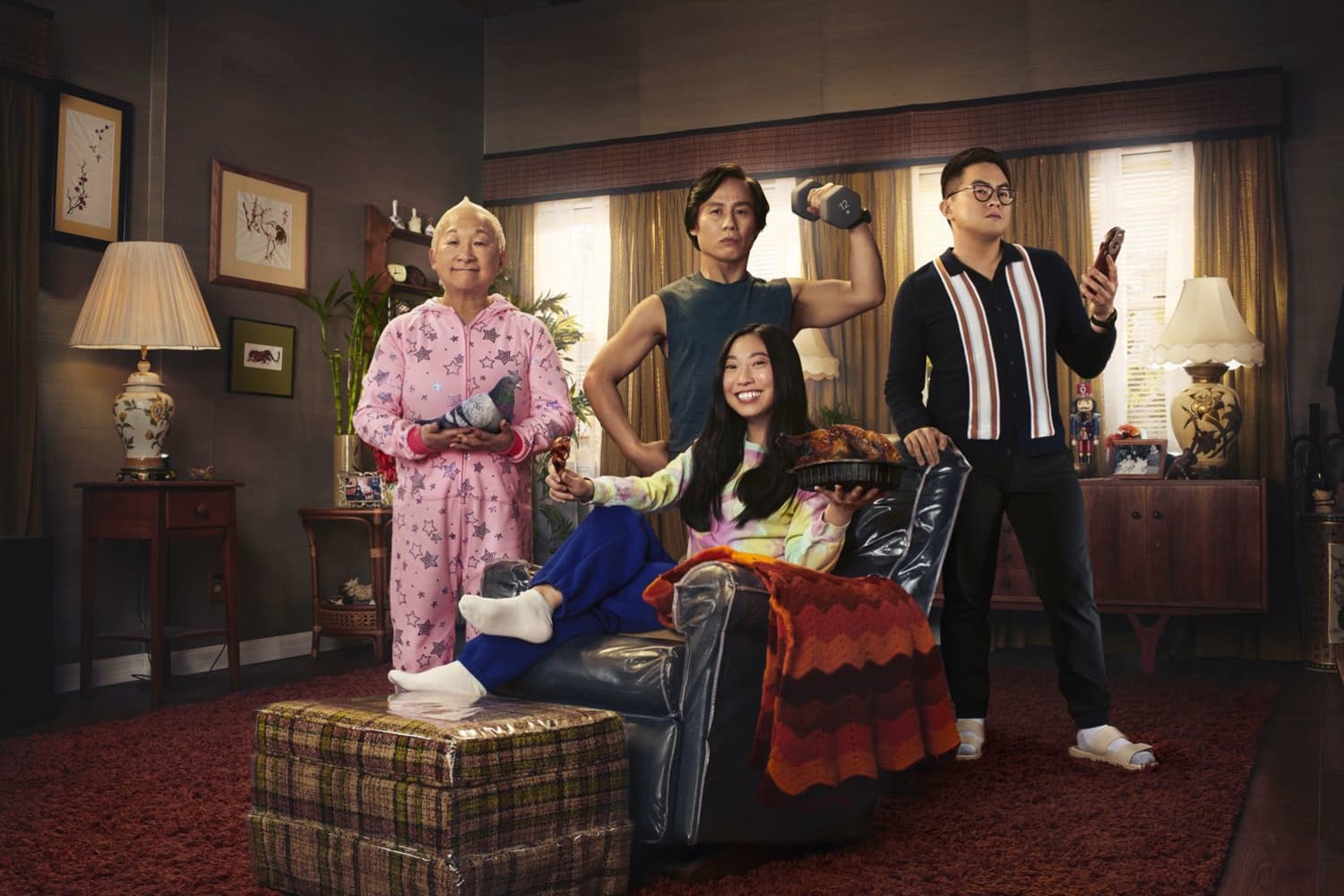 We independently select these products—if you buy from one of our links, we may earn a commission.
Comedy Central teamed up with comedy sensation Awkwafina earlier this year to deliver another outrageous season of "Awkwafina is Nora From Queens." True to the title, Awkwafina (real name Nora Lum) draws on her own experiences growing up Asian-American in New York's largest borough, with the help of her father (BD Wong), cousin (Bowen Yang), and grandmother (a scene-stealing Lori Tan Chinn). If you've already binged all 20 episodes, but couldn't get enough of Nora's brash antics — or her family's unconditional love and support — give one of these six shows a try:
If "Nora From Queens" can claim a lineage from any other TV show, it has to be "Broad City". Abbi Jacobson and Ilana Glazer's millennial vision of NYC meshes nicely with Awkwafina, right down to the day-glo animations and thumping bass music on the commercial bumpers. Aesthetics aside, the two shows also share a soft spot for raunchy sex jokes, copious weed-smoking, and the awkward ennui that comes with trying to figure out life in your late twenties. "Broad City" proved quietly influential over its five season Comedy Central run, as it upended expectations of how young women on television could speak and behave, as well as ushered in a new generation of female-fronted comedies bearing its influence. Abbi and Ilana's journey together may have come to an end, but the spirit lives on through shows like "Nora From Queens" ready to carry the torch.
Available to watch on Hulu
Much like "Broad City," the main focus of "Tuca & Bertie" is the friendship between the show's two leads (Tiffany Haddish and Ali Wong, respectively) as they navigate the pressures of young adult life. The big difference is "Tuca & Bertie" is a cartoon, and also that the main characters are all birds. Yes, "Tuca & Bertie" takes place in an animated talking animal world a la "Bojack Horseman." However, where "Bojack" tends to wallow in depressive greys, "Tuca & Bertie" soars with bright, vibrant colors, endearing characters, and a trippy visual sensibility stuffed with clever sight gags. The first season of Lisa Hanawalt's funky slice-of-life comedy was an instant hit in 2019 when it premiered on Netflix (but was subsequently cancelled). Luckily, animation powerhouse Adult Swim swooped in to deliver second season in 2021, plus a third season is still to come.
Season one available to watch on Netflix; Season two available through Adult Swim
Apart from a 15-year age difference, Nora and Eddie Huang from ABC's family sitcom "Fresh Off The Boat" might find they have a lot in common: they're both a little socially awkward, their families don't quite understand them, and they both share an outsized love for American hip-hop. From a theme song banger by Danny Brown, to the Notorious B.I.G. classics which soundtrack young Eddie's daydreams, rap and hip-hop are the glue that holds "Fresh Off The Boat" together, as an older-and-wiser Eddie reminisces over his youthful (mis)adventures trying to blend in in 1990s Orlando, wrestling with his Taiwanese-American heritage, and doing his best to please both his strict mother (Constance Wu) and long-suffering father (Randall Park). "Fresh Off The Boat" made waves when its first season premiered in 2015, as it was the first primetime network sitcom in almost 20 years to feature a predominantly Asian-American cast. Six seasons later, it finished its run as the first television show in American history with a predominantly Asian-American cast to break the hundred episode mark.
Available to watch on Hulu
British actor/writer/director Michaela Coel first crossed the cultural radar with "Chewing Gum," her brutally funny comedy series for the UK's Channel 4. Adapted from her own "Chewing Gum Dreams" stage show, Coel portrays a young woman from a deeply religious family, overwhelmed by her own repressed sexuality and determined to learn the ways of the secular world. With its pitch-black gallows humor and penchant for fourth-wall-breaking inner monologues, "Chewing Gum" feels more in line with modern British cringe-comedies like "Peep Show" and "Fleabag" than with a more good-natured sitcom like "Broad City." That said, fans of the latter show's bawdy sex humor will certainly not be disappointed here. Coel herself would venture into even more uncompromising territory for her next project, the critically acclaimed HBO drama "I May Destroy You," and as a result all twelve episodes "Chewing Gum" now stream on HBO Max as well.
Available to watch on HBO Max
Fans of warm, nostalgic school-days comedies like "The Wonder Years" may want to pass on Hulu's "PEN15," as it casts an unsparing, thoroughly un-nostalgic eye on the ubiquitous cruelties of middle-school life. Creators Maya Erskine and Anna Konkle achieve maximum social awkwardness by playing brace-faced, hormone-addled 13-year-old versions of themselves, mystified by their changing bodies and desperate for acceptance from the child actors playing their classmates. The overall effect is at once hilarious, sympathetic, and a little disturbing, and "PEN15" lands somewhere between the bawdy gal pal comedy of "Broad City," and the pubescent body horror/humor of "Big Mouth." Erskine in particular adds another uncomfortable layer of authenticity by casting her real-life mother (Mutsuko Erskine) as harsh on-screen mother Yuki. "PEN15″'s raw-nerve approach to comedy won't appeal to everyone, but viewers with less-than-rosy memories of grade school may find it refreshing, in a bracing sort of way. Like jumping naked into a freezing body of water.
Available to watch on Hulu
If the bond between Nora and her first- and second-generation Asian immigrant family appealed to you, venture a little north of the border to visit "Kim's Convenience." The Canadian sitcom centers around gruff patriarch Appa (Paul Sun-Hyung Lee) as he begrudgingly deals with his westernized children, his spirited spouse Umma (Jean Yoon), and the customers in their small Toronto shop. Originally a series of plays, the show's stage origins are most apparent in Appa's lengthy grumblings as he philosophizes on the differences between Canadian and Korean culture to anyone who will listen. Future "Shang-Chi" star (and future Awkwafina co-star) Simu Liu plays the estranged eldest son of the Kim clan, while newcomer Andrea Bang charms as resourceful younger sister Janet. However, the real treasure of "Kim's Convenience" is Umma. Much like Nora's beloved Grandma, Jean Yoon imbues her character with a warmth and sparkle that flies in the face of the tyrannical Asian mother stereotype we usually see on television.
Available to watch on Netflix