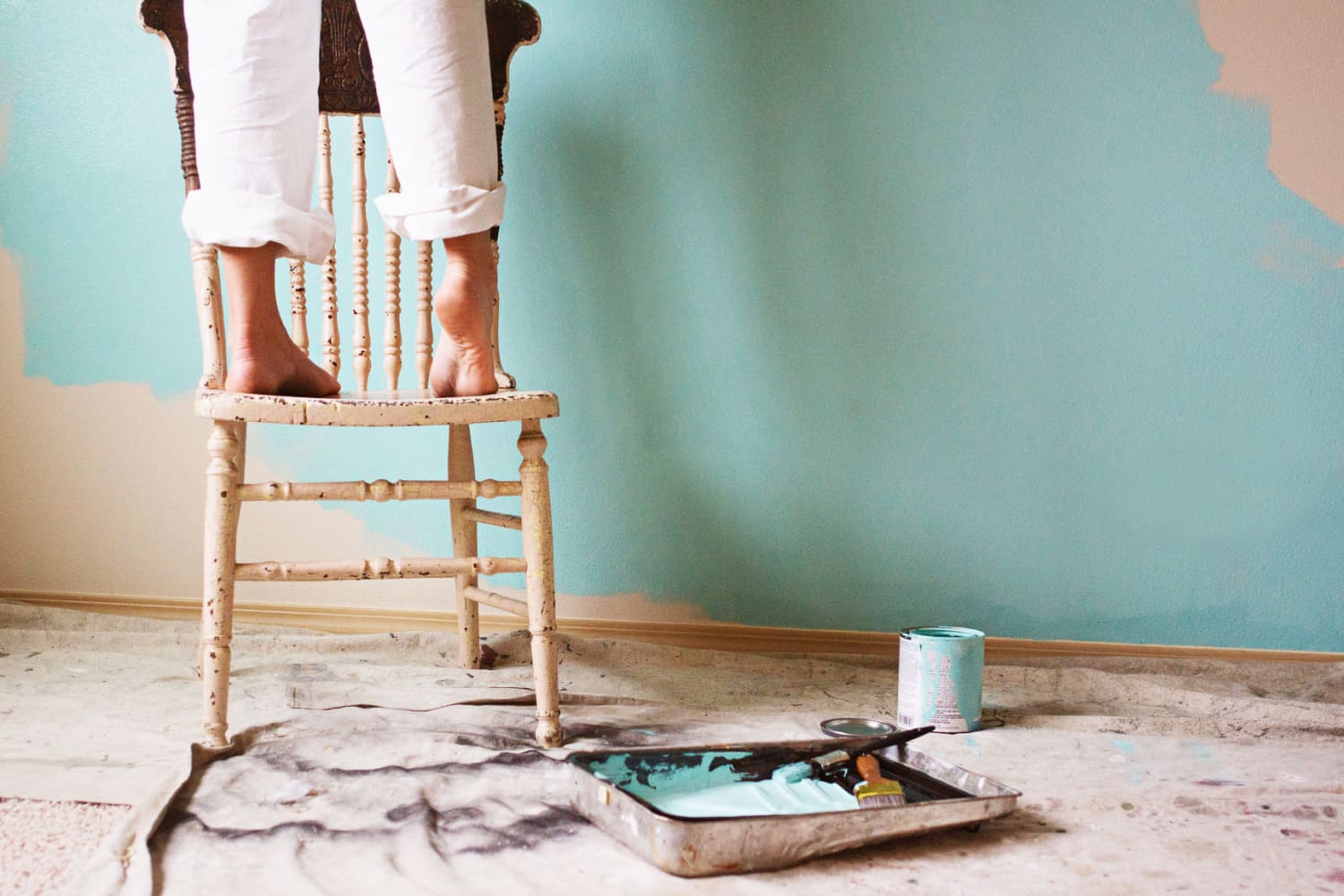 We independently select these products—if you buy from one of our links, we may earn a commission.
At the end of the year, it's only natural to look back on all that's happened — which is easy to do when you limit that nostalgia to the changes that took place inside a home. Perhaps spring cleaning finally opened a hall closet up to more than just boxes, and a summer spark of creativity added a mural to a bedroom wall. The autumn chill could've encouraged warm textures across sofas and chairs, while the coming winter may have pushed for additions of richly-hued art and moody pendants.
For DIYers, the chance to reminisce on all the many home improvement projects they've accomplished in the last twelve months also has an added benefit of figuring out which items in their arsenal helped make that happen. In the case of organization, certain baskets might be their go-tos. For paint, it could be that they discovered a no-fuss roller. Textures could be interpreted in countless ways, just as art and light are ripe for inspiration. And if these DIYers have learned yet another way to make a project easier, you know that they're more than happy to let us in on their tips.
We've asked six DIYers to share their favorite tools, products, and materials given the projects they've taken on in 2021, and their responses are sure to give you some ideas for the things you'd like to try next year. Read on to get their tips.
Plaster for Walls and Furniture
Trisha Sprouse, a DIYer who founded the blog Vignette, has been slowly updating the Florida home she shares with her husband and their twins. This year, she learned that her go-to product wasn't a high-tech tool or trendy furnishing: It was a centuries-old material.
"In 2021, I developed a pretty firm fascination with plaster," she says. "First, I used Roman Clay, a plaster wall finish, to create a feature wall within a built-in shelving area of my living room. Then I used Plaster of Paris to make over a small metal side table. I just love the gorgeous texture and soul it brings to a space or object. It somehow straddles the vintage charm of Old World finishes and the minimal aesthetic of modern decor — which pretty much encapsulates my design style. Next on deck for my plaster plans: thrift flipping some old lamps."
Sarah Albers, the co-founder of Alice and Lois, has accomplished many DIY projects this year. But there's been a running theme with the ones that she's most proud of, and it can be used on items big and small.
"The best thing I bought this year that has been so much fun to use is cane webbing," she says. "This material can really transform a piece of furniture or craft project. Traditionally it's used for furniture seats, but we have used it in the front of this IKEA cabinet and loved the result. And we loved elevating this simple glass vase with cane webbing, too."
A Set of Cordless Power Tools
Sometimes the most transformative details of a project can't be seen in its final details, and that's exactly how Carrie Waller, founder of Dream Green DIY, would describe her favorite purchase of the year.
"We decided to finally invest in a set of cordless tools — like a drill, circular saw, and so on — and that swap has drastically upgraded our home renovation and DIY projects," she says. "Not having to deal with cords made our DIY platform deck and the drywall cutout we added to our dining room come together much quicker. We definitely shouldn't have waited so long to bite the bullet and make the investment. One suggestion, though: spring for a second battery so you don't have to wait on one to charge!"
The Perfect Paint, Plus a Sprayer
Sarah Madeira Day is an artist and DIYer behind This Maine House alongside her husband Wes Day, and this year, she's glad she found an often elusive material: the perfect white paint.
"For a perfect white that's straight from the shelf, I love Benjamin Moore's Ben Eggshell W626 01," she says. "I use eggshell for my walls and semigloss for my trim, and it's worth it — there's no mixing. It's the best white paint I've come across. To apply it, I also love the Graco Magnum X5 Airless Paint Sprayer. It's saved us days of labor, and it's easy to use, easy to clean, and easy to set up. All in all, it's worth the cost."
Krisha Shaw is the designer and DIYer behind Making Haven, in which she documents updating her California craftsman. Given all that work — including installing shiplap and crown molding — Shah is especially glad to have had one tool at the ready.
"My favorite thing has to be my jigsaw," she says. "It truly is a wonderful tool that has elevated my home projects. I was initially nervous about using it, but once I became comfortable, I don't think I can do a project without it. I've used the jigsaw for cutting out areas for outlets, making arches, and roughing up a bench to make it look vintage."
Besides working on interior design projects this year, Gina Gutierrez, DIYer and principle designer of Gina Rachelle Design, also opened a retail space this year. As a DIYer and principal designer of a namesake studio, an item that's come in handy the past 12 months has been surprising.
"One of the best tools that made a big impact was a stencil we bought on Etsy," she says. "As we were working on our new retail space, we needed to redesign our bathroom without spending a lot of money. Therefore, no tile. We took a chance and decided to stencil a pattern on the floor to give the look of tile and it was worth it! While the stencil was only $35, the way it turned out was worth so much more. The stencil we chose gives a very European, Old World feel, which works with the overall design of this space."