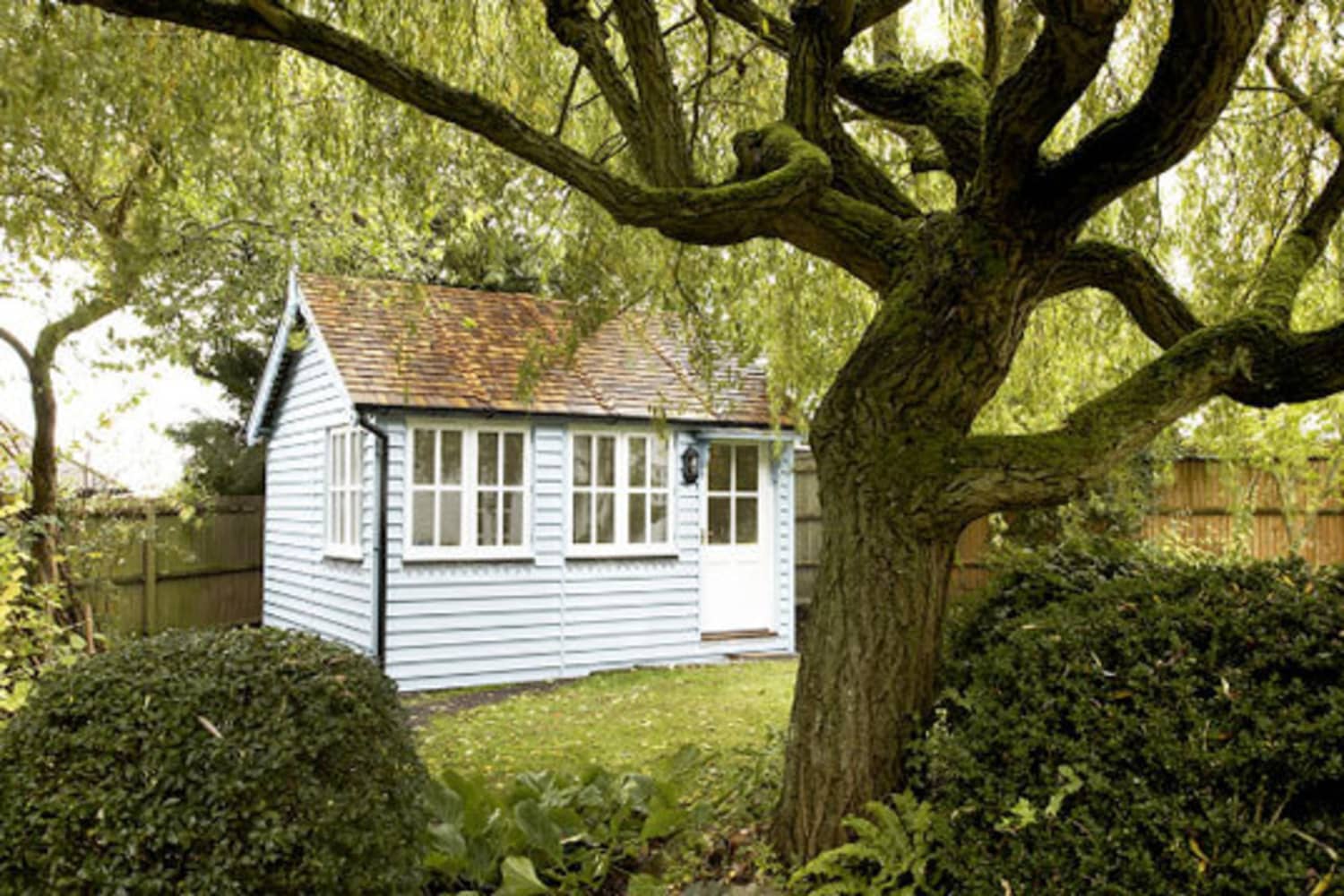 Buying a home comes with lots of little extra costs — there are fees for the appraisal, loan underwriting, the inspection, the title search, and plenty of other processes. But aside from these upfront costs, there are other sometimes less obvious expenses to contend with.
If you're moving into a house with a yard, a driveway, a sidewalk, or a garden (or all of the above), that means buying all the necessary tools for maintaining those areas that you likely didn't have to deal with as a renter.
It may be tempting to just run to Home Depot and load up your cart with shiny new shovels, rakes, hooks, and shelves, but you can usually save yourself a lot of money — and help keep items out of the landfill — by buying shed essentials secondhand.
Whether you scour garage sales in your new neighborhood or head to a specialty used home goods store like the Habitat for Humanity ReStore, these are the secondhand items to keep an eye out for to stock your shed, according to real estate agents.
Unless the previous homeowner was an organizational wizard, chances are you could use a few extra shelves, hooks, and other storage helpers in your new shed. In addition to being a spot for hanging up rakes and keeping gardening supplies close at hand, your shed can double as a bonus storage area for gear you use infrequently, like camping gear or skis (especially if you're strapped for space inside your house).
You can often find discounted shelves, racks, stands, hooks, and even plastic bins at run-of-the-mill thrift shops or by scouring Nextdoor or Facebook Marketplace. Sure, they might be a tiny bit banged up or they may not all match, but unless you're decking out a she-shed, who cares about aesthetics? They still get the job done.
"You don't necessarily have to get the best quality and brand new shelves and hooks," says Nicholas McMillan, founder and owner of New York real estate agency Hire Realty. "Going for secondhand ones can be a great deal."
Your shed is a great place to store building materials for future home improvement or crafting projects — and, if you're tackling a small, one-off job or you're OK with a little mismatch here and there, you can usually find these items at secondhand stores or even for free on sites like Nextdoor and Facebook Marketplace. People are often giving away leftover patio pavers or random items you can upcycle, like pallets.
Many home improvement stores have an "oops paint" shelf with discounted paints and stains that customers decided they didn't want after all, and Habitat for Humanity ReStores are usually brimming with secondhand items like doors, vent covers, light fixtures, railings, and more.
"If you are into DIY and interested in doing some home improvement projects yourself, then this is something that you want to take a look at," says McMillan.
Wheelbarrows are the kind of tool you usually only realize you need way too late — when your back is aching from scooping shovelful after shovelful of river rock for a DIY landscaping project or hauling dirt to build garden boxes. These handy wheeled devices are plentiful at garage sales, on online platforms like Facebook Marketplace and Craigslist, and even at some thrift shops, says Ben Fisher, a real estate agent in Park City, Utah.
"Even if there's a bit of rust, it won't harm the functionality at all," he says.
Now that you're a homeowner, you can hang artwork wherever you want or even spend your Saturday building your own bookshelf if you want to, which is where hand tools can come in handy (pun intended). Fisher recommends looking for used screwdrivers, hammers, drills, saws, and other types of tools to stash in your shed.