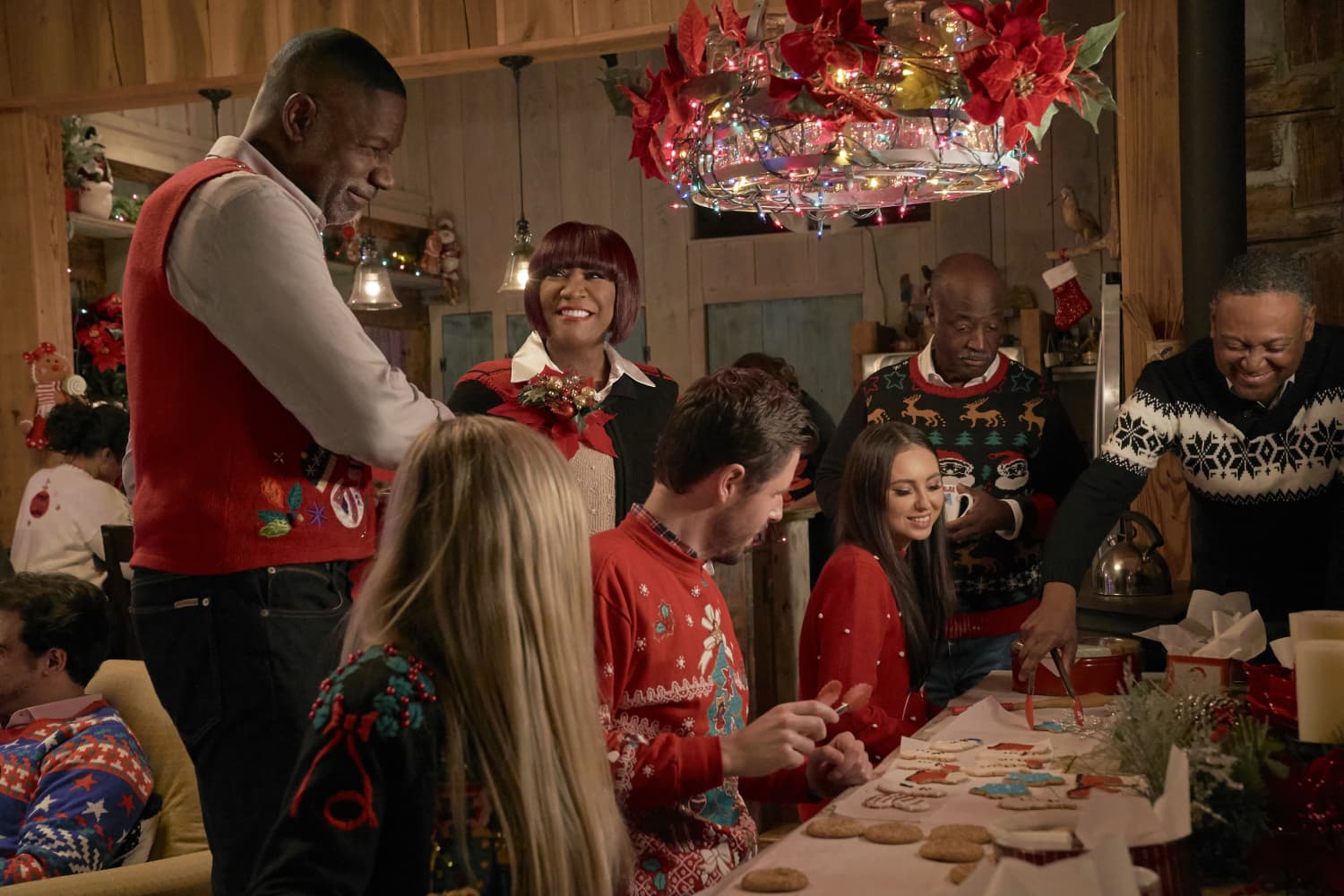 For many people, watching a Hallmark holiday movie or two has become a staple part of their festive routines. From sitting down to enjoy the romance of a grocery store meet-cute after your family dinner, to tuning into an extra-Christmassy Hallmark movie on Dec. 25, there's one to fit every occasion.
While these cheese-fest movies are notorious for going a little OTT with the romance, drama, and everything in between, there are some elements of Hallmark holiday films that ring true for a lot of people.
Here are the things that Hallmark movies get right — and wrong — about the holidays.
The holidays are about spending time with loved ones: For many, being with friends and family is an essential part of the holidays, especially after 2020's turbulent festive season. This is often presented in the plots of Hallmark holiday movies, whether it means the characters are returning to their hometowns or meeting up with their close friends and family (even if they've lost touch).
In "A Family Christmas Gift", Amber's bond with her aunt grows stronger after the pair spend the holidays together, while "A Grandpa for Christmas" shows the unconditional love between a grandfather and granddaughter who go from mere strangers to best friends, thanks to a school Christmas pageant.
There will be some stress: Whether it's buying gifts for fussy friends and family, decking the halls, or cooking a crowd-sized dinner, there's bound to be a few stressful moments during the holidays — both in real life and in Hallmark holiday movies.
A 2018 study conducted by OnePoll showed that 88 percent of Americans feel stressed over the festive season, stemming from guest list disagreements, cooking showdowns, and dinner table conversations.
Weaving together three family stories, "The Christmas House" tells the tale of two childhood sweethearts rekindling their relationship, a gay couple going through the adoption process, and a marriage that's on the brink of collapse. With these emotional (and very real) themes, the stress and tension are rife.
The holiday season means bigger problems for many people, and this is showcased in the poignant Hallmark movie, "Christmas Everlasting", where a young lady has to handle her older sister's estate after she passes away just before Christmas. The holidays aren't always rainbows and butterflies, and Hallmark doesn't shy away from those difficult scenarios.
You will most likely run into someone (or everyone!) you know: A big theme in Hallmark movies involves the protagonist heading home for the holidays, which tends to be a small town with a population of no more than 3,000 people. A quiet and quaint festive season means the probability of running into someone (read: a childhood sweetheart) you know is high. Think: in the grocery store, driving a taxi cab, out on the street… the possibilities are endless.
In "A Holiday in Harlem," Jazmin heads back to Harlem in NYC where she's reunited with her childhood best friend, Caleb, during the annual Christmas Jamboree, and in "Tis the Season for Love", a struggling actress returns to her hometown filled with familiar faces after ten years. You can guess what happens next.
You'll find your soulmate during the holidays: Hallmark holiday movies are jam-packed with unplanned romances that are so sickeningly sweet, they rival even the orange juice fiasco in "Notting Hill".
While finding your soulmate in a grocery store line or something similar is fairly unrealistic, it's a prevalent theme throughout Hallmark's catalog. If you're still waiting for your own love at first sight moment — myself included — there's a whole host of Hallmark movies where you can live out your meet-cute dreams.
A couple of examples where the characters find love in an unexpected place: "Christmas at Castle Hart" sees a woman head to Ireland in search of her Irish roots, and "The Mistletoe Inn" tells the story of an aspiring writer who visits a romance writing retreat over the holidays.
It's always snowing: The majority of Hallmark holiday movies feature lots and lots of snow on Dec. 25, even in the locations where it doesn't generally snow over the Christmas period.
For example, one very popular location for Hallmark holiday movies is Tennessee, where "Christmas at Graceland" and "Christmas at Dollywood" both take place. However, the city of Nashville hasn't seen a White Christmas since 2010. Even NYC, another popular location for Hallmark movie plots, hasn't seen snow on Christmas Day since 2009.
The good news: if you don't get fresh powder on Christmas morning, you can always tune in to the many (almost all) Hallmark holiday movies to get your snowy fix.
You're likely to marry into royalty: Finally, an overarching theme in a lot of Hallmark holiday movies includes the lead ending up marrying into a royal family. Now, unless you're Meghan Markle, this doesn't happen all too often.
"A Royal Christmas" is exactly what it says on the tin, with the main character's boyfriend, Leo, suddenly dropping the bombshell that he is actually Prince Leopold, heir to the throne of Cordinia, a fictional sovereign country. Meanwhile, in "A Royal Winter," a woman finds herself in the middle of a real-life fairytale as she meets a local who turns out to be a prince.