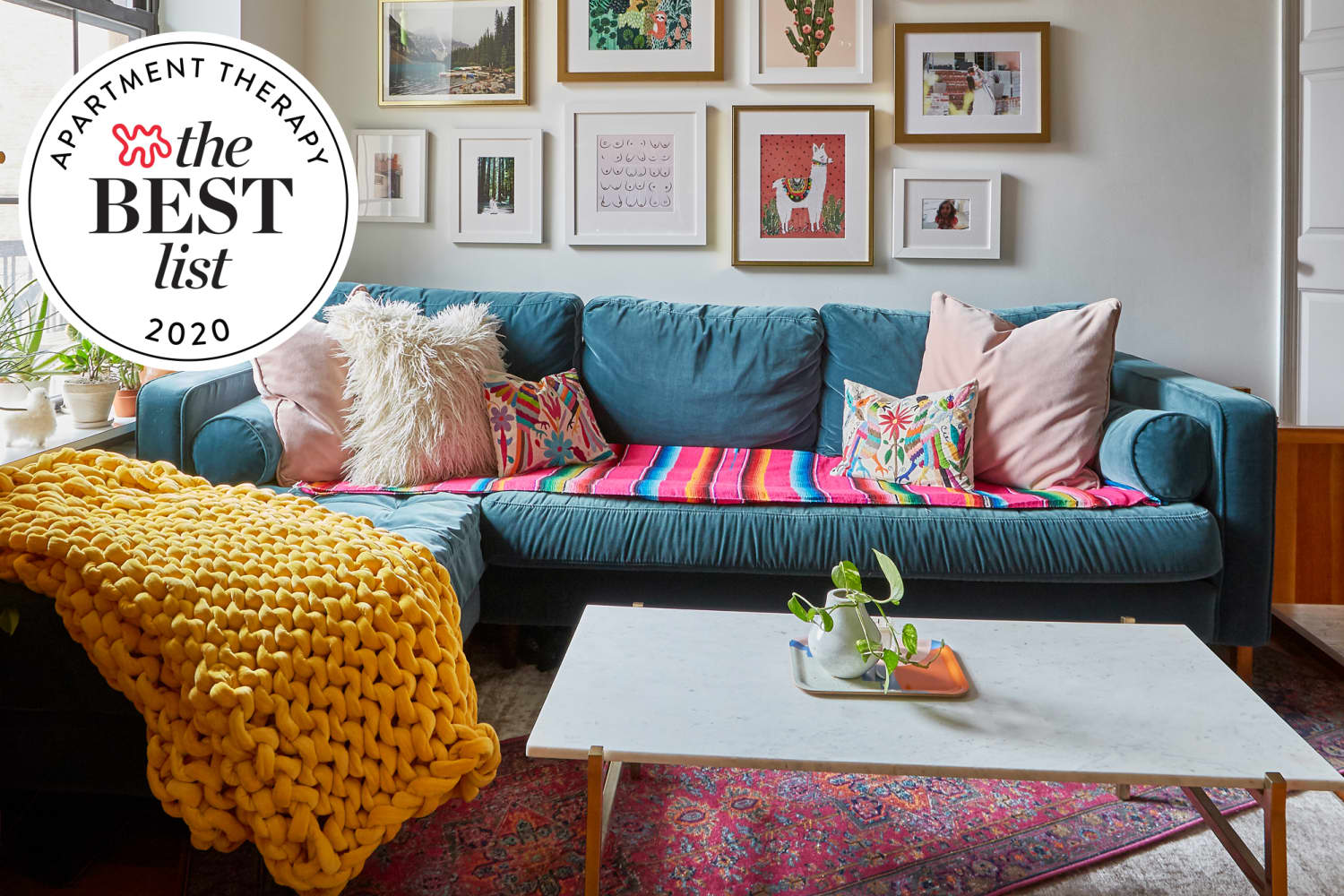 We independently select these products—if you buy from one of our links, we may earn a commission.
To put it mildly, there's a lot to be stressed out about these days. You'd be forgiven if you're looking for new methods to cope with insomnia and anxiety, whether that's creating a new bedtime routine or making small, thoughtful changes to your space to make it more sleep-ready. One thing you should consider adding to your arsenal? A weighted blanket. You've probably heard of these so-called miracle workers, which are scientifically proven to help relieve insomnia and anxiety. Of course, they're not a guarantee, and you should talk to your doctor if you're experiencing either issue. But there's no doubt that weighted blankets can be beneficial, and they're absolutely worth checking out. Not sure where to begin? We researched, tested, and selected the best weighted blankets out there, no matter what you're looking for. And if you want to do more research, check out our guide to the best cooling weighted blankets and the best budget weighted blankets.
What to Consider Before Buying a Weighted Blanket
So what exactly is a weighted blanket and how does it work? Let's get into it.
What is a weighted blanket?
A weighted blanket is, well, a blanket that is weighted. This is usually achieved with hundreds of tiny weighted beads inside the blanket, which used to be made of plastic but nowadays are often glass. The extra weight is thought to have a calming effect, providing deep pressure that's similar to being hugged or swaddled. That pressure, as well as the grounding effect of the extra weight, can help lower cortisol levels (aka, your fight-or-flight response). There's still a lot of research that needs to be done on the effect of weighted blankets, but early studies are promising—and if it works for you, then all the better.
When it comes to picking a weighted blanket, finding the proper size and weight is the most important factor. The general rule of thumb is to choose a weight that's 10 percent of your body weight, although you might prefer to go even higher if you really want to be swaddled. As for size, there are surprisingly quite a few different options out there. There are throw blankets that are made for lounging on the couch, which are smaller, less expensive, and less extreme as the larger options. If you want your weighted blanket to act as a comforter, you can find larger sizes that can fit easily over your whole bed. There are even some travel sizes available if you want to take your weighted blanket with you on a flight or on the road, as well as kid sizes—although doctors don't recommend using a weighted blanket for children under age 2.
Weighted blankets are typically made of two components: an outer shell and an inner weighted piece. When it comes to the outer material, there are a few types to look for:
Also take note that there are weighted blankets that come with duvet covers, which make them easier to keep clean and look exactly like a standard comforter.
The inner weighted piece of your weighted blanket is most likely made of a cotton or polyester batting with hundreds of tiny weighted beads. While most of the original weighted blankets used plastic beads, concerns for the environment have led many brands to switch to glass beads. A good weighted blanket is constructed in such a way that you shouldn't notice the beads at all, and if you can feel them moving around too much, then you probably need a different blanket.
What We Look for in a Weighted Blanket
We tested a wide range of weighted blankets, judging them on the following criteria:
It was not an easy task to select just one weighted blanket as the best overall, but when everything's said and done, the Baloo blanket checks pretty much every box. First, it's made of cotton with a glass microbead fill, so there's zero plastic and zero polyester—a plus for hot sleepers. There are also quite a few different options, including a smaller throw blanket, regular bed blanket for sleeping, and a large comforter for those who are really serious about their weighted blanket life. The only con is that this blanket looks like your standard duvet insert, so you might want to invest in one of Baloo's linen duvet covers.
Lifestyle Editor Ella Cerón went with a weight higher than the 10 percent rule, and she says that it "puts me out like a light." Even better? "Overall I love it, and I love that it doesn't make me too heated when I sleep because I run really hot." So whether you're a hot sleeper or cold, looking for a throw blanket or heavy-duty comforter, prefer white bedding or something else, Baloo will make it happen.
Who It's Best For: Those who sleep hot; those who want something machine washable; those who want something plastic free.
Good to Know: If you want to save, you can buy an open-box blanket for less.
Weighted blankets are pretty incredible, but they do have a flaw: They're expensive. Even the "budget" ones tend to be pretty high-priced—in fact, it's difficult to find any under $50. That's why our budget pick is the Luna, which is priced at around $65 depending on the size/weight. Although it's certainly not "cheap," the Luna is well priced and comes with some great features: an organic cotton shell, microbead fill, 16 different color choices, and some fun duvet cover options. Sleep hot? This blanket is totally breathable, but you can also buy a cooling bamboo version that's $20 more. Want to get really cozy? Go for the sherpa version to cuddle with all winter.
According to Home Projects Editor Megan Baker: "This is a little cozier than my other weighted blanket thanks to the cotton construction (my other one is microfiber). The Queen size is also HUGE, which I love! I can bury my whole body beneath it. It makes me feel like a giant swaddled baby in the best way." Yes, please.
Who It's Best For: Those who don't want to spend over $100; those who want plenty of options.
Good to Know: You can also buy on Amazon.
The iconic Bearaby Napper is, indeed, worth all of the hype. Yes, it's expensive. No, it doesn't look like a "normal" blanket. But it somehow manages to be perfectly weighted without any fill (no bead movement here), and is probably the most eco-friendly option you can buy. It's made from silky smooth eucalyptus fibers rather than cotton or polyester, and has been awarded a whole slew of certifications to confirm that it's made in an environmentally- and socially-conscious way. The unique design means that it's the most breathable option out there—seriously, I sleep with my windows open in winter and this blanket actually keeps me comfortable. And of course, you can't beat that one-of-a-kind style. You can also buy in either cotton or velvet, as well as a newly-launched kids version adorably called the Nappling.
Who It's Best For: Those who want something cool; those who want no fillers; those who want something eco-friendly; those who want something stylish.
Good to Know: You can also buy at West Elm (in exclusive colors!).
The Gravity Blanket is probably the first weighted blanket you heard of, and it's a reliable choice that we still recommend. It's not the prettiest option, nor the most exciting, but it gets the job done—and very, very well. It comes with an inner piece filled with fine-grade glass beads wrapped up in a plush cover that's perfectly soft and cozy. Again, it's pretty straightforward, coming in three neutral colors, a blanket size in three weights, and a comforter size in one weight. Right now you get to choose the type of fastening you want (zipper or button), but take note that Gravity is currently transitioning away from the buttons and implementing zippers on all their blankets to keep the two layers secure.
Real Estate Editor Madeline Bilis was a weighted blanket newbie before trying out the Gravity Blanket, and here's what she had to say: "I'll admit I was a bit of a skeptic at first… but I tried it right after taking it out of the box and was surprised at how calm I felt under it! The only trouble is that it can get hot in my apartment, so I usually use it with my feet sticking out the end so I'm not too toasty. It feels like getting a gentle hug in the best way possible, and it's also allowed me to consciously decompress after work—a really wonderful gift during stay-at-home orders!"
Who It's Best For: Those who want a plusher feel; those who want options.
Good to Know: You can also buy at Amazon.
Another fantastic choice if you want something classic, Casper's weighted blanket looks good draped over the sofa or at the foot of the bed. Everything about it is simple, unfussy, and straightforward, from the construction (cotton with a polyester fill) to the weight (just three choices, and only one size). The color options are neutral but very nice, combining classics like navy and gray with millennial-approved dusty rose, so you can be sure your pick will go well with your decor. The nice thing about Casper is that it provides a one-year warranty on its blanket, something that most others don't do, and shipping is always free. While those perks don't affect the quality, they do make ordering way less stressful.
"I've only tried a few other weighted blankets in my day, but I loved this one!" says Email & Acquisition Manager Hollis Miller. "Most of the ones I've used have square patterns, but this one has rectangular ones, which seems to distribute the weight more evenly. I also really like how it's a pretty heavy weight but doesn't get too hot! It can definitely be used year-round, which I think is a major perk."
Who It's Best For: Those who want something simple and stylish.
From the makers of the cult favorite Marpac Dohm White Noise Machine comes this super cozy, super functional weighted blanket—grab both and you're pretty much guaranteed a better night's sleep. If you're someone who sleeps like a Popsicle and prefers to pile on the layers, this might be the best option. It has a plush feel thanks to the ultra soft minky cover, which has two sides, depending on the feel you're going for. The glass beads are covered with two microfiber layers, creating an even cozier feel, and the outer cover is removable in case you get too hot. One con is that there isn't much variety (it's only available in one color), but you do get a 101-night trial period, a rarity when it comes to weighted blankets.
Commerce Intern Olivia Bowman says: "The plush fabric is very cozy and soft, and I love that it has different textures on each side. I was worried about aesthetics but the color is a rich gray that goes really nicely with my all-white bedspread." She notes that "it's definitely warm enough to use on its own without a comforter. Some nights I found it a little too warm or would wake up having kicked it off, so ultimately I think it would work best as a couch blanket."
Who It's Best For: Those who want something plush.
Really looking for luxury? You can't do much better than Sheltered Co.'s weighted blanket. Similar in look to Bearaby's, this blanket is hand-crocheted using deadstock fabrics, so each piece is unique and won't be restocked. That also means this is a singularly sustainable option, making the luxury price a bit more understandable. Another benefit to the design? Maximum breathability. You won't overheat, and the blanket is stylish enough that you won't mind adding it to the foot of your bed or over your sofa. It's also a favorite of Home Director Danielle Blundell, who says: "This is the first weighted blanket I've ever been able to leave on all night without waking up because I'm sweating from it. When I'm not sleeping, my blanket is always folded at the foot of my bed, and it's the perfect finishing touch for my bedroom." Nordstrom currently has it in two colors and only the standard size (about 22 lbs.), but you can find more sizes and colors on Sheltered Co.'s website.
Who It's Best For: Those who want something truly sustainable.
Good to Know: You get free returns and shipping if you buy at Nordstrom; all blankets purchased on Sheltered Co.'s site are non-returnable.