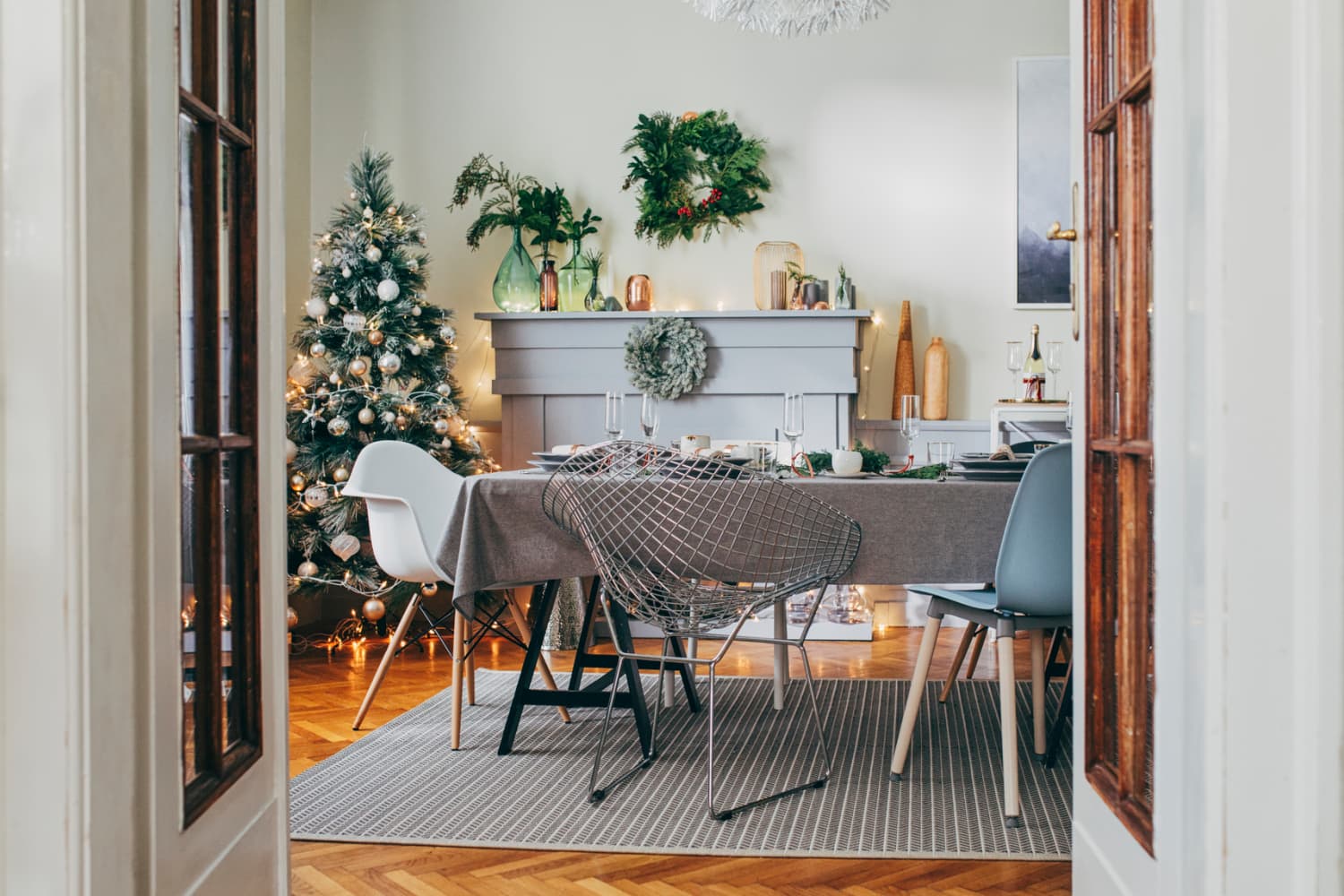 We independently select these products—if you buy from one of our links, we may earn a commission.
Flipping through holiday decor catalogs evokes the same kind of giddy joy that toy catalogs used to bring. It's fun to imagine the possibilities of your own winter wonderland, and to dream about how you can sprinkle little moments of magic throughout your home.
Here's a secret, though: You don't have to shell out department store money to get a super high-end look at home. There are plenty of hacks and tricks that will give you the same style with a fraction of the budget, and they involve your favorite retailers: IKEA, Target, the hardware store, and more. Read on for nine great ideas from stylists and bloggers, and get inspired for decorating your own home this holiday season.
Make a faux sheepskin wreath.
IKEA's faux sheepskin is one of their most hacked products, and for good reason: It brings a luxurious, plush texture to any project and at just $10, it's affordable, too. Here, Fran of Fall for DIY used the iconic throw for a wintery wreath that you can keep up all winter long.
Or use a faux sheepskin as a tree skirt.
Instead of shelling out for a new tree skirt, I used a couple faux sheepskins to wrap the bottom of my artificial Christmas tree. It feels completely luxurious, but would suit a minimalist vibe, too. And the best part? Once I put my tree away, the sheepskins can be used around my home as non-holiday decor. This hack's great for anyone who doesn't want to have to find space to store tons of holiday stuff in the off-season.
Raid the hardware store for unexpected ornaments.
The main material for these DIY ornaments comes from a surprising place: the hardware store. Jenni of I Spy DIY took apart marble backsplash tile sheets to create individual ornaments, and gave them a personalized touch with foil letters and embossed ribbon. These marble ornaments may look ultra pricey, but you can make about 12 of them per roughly $22 square foot sheet. For an even more budget-friendly project, choose ceramic tile instead — that will run you less than $10 per square foot sheet.
Fill glass containers with light.
Battery-powered "fairy lights" are all you need to turn thrifted or recycled glass vases and jars into beautiful decor. Set up a collection of them on a windowsill, mantle, or table for instant holiday vibes.
Dye your own bottle brush trees.
The typical bottle brush tree palette not quite what you need? Take a cue from Elliott and Cali of Dalla Vita and dye them to suit your decor for a completely custom look.
Give a plain garland the star treatment.
You can make a budget garland look super fancy by employing the two Bs: bells and bows. Add bows to each point where your garland swings up and meets the stairs and cap off the end with bells like Jen of Rambling Renovators did here. (Check out Jen's tips for how to hang your garland on stairs to get the same voluminous look.)
Trade in your tree skirt for a tree basket.
Switch up the tree skirt or collar this year with a basket for a fun twist. (Erin of Francois et Moi found hers at Target, but you can find similar ones at most stores). This is a great solution if you're low on storage space since you can keep the basket out for use all year round.
A lot of time and love goes into holiday cards, so why not give them their own special display? Here, DIYers Emily and Erik took their cards off the fridge and hung them on a wood bead garland stretched across their window using clothespins.
Wreaths don't have to be confined to the front door. Designer Emily Henderson created a sweet holiday vignette by using a square wreath as a frame for two wooden ornaments. This looks amazing by itself, or you can add the same elements to an existing gallery wall.