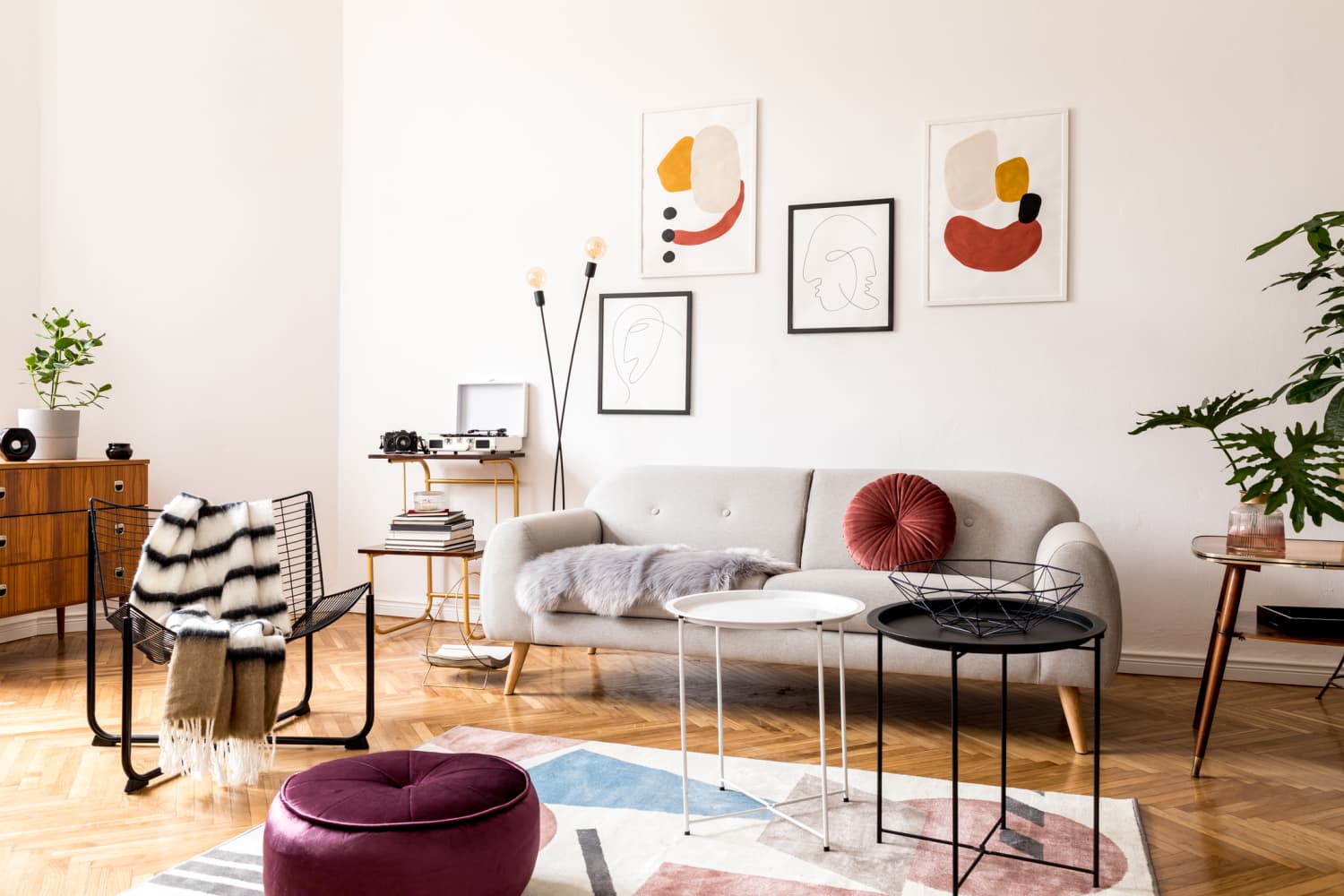 There's an age-old saying that rules are made to be broken, and nowhere is that more true than in the design world. I like to think that there are almost no hard-and-fast rules when it comes to home decor — with something as personal as design, who's to say what you can and can't love? Still, there are tried-and-true design "rules" that help contextualize trends or give a sense of order, and some of those catch fire and become tentpoles of modern design, just waiting for someone brave enough to come along, "break" them, and show us the way.
All of this is to say that some of the best decor moments can come out of a designer or homeowner being brave enough to break those design "rules" and do their own thing. Case in point: the six examples below, which are filled with genius twists on commonly-regarded design "rules" that ultimately just prove one thing true: Rules are made to be broken.
The Rule: Use light colors in small spaces
Many people believe that small rooms should be light, bright, and airy to help counteract the lack of square footage, but that doesn't have to be the case. Take for example the petite music room in Chris and Julia Marcum's previous home. Instead of coating the small space in an illuminating white or breezy grey, the duo opted for a moody, dusty red (Benjamin Moore's Fading Twilight) on the walls and ceiling. The result is a dynamic jewel-box effect, adding more dimension and visual interest to the small space than could have been done otherwise.
The Rule: Don't mix too many patterns
One, maybe two prints max — that's the rule, right? Not anymore. Thanks to the return of traditional prints and the rise of design styles like grandmillennial, dimensional pattern mixing is back in a big way. While more than a few patterns were once regarded as garish and over-the-top, mainstream design is slowly awakening to bolder, layered prints. If you need a little encouragement, look no further than the queen of pattern mixing, British designer Beata Heuman. Known for her eye for prints and gusto for clever combination, she effortlessly weaves together elegant damask with traditional block print and graphic checks for a little that's equal parts posh and playful.
The Rule: Stick to one metal finish in a room
In rooms where different hardware abounds, it's easy to believe you have to choose one metal finish and stick with it throughout each application. No so, as evidenced by this gorgeous bathroom by Riverside Designers. The team combined brushed nickel, chrome, and brass finishes throughout for a look that's layered, not one-note.
The Rule: A bedroom should have window treatments
It's a commonly-regarded "rule" that bedrooms should have peak softness at every turn, from plush rugs and downy comforters to breezy window treatments. So to forgo the softness (not to mention privacy) curtains would lend to a space well, you just wouldn't do that — right? Not if you're designer Cortney Bishop, who skipped window finishes entirely in the Kiawah Island home of a client. Assuming ample foliage and far away neighbors factor in when it comes to privacy, Bishop's bold move lends an airy appeal to the space, while a fabulously printed wallpaper ensures no corner feels untouched.
The Rule: Keep your ceiling neutral
When design influencer Gareth Young chose to paint his ceiling a bold terracotta, he knew he was risking the room feeling smaller — in fact, that was totally alright with him. Here's the thing: While darker hues on the ceiling have long been considered a no-no due to their space-shrinking quality, that's not always a bad thing. Colors like the ones Gareth chose (Flower Pot by Earthborn Paints, for inquiring minds) can instantly cozy up a space, lending a necessary "shape" to a room that may otherwise feel cavernous or sterile. Consider this permission to paint any color you want on your "fifth wall."
The Rule: Your dining furniture should match
Furniture sets are a low-risk option for timid homeowners looking to flesh out their space, and somewhere along the way, they became the assumed form of design. Need to deck out your dining room? Simply buy the table and chairs designed to go together. Mixing and matching your dining set—or even your chairs themselves—carries with it a notion of eclecticism, implying that the mix-and-match look can only work if you're a boho artist type in a loft. Not so, as evidenced by the work of designer Dan Mazzarini. He added a spark of personality to the traditional Syosset, New York, home of a client by varying the type of dining chair surrounding the breakfast table for a unique yet understated vibe.