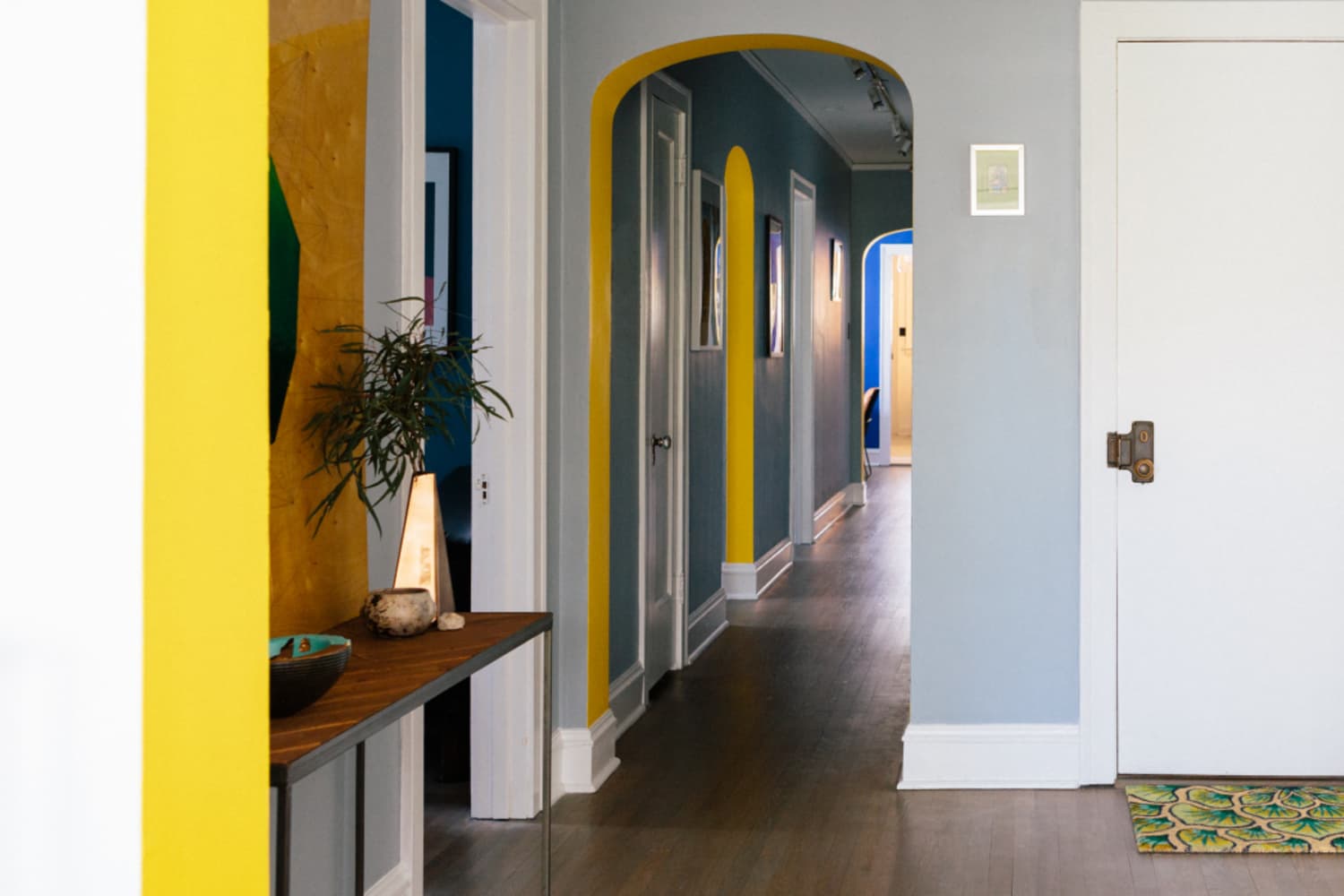 A room should have at least five lighting sources, according to my interior design coffee table books. My Los Angeles one-bedroom apartment has a single overheard light in the dining nook — and that's lucky. Some apartments have zero. I did my best to add floor and table lamps, but one corner of my living room near my entry remained enshrouded in darkness. I found the perfect plug-in scone for that spot… that I never bought.
L.A. lighting company, Humanhome, makes an understated and flawless fixture called the Hiline Sconce. The frosted glass globe adds a subtle modernity to the piece, and the cloth woven cord and tiny brass cord holder are classy as hell. This sconce certainly fit the bill for me aesthetically, but I couldn't bring myself to spend $220 to light a corner that only contains a shoe rack. My apartment entry stayed shadowy in the name of sound financial decisions. Then I — or IKEA — manifested what I loved about the Hiline in their KALLBLIXT wall lamp that costs a whopping — wait for it — $17.99, which is over 90 percent cheaper than my beloved Humanhome light.
I was primed to love the KALLBLIXT sconce because of the Hiline; I owe that beautiful, small business-made sconce a debt. I yearned for that lamp for a year, but I had to move on. When I discovered IKEA had this affordable alternative, I bought two KALLBLIXTs. The hand-blown frosted glass shade on the KALLBLIXT substituted nicely for the Hiline's globe, even if it's not quite as elegant in shape. There's no chic brass cord cover to be found here, but IKEA's pull switch is a nice design detail, and the light, which comes with an LED bulb, is compatible with dimmers, should I want to add that functionality down the road.
The installation might have been the biggest payoff though. The KALLBLIXT takes just a couple of screws to mount to the wall and plugs into any old outlet for power, meaning no need for hard-wiring, which is great as a renter when you don't want to make any major holes in walls. Mine didn't seem to come with the screws (I'm not sure if that was a mistake or not?), but you can substitute in any standard screw that will fit, which is what I did. Clean lines, no electrician required, and costs less than the fancy pizza I like to order? What's not to love?
Now, I have not five but six different lighting sources in my entry/living/dining room, and the the KALLBLIXT provides just enough illumination for me to see my shoe rack in my entry, as pictured above. Please, hold your applause. If you're looking for a classic meets modern sconce on the cheap that still has a luxe look to it, the KALLBLIXT is it.