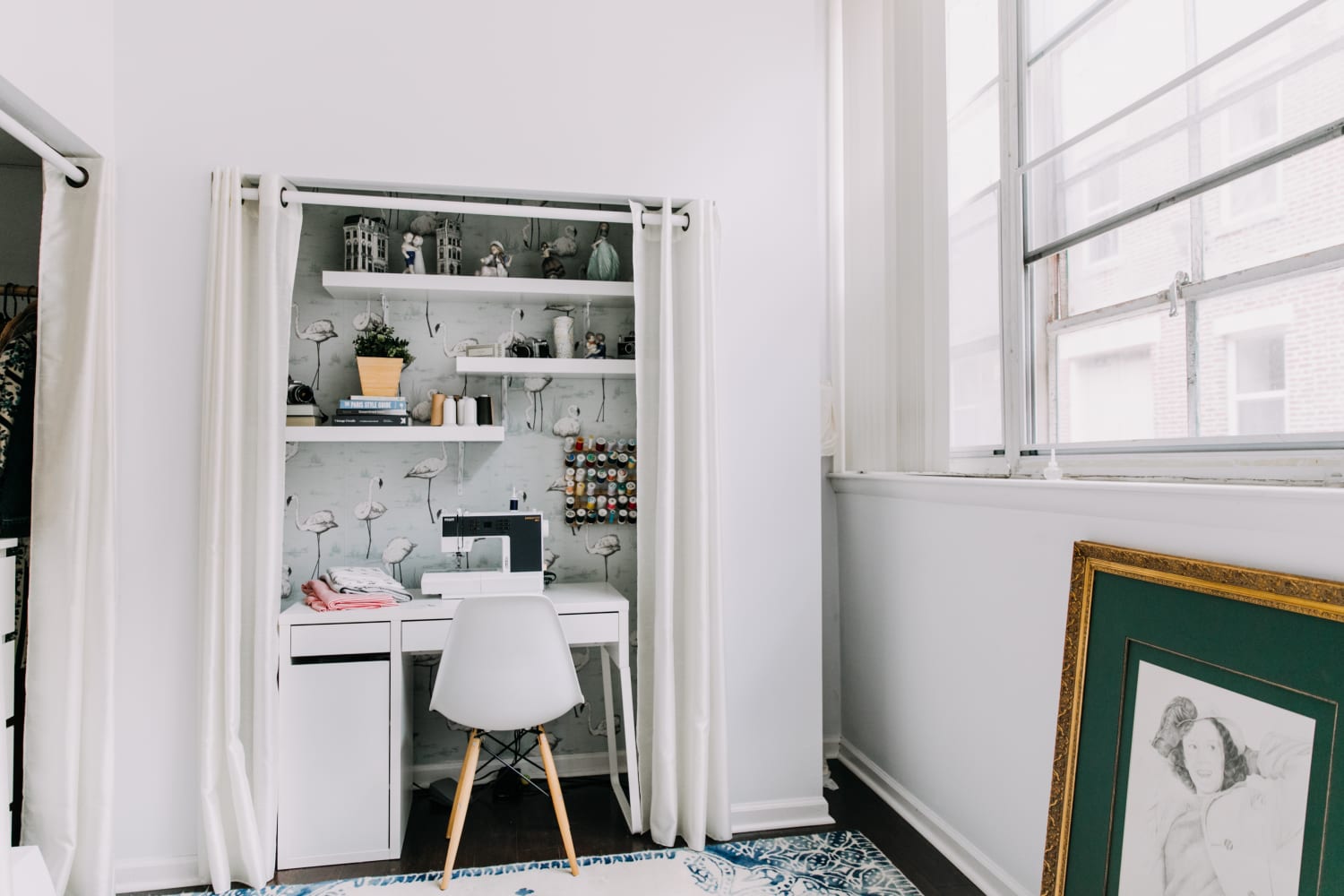 Even though hybrid and remote work options have become much more common these days, most people still don't have the extra square footage to dedicate to a full-on home office. Luckily, that doesn't mean you have to forgo a desk and office chair for a couch cushion and coffee table. Even if you don't have an entire room to spare, you can still incorporate a small and efficient office area into your home, real estate agents say.
"Since the beginning of the pandemic, I have seen more properties include dedicated work-from-home and homeschool-focused areas in homes," says Wisconsin-based Realtor and broker Alex Young. "The creativity (and adaptability) of owners have definitely shown through."
Here are three spots you can incorporate a desk or office nook.
Large, Open-Concept Spaces
How often do you use your formal dining room? Chances are, not very often. Instead of leaving this space for special-occasion meals, you can turn it into a dedicated office area. "Formal dining rooms [are great] for their large space, abundance of light, and ability to set up larger spaces (if necessary) for video recording or teaching from home," Young explains.
Another area to consider is your basement, especially if it's finished. "The concern often comes up with a basement home office feeling like a dungeon, so the ability to have finished space (floor, walls, and ceilings) with a good amount of light, calming paint, and more can help it feel more comfortable," says Young. "Bonus if you find a way to creatively add fake 'access' to the outside via faux daylight windows."
If you have an open floor plan, you can also try placing a desk behind your sofa or in the corner in your living room area. Add a chair and a lamp for a workstation that seamlessly blends into your living room.
Unused spaces, like awkward corners and the space underneath the staircase, can be ideal locations for a little office nook. "There have been waves of homes that have converted areas into workspaces," says Ryan Milo, a Realtor and designated associate broker of Inked Michigan Realty. Builders are now even offering "flex zone areas," Milo adds, which are small desk areas, typically off the kitchen or living areas, that have charging, computer, and printing/scanning stations.
Milo has noticed office nooks in closets and in areas under staircases typically used for storage. "I've also noticed in bedrooms, specifically for school children, closets converted into personal office areas."
With such a tiny area to work with, homeowners have also had to get creative when it comes to organization and making use of available space. "I've seen spaces that have used recycled goods to help organization, up to the most influentially decorated 'Restoration Hardware' type workspaces," Milo says.
Rooms with Little Foot Traffic
Extra rooms or small storage areas with a door make the perfect private office area. "A well-placed office nook should allow you to 'go to work,'" Young points out. "The ability to shut a door and mitigate outside interruptions, have natural light (hopefully), and the ability to be separate from where you are sleeping and living."
A dedicated home office might seem like a luxury; however, by repurposing your space and with a little creativity, you can create a little office nook almost anywhere in the house.