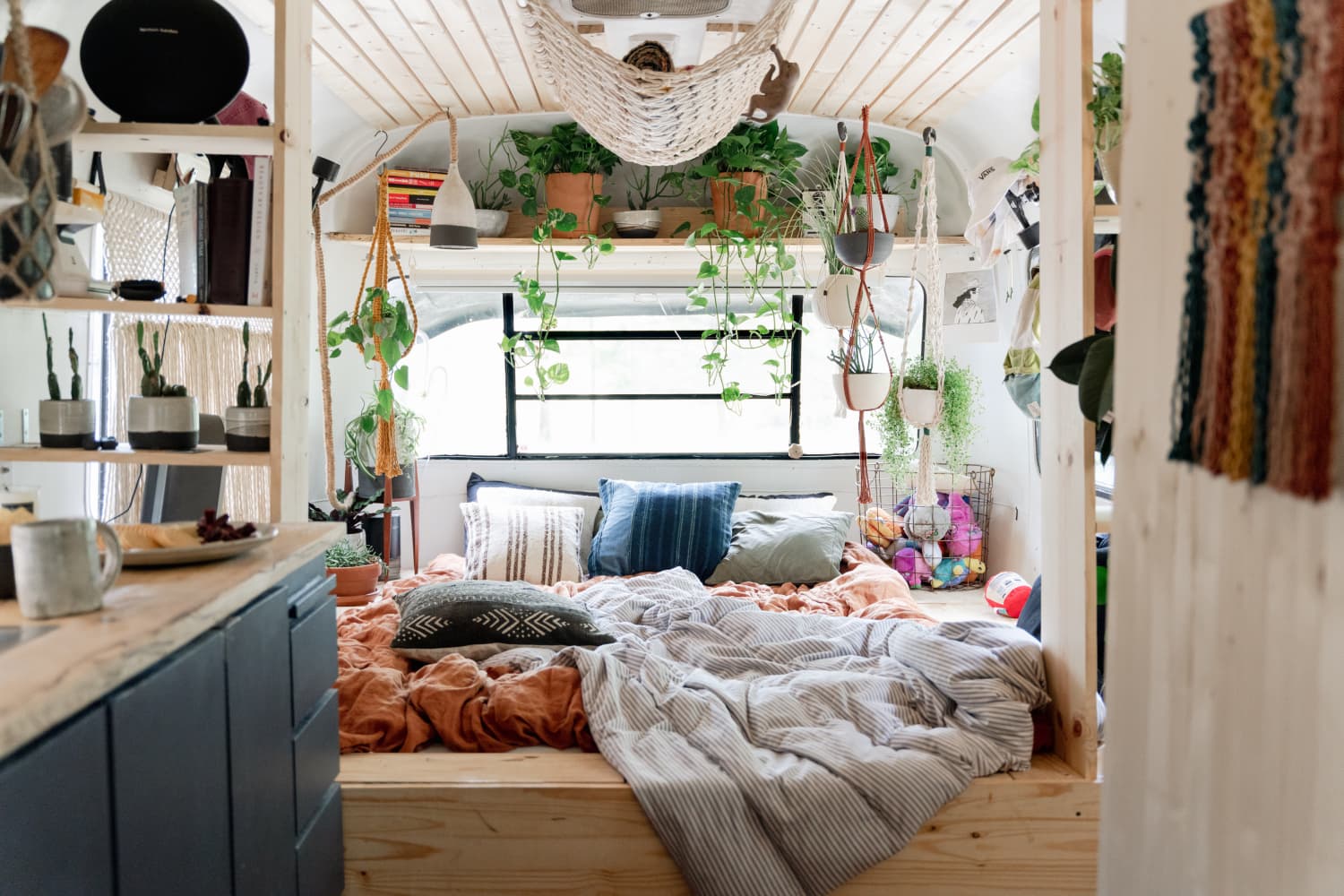 Williams and Richard are an artistic couple who share a 200-square-foot Airstream in Hemphill, Texas. Their collective style is giving simple, carefree, and bohemian in all the best ways. Williams herself calls it minimal meets jungalow. "I like things simple, and Kristen wants a plant in every empty space," she says. "It's the best of both worlds, and we each bring our own style to the space. "
As the home of two artists, this quaint, cozy small space is full of creative storage and decorating ideas. Anywhere you look, you're bound to spot something you probably wish you had thought of yourself (I know I did!). One of these concepts is the idea of layering smaller, colorful rugs to create a makeshift runner.
The space between the couple's kitchen and Richard's workspace is long and narrow. Typically, this is where a long, thin runner might come into play. Instead, the couple used a few overlapping Moroccan-style rugs from Lonesome Pine Home to line this pathway, and they fit perfectly.
Considering Richards and Williams originally bought this airstream for $500 then gutted, cleaned, and rebuilt the interior themselves, they had to stretch their budget as much as possible to upgrade everything that needed fixing. According to Williams, their biggest indulgence was rugs, and I can see why. Whether your space is tiny (like 200 square feet) or a bit bigger, rugs can make a big decorative difference and add so much life and color to a space.
If you have bare floors in your home that you're looking to cozy up, you have options! Instead of scouring the internet for a carpet that's the perfect length and size, you could start collecting beautiful, smaller rugs with some kind of a common thread between them (color, pattern, etc.). Every time you hit a thrift store or artisan market, buy the little area rug you like, even if you aren't quite sure where it will fit. Before you know it, you could have an assortment of textiles to layer to make the perfect makeshift runner or extra-large area rug that's truly one-of-a-kind.