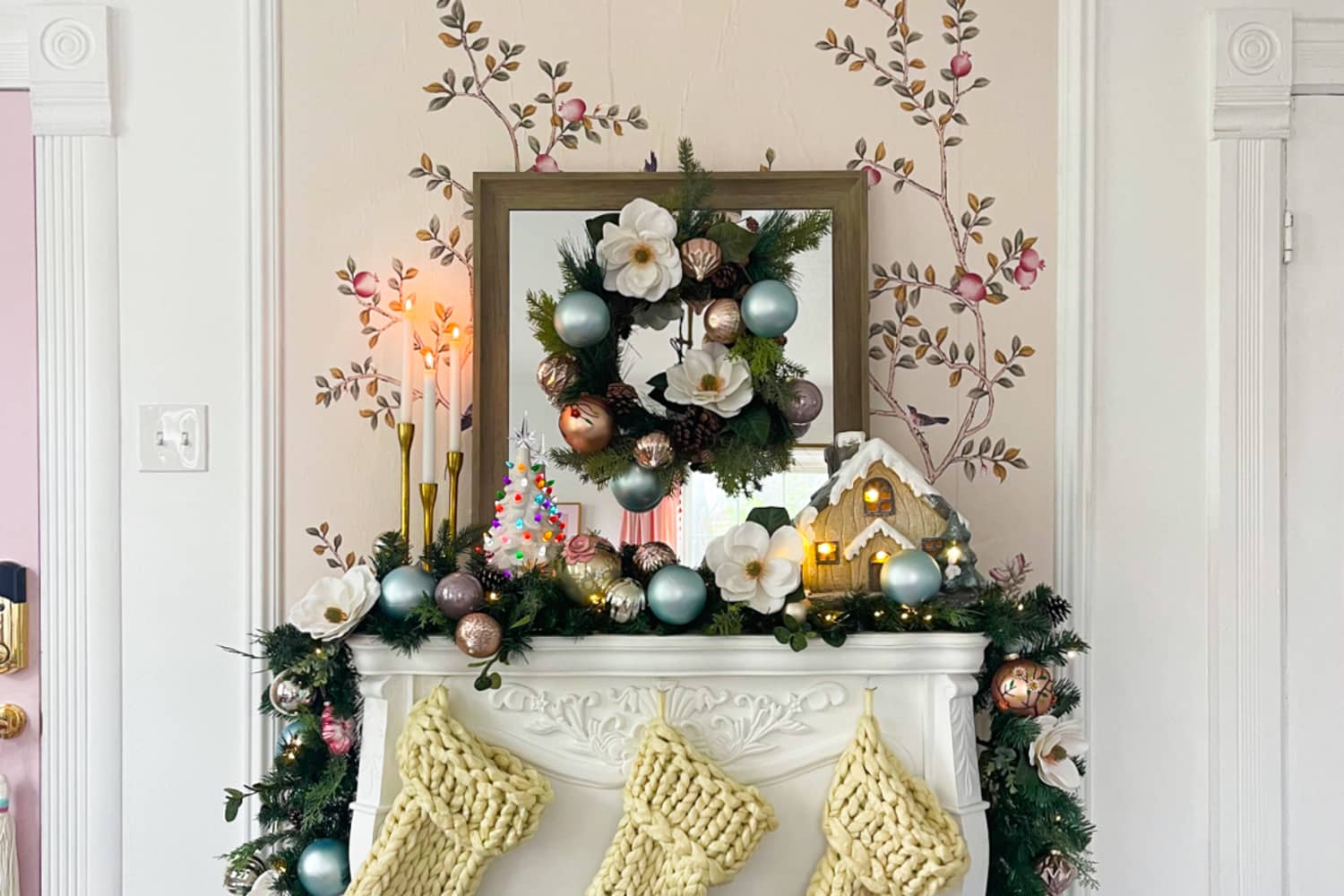 Cheer is definitely one of the first words that come to mind when we look at Ashley Wilson's interiors. With her creative DIYs and palette of rainbow pastels, this home decor blogger fills every room with energy and joy. So naturally, we couldn't wait to see what she could do for the holidays.
We asked Ashley to work her magic with some super cute finds from one of our favorite decor destinations: The Home Depot. The Home Depot's online store is as full as Santa's sleigh with stylish holiday pieces, all at on-point prices. They're just the finishing touches your own holiday look needs — and Ashley has some great ideas for putting them to work this season.
Give Your Mantel a Glow-Up
The fireplace is a classic holiday spot — hello, stockings hung by the chimney with care! — and Ashley puts a vintage-romantic spin on the mantel in her farmhouse kitchen. (The kitchen is a great, overlooked spot to add extra holiday cheer.) We love her choice of soft pink and mermaid blue ornaments and her eye for crafty touches like applique flowers and retro beading. Speaking of retro: The ceramic painted tree and glittery ceramic cottage fit right in with Ashley's self-described "grandmillennial chic" style.
"I love how nostalgic decorating for the holidays is," Ashley says. "It reminds me of my childhood. I also appreciate how it makes my home feel. I put on holiday music, recruit my son to help, and we create something pretty together."
If you're short on space — or if you're not, but you already filled it with decorations — go vertical. "Think holiday-themed art on the walls and wreaths on mirrors and windows, not just the front door," Ashley says. "You can even hang paper snowflakes from the ceiling." She also recommends stringing up twinkle lights, which draw the eye up and make any room feel magical.
Don't Forget the Finishing Touches
Like the ribbons and bows on those gifts you just wrapped, standout holiday decor is all in the details. "The finishing touches are what add your story to a space and really customize it," Ashley says. "Details are the best way to infuse personality." The Home Depot's online store has the finishing touches that fit her style perfectly. They'll have them for yours, too!
Lean into your favorite colors — like Ashley's pastel rainbow holiday palette — and decorations that remind you of your favorite people, places, or even pop culture you love. And not just at the holidays: "From a favorite color to books you love to mementos from traveling, this is how you make a house feel like a home."
Get more holiday styling tips and see Ashley's mantel come together here: