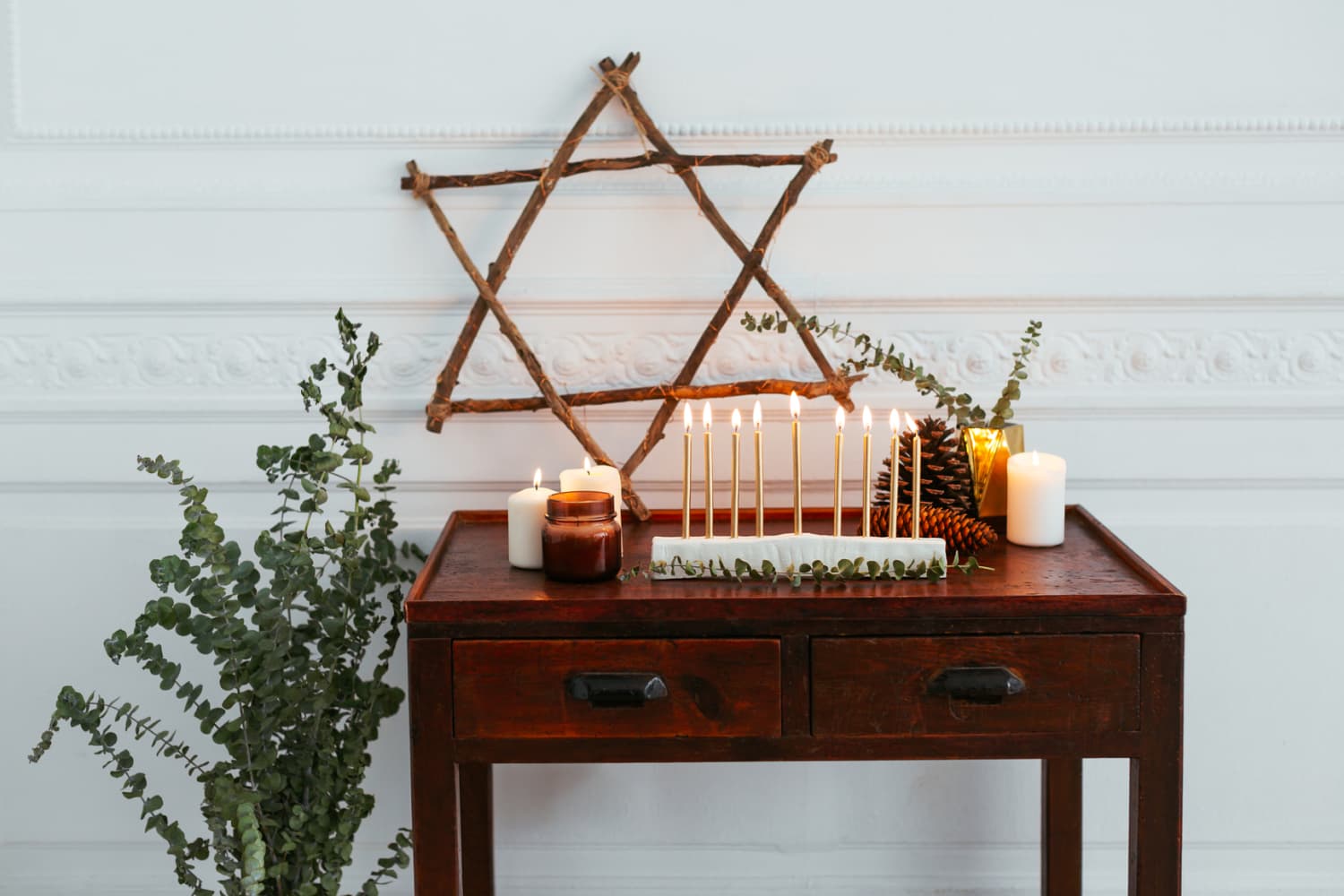 Let me take you back to an era that as I write this in November of 2021, feels about as ancient as the times of the Maccabees. It was September 2019. I had just moved in with my then-girlfriend (now fiancée) Amanda to an apartment in Brooklyn, and by December, we had sorted through all the things we had doubles of and had a list of what we were missing. And I realized I didn't have a menorah.
If I wanted some Judaica, I could absolutely go get it. My dad's house was (and is) chock-a-block with Jewish stuff: prayer books, seder plates, Shabbat candles, kippot from thousands of bar mitzvahs. He would have a spare.
But none of that stuff felt like it could be mine. The rise of antisemitism during the Trump years, punctuated by the deadly 2018 attack at Pittsburgh's Tree of Life synagogue, made me want to be more outspokenly and outwardly Jewish, but maybe not in the traditional and explicitly Zionist ways I had grown up with. I wanted a light in my window, but something that I had chosen to represent me and my Jewishness.
Night one of Hanukkah 2019 rolls around. I had bought a ton of potatoes to make latkes (pro-tip: use the meat grinder attachment on a KitchenAid for extra fluffiness!) and remembered that my grandma told me how folks on the Lower East Side in the 1950s would make potatoes into makeshift menorahs. Amanda popped some holes into a raw spud with a metal straw and dropped the candles in, and it worked pretty okay. An Idaho menorah. I figured if a miracle happened, it'd be alright for the next seven nights.
The next day, Amanda and I found ourselves in Lower Manhattan, waiting to grab dim sum with a friend. We stopped into CB2 to warm up and look at furry blankets and oversized pillows we could never afford. Sitting alone, on an errant bar cart in the corner of the showroom, was this burnished mod menorah. The base looked like the outline of a brick wall, but instead of cement between the bricks, it was packed with gold. And sitting on the top, like a bow on a present, was an 85 percent off coupon. I needed it, if only to tell Twitter, "lol I got a menorah on sale, feels bad but I like it!"
The next seven nights, the menorah glowed in the window. I felt proud about having a light in the window facing the street, something Jewish that I chosen.
The next year, Hanukkah 2020, we were locked down because of the pandemic. Every day since mid-March had felt exactly the same as the one before. As summer had turned into fall, we tried to make Rosh Hashanah, Halloween, and Thanksgiving feel special, but every time we ended up videochatting with loved ones talking about how weird everything felt. But Hanukkah felt like a holiday that we could celebrate like we did before the pandemic. We could send presents to our loved ones, cook up latkes, and light the menorah. Wait… do I even have one of those?
Amanda pulled our discounted menorah from the closet where we'd stashed it the year before. Because of the pressure, isolation, and intensity of the pandemic year we'd just had, it had brined into something special. It was our menorah, our keepsake. It was a choice I had made to cement my Jewishness, and now it was a part of our home.
We lit the candles every night last year, almost in defiance of lockdown and the antisemitism that had been allowed to flourish.
As Hanukkah 2021 arrives, I'm ready to bring out my discounted menorah. Of course, by the third year, it isn't "the discount menorah" anymore. It's my family's heirloom, the menorah from the pandemic, the one in the Brooklyn apartment window that burned through the darkness.