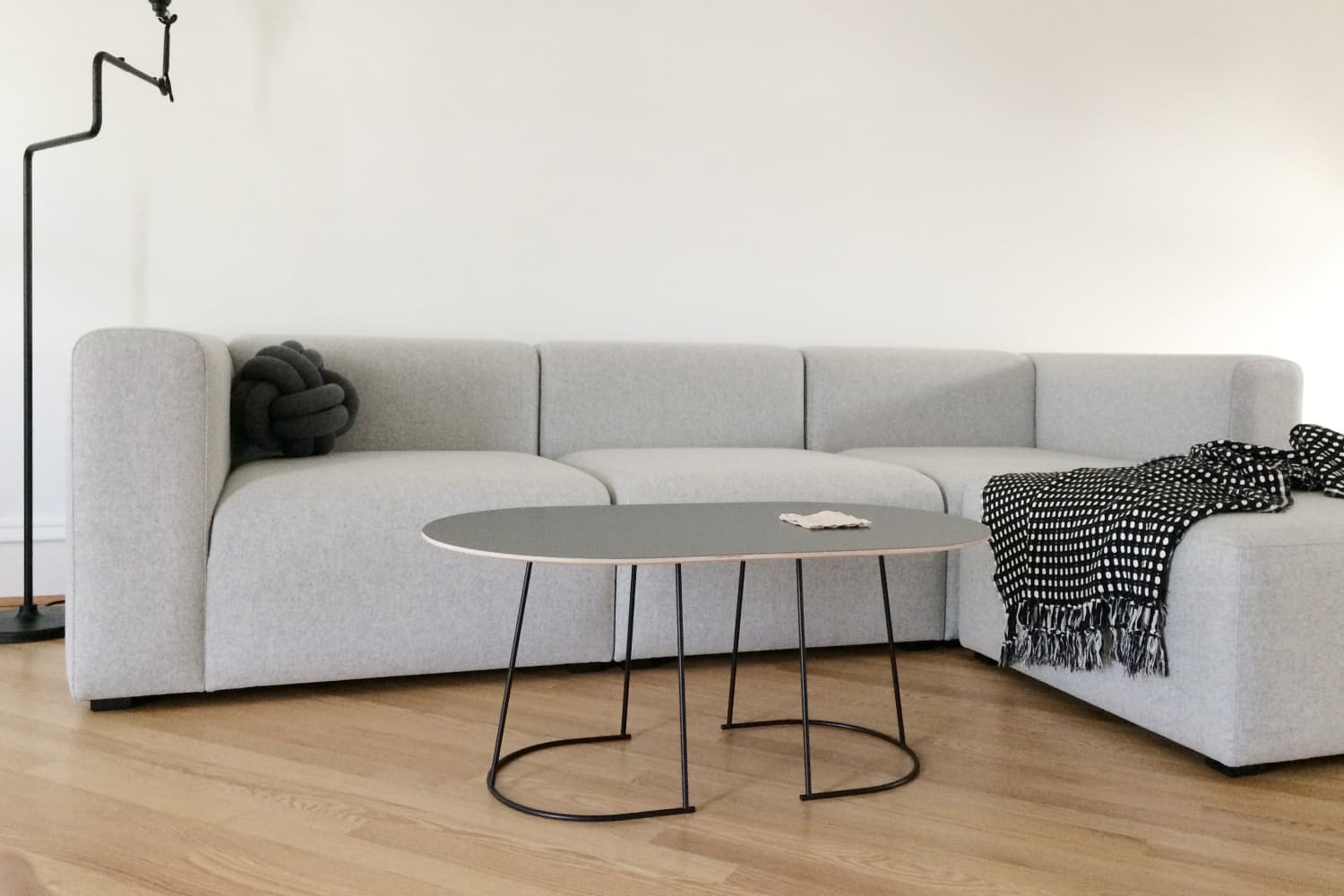 We independently select these products—if you buy from one of our links, we may earn a commission.
Many people have bought into the idea that a room isn't finished unless there's a rug. It adds warmth, color, and texture. Without it, the room feels cold and sterile — like there's something you're still waiting to add. Right?
Not so fast. These 10 spaces show there's often no need for a rug at all. These rooms are so stylish, so clearly finished, and, yes, 100 percent devoid of rugs. The design experts and enthusiasts behind these rooms might be onto something. They're not spending extra money, not cursing another puppy accident, and they're showing off their stunning floors.
1. A Light-Filled Scandinavian Dream
With gorgeous wood tones, subtle Scandinavian boho vibes, and lush plants, the living room in this Barcelona home doesn't need an ounce of additional texture. The light floors and neutral upholstered furniture, as well as the natural sunlight streaming in, get to shine without a rug to temper the look.
2. Wood Floors Steal the Spotlight
Floors this stunning shouldn't live their life covered up by rugs. So this former barn disregards the commonly accepted principle that a bedroom should have a rug to warm your feet in the morning. Without a rug, the floors take center stage and the bed linens are allowed to serve as the soft, cozy element in the room.
3. 1920s Tile Is a Showstopper
It would be a travesty to hide the tile floors in this 1920s Cuban Victorian. This vintage element, in its varying stages of preservation, is an absolute showstopper in this historic home, which has four different types of Spanish tiles. The decor throughout the rooms is informed by the rich, warm colors of coral, green, and turquoise.
4. A Bohemian Oasis Makes a Case for No Dining Room Rug
When you stop to think about it, does a rug in the dining room really make sense? There are crumbs, spills, and that glass of red wine that will inevitably take a tumble. That's why this lush, bohemian oasis of a dining room is so perfect. Its green walls mimic the plants inside and out, the chandelier adds a touch of formality, and the wood table seems like it has stories to tell.
5. Wide-Plank Floors Feel Grounded to the Earth
With striking wide-plank floors painted a consistent gray from room to room, this house in the Netherlands shows there is no need for a rug when you have an intentional approach to design. Warm pottery, an earth tone palette, and furniture that straddles the line between rustic and industrial give the home a sense of place and grounding, eliminating the purpose of a rug.
6. A Sleek, Minimalist Look
Going without rugs is already one step toward a more minimalist approach. It's less stuff to fill your space! This Virginia home, however, takes it to the next level, and the result is ultra calming. With a limited color palette, sleek-lined furniture, and few decorative items, it's a soothing minimalist dream.
7. Soft and Cozy Without a Rug in Sight
Again with the gorgeous wood floors that deserve the spotlight. This soft, pretty Scandinavian apartment gets the coziest light, and its owners have leaned into that look without relying on textured rugs to make it feel intimate. Instead, they've turned to a delicate color palette and furniture that feels well loved. The result: a space that feels both homey and styled.
8. Bold Black-and-White Tile Shines
The timeless black-and-white tiles are the star of the show in the kitchen of this West Hollywood apartment. The room plays off its limited color palette by keeping everything in the monochromatic black-and-white family. A rug wouldn't do anything but distract from the bold pattern, and the tile makes for the most perfect retro style.
9. Let the Dark Wood Have Its Moment
There is something sultry about a dark wood floor shining beneath ornate antiques — and this 1909 Los Angeles home is a perfect example. Its untouched hardwood floors are one of the original architectural details that give this house its "creepy, sexy, vintage vibe." While some of its rooms do include rugs, the dining room is an absolute stunner without one.
10. A Chic, Sleek Basement Lounge
The owners of this Chicago cottage knew its 900-square-foot basement would make a perfect lounge. After they removed the carpet, they decided to keep things sleek — no rug needed. Books, lamps, games, and DIY flower mirrors add plenty of intrigue. All that's left to do, the owners say, is to install a "proper Chicago basement bar."