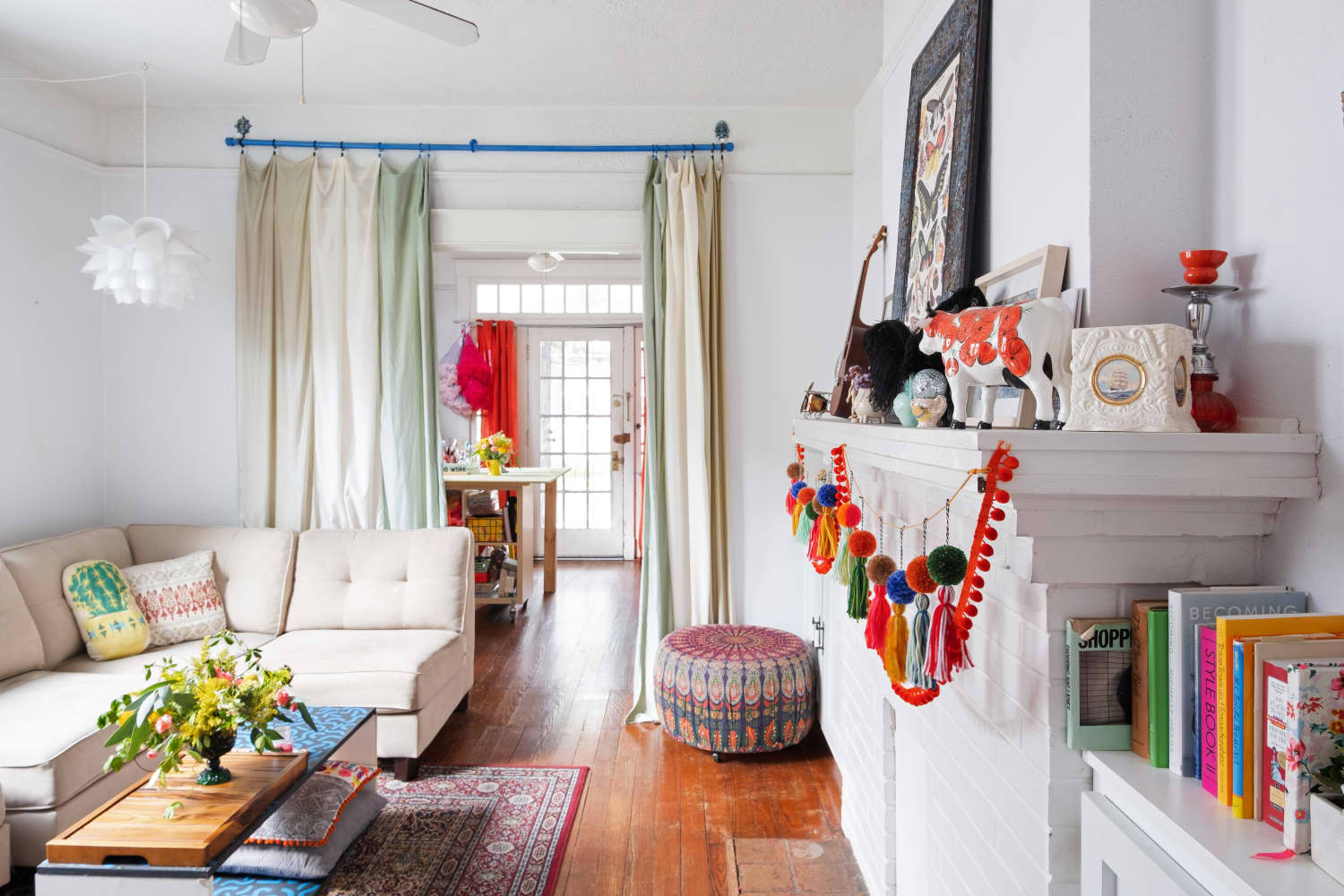 We independently select these products—if you buy from one of our links, we may earn a commission.
Maybe you're a renter who dreads the idea of painting walls back to "renter white," or perhaps you just love the crisp clean look of a white wall. Either way, the good news is that white walls don't have to limit you to neutral colors. If you love bold hues, vibrant palettes, and fun patterns, white is simply a blank canvas to let your creativity shine.
White is an opportunity. It's a chance to go wild with neon drapery or multicolored rugs. It's a backdrop waiting for a brilliantly hued sofa to grab the spotlight or a kaleidoscope of art to take center stage.
Apartment Therapy selected 11 house tours that feature white walls as a jumping-off point for stylish, bold, colorful designs. So get your creativity ready. You're about to go into inspiration overload.
1. Technicolor Textiles in a Chicago Cottage
White walls and warm wood floors are a blank canvas for the technicolor textiles and bold shapes that inspire artist and floral designer Sara Wenokur and her partner, Garrett Jones. Each room uses color in a light-filled way, with a focus on simple patterns that pack a vibrant punch. Step outside for a brilliant continuation of color into the garden.
2. Painted Trim Brightens Up a Brooklyn Apartment
Leave it to a footwear designer to have a joyful, color-coordinated closet, right? But that's not all for the color in this Brooklyn apartment. Haley Boyko and her partner, Nick Sylvester, have created a cozy, colorful abode that you'd never realize has white walls upon walking in. Could it be the mustard yellow trim? The graphic modern art? The rainbow-striped rug? It's likely a perfect colorful storm of all the above.
3. Art in Sofa Form in New Orleans
Colorful doesn't have to be in your face. Emily Thibodeaux Meyer and Andy Meyer decorated the main living areas of their white-walled New Orleans shotgun rental with beautiful painted furniture, a comfy sofa, roadside finds, and the pièces de résistance: a few carefully selected and colorfully hued statement pieces. A subtly vibrant garland and a sofa that reads more like art than furniture make the whole space feel fun and creative.
4. Clever, Colorful Details in the Netherlands
Saliha Khan and her husband, Kumayl, live in a gorgeous, light-filled space in the Hague, Netherlands, with chic white walls and light floors throughout the living area — even the kitchen is a clean white. But that's not what you notice upon first glance. They've dolled the space up with small colorful details, from the books carefully arranged on wall-mounted shelves to the gallery wall to the dishware. These vibrant accents dot the space and give the white walls a sense of life and dimension.
5. Vivid Art Lends a Personal Touch in Melbourne
A warm leather couch in a white room can serve as the perfect backdrop for colorful pillows and art — and Maria Flores nails that look in the space she shares with her family. The Melbourne, Australia-based artist creates vivid art using paper cutting, screen printing, painting, and illustration, and the pieces give a personal and energetic feel to a space that would otherwise read as neutral.
6. Primary Colors Go Bold in a Seattle Apartment
Views of Seattle and Mt. Rainier could be the highlight of Ellie Ohiso's apartment — until you turn around and take in the vibe she's created. When asked to describe her home's style in five words, she said: "Memphis design Nordic color pop." She's brought in bold primary colors in the furniture, campy neon signs, and graphic art, along with a few colorful nods to rock and roll. It's an eclectic, collected look that proves white walls are anything but boring.
7. Colorful '70s Vibes in Guadalajara
When it comes to design, some people have one goal: to erase the '70s. Juan Pablo Ochoa and Ruben Padilla, however, wanted to embrace that era. When remodeling their Guadalajara home, they wanted it to feel light and airy. They accomplished that with lively refurbished yellow steel framing, plants around every corner, colorful furniture and cabinetry that evokes the colors of the landscape, and, yes, white walls.
8. A Modern Art in a Detroit Studio
Isabelle Weiss, the founder of contemporary art space NEXT:SPACE, has a love affair with art and modernism, and that comes across in every inch of her 550-square-foot studio. The light-filled apartment is a literal blank canvas, with its white walls, beige carpeting, and modern windows with views of downtown Detroit. Yet she's made it completely her own with bright, thought-provoking art and energetic shades of blue moving throughout the space.
9. Collected Color in an England Home
A tall, skinny house was Joanna Reeves' dream — and she's made it happen in Bath, England. The home was a total fixer-upper and, in the process of renovating everything top to bottom, she decided to paint every wall white. That hasn't limited her color palette, however. She believes in creating a space around a few objects you love and, for her, that's included art that's introduced rich, dynamic color into the home. The result: a tall, skinny house with white walls and punches of personality.
10. A Cohesive Palette in a Small Space
Melanie Gnau and her husband, George, live in an 888-square-foot home in Asheville, North Carolina, where they're in the process of an ongoing remodel. As a minimalism coach, she knows how to make style work in a small space. For her, that meant keeping her canvas (AKA, walls) white and introducing color through furniture and textiles. She's tied the same blush, coral, and black color palette throughout the house, using intentionally placed art and furniture to make the entire space feel cohesive and subtly colorful.
11. Vibrant Colors for a Fresh Start
A fresh start in a new space inspired Tola Doll Fisher to make her London, England, flat her own. In her white-walled rental, she's introduced a Pucci-inspired mural (she painted it herself!), a bold purple sofa, and vibrant textiles, including a technicolor living room rug and bedding. She's created a space that feels, in her words, "fun, fashion-forward, and unique."