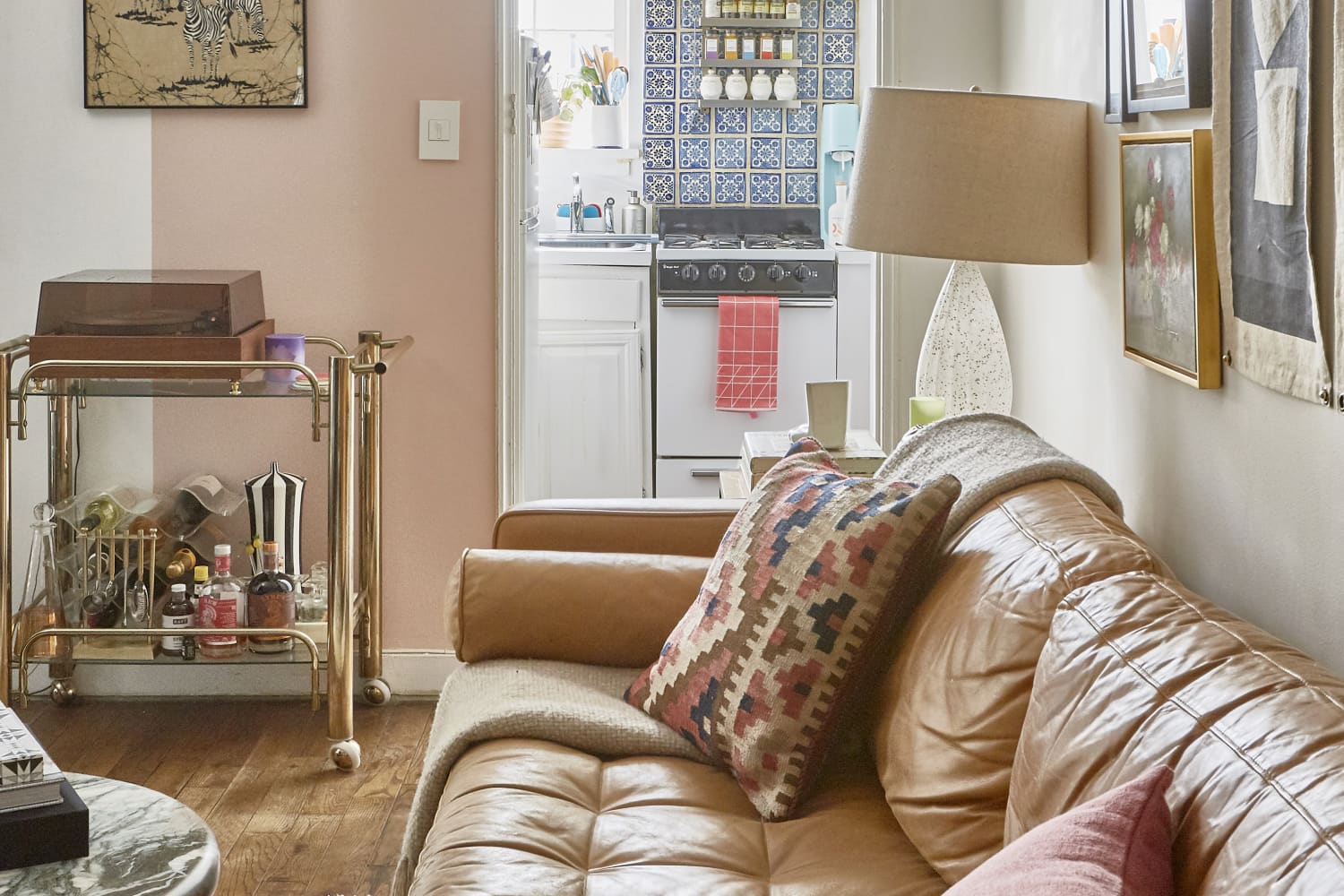 We independently select these products—if you buy from one of our links, we may earn a commission.
My New York City kitchen's so small, I joke that it's a one-person cook space, meaning no more than one person can actually stand in it comfortably at a time. Forget sitting (zero room for chairs) and really eating (unless you like doing that standing alone). Somehow our property management company squeezed a full-sized fridge and a tiny stove/oven combo with four burners into the "room," so cooking is possible. You can bet there's no leeway in the footprint for a dishwasher though, and counter space is very much at a premium — to the tune of maybe about an 18-inch by 12-inch little stretch of laminate surface right in front of our microwave for chopping, prepping, and yes… drying dishes. That last task used to be the bane of my existence, since I never really had a proper or dedicated place to put a dish drying rack. All that changed when Five Two by Food 52's Over the Sink Drying Rack came into my life though last year around this time. It had been sold out for a while when I stumbled upon it at Nordstrom while holiday shopping, and I snatched it up as fast as I could, even at full price.
If you have a small space and tend to hand-wash a lot of things either because you don't have a dishwasher like me or just have lots of fragile items and need extra drying space, this stainless steel, silicone-coated rack is a total game-changer. First, unlike other drying mats I've had, this one's designed to sit right over your sink while it airs out your wares, so it gives your actual counters the bandwidth to do other things. That also means its slotted and fully ventilated, with your sink becoming the catchall for drips and moisture as your pieces dry. This makes the rack itself much easier to keep clean, since water and other gunk can't pool in the ridges of the drying mat itself or the plastic dish that often comes with countertop rack models to collect drainage. It also doesn't get gross in the way fully fabric mats eventually do — trust me; I've had my fair share, and they get waterlogged with every use and don't usually last many washings, either. After putting away my dry glasses, flatware, pots, and dishes — the mat has varying sized slots for different pieces like lids and a small caddy for utensils, too — I simply rinse the mat off with our faucet's sprayer, and it's good to go. Even better, and though a moot point for me currently, the whole thing is dishwasher-safe should it need a refresher every now and then.
The beauty of the flexible design is that you can also roll this mat up and stash it in a drawer until you need it again, so you don't have to be reminded of your dish drying rack every time you step foot in your kitchen. Honestly though? I have the slate blue colorway (a darker gray and lighter gray are also available), and it works so well with my stainless steel kitchen sink and the blue accents throughout the tiny space, I just leave mine out 24/7. As long as I'm not drying anything, I can still use my small sink pretty much unobstructed, since all I have to do for access to the sink bowl is roll the rack back to the sink deck plate. It's genius really, and yes, it stays firmly in place there, since the silicone material makes the whole thing non-slip and grippy.
Finally, what I choose to bring into my postage stamp-sized kitchen really does have to work hard because I don't have the space for anything that won't pull its weight. To that end, I'm happy to report that this drying mat is a true twofer or maybe even threefer or fourfer, if those are even words? First and foremost, it's a drying rack, but thanks to its heat -safe up to 550°F silicone construction, the rack's ventilated slots are actually the perfect size to serve as a pot trivet or a cooling rack for any sizable cookie. On top of that, the little utensil holder I mentioned earlier fully pops out of the mat, so you can use it as a mini colander to rinse off berries or other small fruits and veggies.
If you're looking to level up your dish drying mat situation, I can promise you this rack is sturdy, works like a dream, and still pretty much looks like it did the day I took it out of the box. Right now, it's also on sale, which I've never seen happen before. I'd grab it before it sells out, and it makes a great, practical gift for any apartment dweller that could use a little more space.