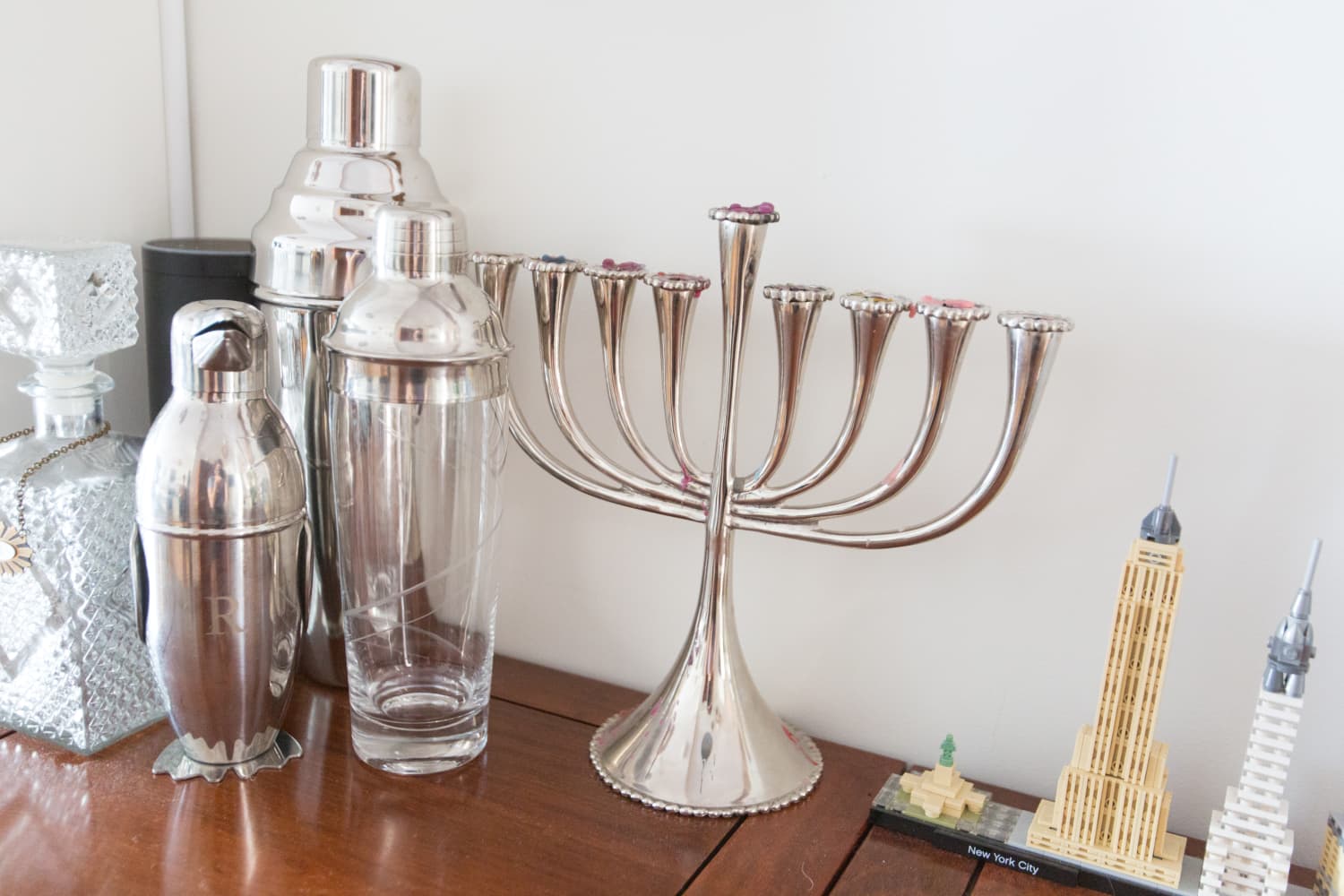 We independently select these products—if you buy from one of our links, we may earn a commission.
During the holiday season, Christmas decor tends to take center stage, but Hanukkah deserves its time in the spotlight, too. After all, one of the best things about the festival of lights is that the celebration goes on for eight nights! That's plenty of time to add festive Hanukkah touches throughout your home if you celebrate.
To help you do just that, I've rounded up 12 stylish pieces of Hanukkah decor. You can bet your gelt they'll be a hit! It's always nice to have a little extra sparkle and shine in your place this time of year, so if you want to leave pieces up or out a little longer, go for it! Order now for delivery soonest, and note that some of these styles can even be picked up in your local stores if you want to get your hands on them ASAP.
1. D.S. & Durga Prime Chanukah Candle
Have you ever wondered how to capture the special smell of Hanukkah? The answer is in this D.S. & Durga candle. To honor the miraculous oil that burned for eight nights, this woodsy scent features heart of olive along with citron, laurel leaf, cedar of Lebanon, and incense.
Buy: Prime Chanukah Candle, $65.00 from D.S. & Durga
2. Paper Source Blue & White Hanukkah Felt Pom Garland
Get your garland on with this classic felt ball design made with a range of blue and white wool beads. At 10 feet long, you can string it practically anywhere — along banisters, from the ceiling, or across a fireplace mantel — for a timeless holiday feel.
Buy: Blue & White Hanukkah Felt Pom Garland, $19.95 from Paper Source
3. Williams-Sonoma Hanukkah Blue Mosaic Salad Plates
Say it with salad plates! This set of four includes one of each unique design that features striking artwork with symbolism of the holiday. Made from sturdy stoneware, the color palette of blues and yellows with gold accents will catch your guests' eyes, whether you use them for salad, hors d'oeuvres, or dessert.
Buy: Hanukkah Blue Mosaic Salad Plates, $59.95/Set of 4 from Williams-Sonoma
4. Metal Hanukkah Geometric Star of David
Cool and contemporary, this geometric wire design isn't your average Star of David. The sophisticated objet will make a statement anywhere you place it. I'm thinking shelfie accoutrement, but it can certainly stand on its own on a tabletop, too.
Buy: Metal Hanukkah Geometric Star of David, $28.99 from Wayfair
5. Threshold Dreidel Pillow
Who wouldn't want to take this dreidel pillow for a spin? Made with a 100 percent cotton exterior, this 3D pillow is cute and cozy, making it great for cuddling up on the couch or just as a decoration on a chair.
Buy: Threshold Dreidel Pillow, $20.00 from Target
6. Shalom Y'all by Olivia Rose Wrapped Canvas
Signs with sayings on them sometimes get a bad decorative rap, but around the holidays, I can't help but see this category as anything but fun and festive. Ideal for your entryway, this "Shalom Y'all" canvas printed sign on a solid wood frame makes for a great way to greet guests. The snowy palette is a great play on winter whites, too.
7. Happy Hanukkah LED Hanging Lanterns Set
8. Nickel Designs Hand-Painted Happy Hanukkah Doormat
So sleek and striking that it can be left out all year, this modern menorah will literally light up your life. The sleek arch is made from solid white marble, so each is unique when it comes to the tones and veining. Right now, it's even on sale!
For a winter wonderland effect, hang up this green garland. Sparkly silver picks and ball ornaments in a range of shades of blue and silver make it just right for celebrating the Festival of Lights but apropos all season long as well.
11. Northlight 14″ Wooden Hanukkah Nutcracker with Menorah and Dreidel
Nutcrackers aren't just for Christmas! See this wooden Hanukkah nutcracker for proof. The blue and white nutcracker has a menorah in one hand and a dreidel in the other and is definitely perfect for a traditional decor lover.
12. Eyota Happy Llamakah Throw Pillow
Big on charm and cuteness, add this llamakah pillow to your sofa for a happy Hanukkah touch in your living room. This whimsical style is bound to get a smile from littles and adults alike — the cactus menorah is pretty genius, if you ask me!
Buy: Eyota Happy Llamakah Throw Pillow, $42.99 from Wayfair