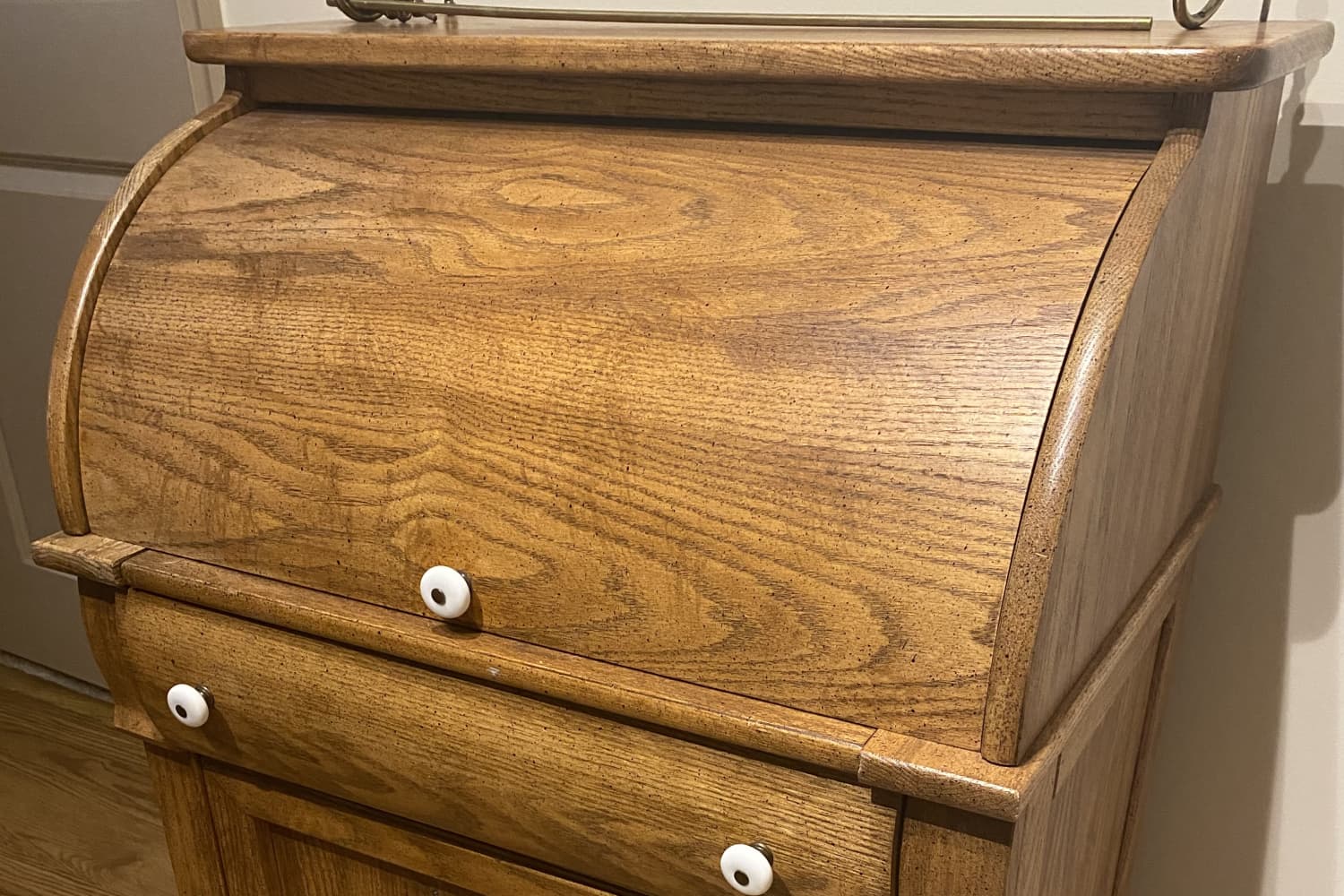 Every furniture DIYer has a first furniture DIY: a knob or pull replaced, or a first drawer lined, or a first leg swapped. For Sarah and her wife, their first furniture DIY was a little more ambitious: revamping an old roll-top desk Sarah scored for $50 on Facebook Marketplace.
"My wife always wanted a roll top desk, and I was tired of doing my weekly journaling on our dining table," Sarah says. "When I saw this on Facebook Marketplace, I immediately bought it."
Unfortunately, though, desk wasn't particularly sturdy; parts of it were coming off, and the finish was a "cheap-looking, speckled wood finish," Sarah says. "But I really hoped we could make it something special and both get what we wanted out of it."
Since this was Sarah's first DIY furniture project, it took the better part of a year, she says. "Some of that was just waiting for days when the weather wasn't too hot and humid or too cold, since we did most of the work on our patio," Sarah says. "But a lot of it was just figuring things out, calls to my dad, fixing mistakes, and running back and forth to Home Depot."
Sarah started by fixing up any structural issues, then sanded down the desk before painting the outside most of the outside in a dark gray. To give the desk some dimension, she chose segments of it to accent with a deep brown stain — a huge improvement on the yellowed, speckled stain that was there before. "I love the way the stained wood pops in contrast to the gray paint," Sarah says. "I was really proud of my work stripping, sanding, and staining those areas of the desk."
Finally, Sarah replaced the drawer pulls and swapped the old newspaper drawer lining for new bee-accented blue liners. The full update came in at $160, which is still cheaper than buying new.
"The best part about the desk is that we can say we did it ourselves," Sarah says of the finished piece. And she offers some sage advice for any other first-time DIYers out there taking on a new project: "Have someone on speed dial who has more experience than yourself!"
Inspired? Submit your own project here.