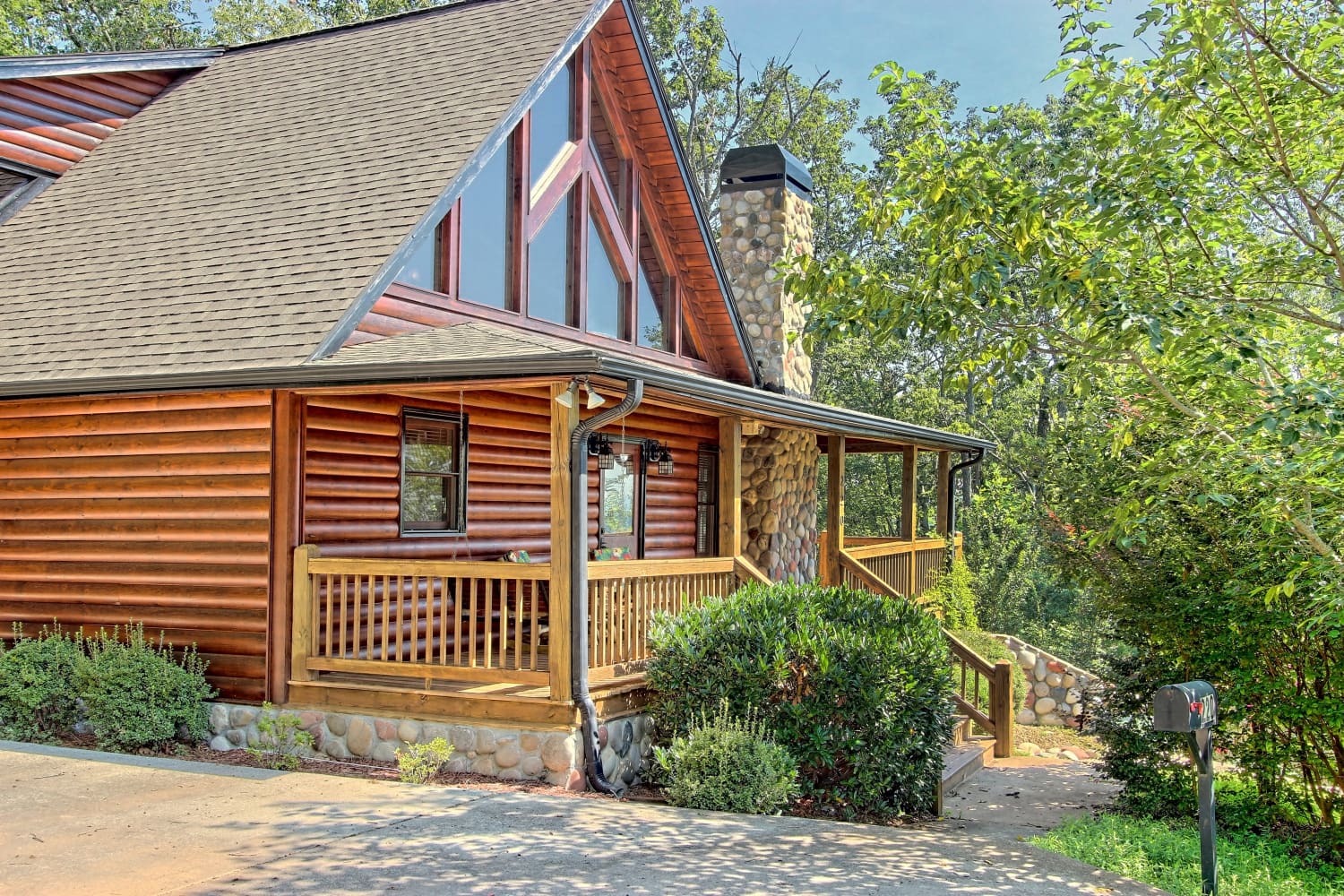 We independently select these products—if you buy from one of our links, we may earn a commission.
It's the most wonderful time of the year. And no, I'm not talking about Christmas. Fall has always been a magical season to me — the crisp air, the feeling of new beginnings, the cozy sweaters, the pumpkin spice lattes — and even though I live in Florida now, I still crave the feeling of stepping on crunchy leaves and the sight of gorgeous fall foliage.
If the cooler temperatures and changing leaves also have you in the mood for a getaway, I've rounded up some vacation rentals that are perfect for leaf peeping. Listening to Taylor Swift's "All Too Well" while you read through this list is optional, but highly recommended.
Treehouse with Panoramic Views in Olympia, Washington
What better way to see fall foliage than to stay nestled in between the trees? This cozy treehouse located next to an old growth cedar tree is just for two. It's perfect for a romantic getaway, and there's plenty of leaf peeping opportunities on nearby walkways through Douglas firs, cedars, hemlocks, and maple trees.
This listing has one bedroom and can accommodate two guests. Rates start at $170/night.
Family-friendly Home with Lake Views in Table Rock, Missouri
Admire the colors of the changing leaves and Table Rock Lake views from all three levels of Hawthorn House. The 3,174-square-foot home has a deck with a double-sided indoor/outdoor fireplace, plus a private hot tub and fire pit on the lower level patio. Each bedroom has an en suite bathroom and a different Missouri theme (from the state flower to the state bird).
This listing has five bedrooms and can accommodate 16 guests. The average rate is $497/night.
Ishkode Chalet in Eagle River, Wisconsin
This secluded riverfront home comes with its own private dock and a wraparound deck. Enjoy the colors of fall on the river (the house comes with a canoe, rowboat, and kayaks to borrow) or on the many miles of scenic trails nearby. If you have dogs, you can bring them with you.
This listing has four bedrooms and can accommodate 18 guests. Rates start at $251/night.
Redwood Treehouse in Aptos, California
This serene retreat is surrounded by towering redwoods and is made for people who want to reconnect with nature and get away from it all (cell service is limited, but there is WiFi). There's a private bamboo spa and sauna deck that can be booked ahead of time — complete with an infrared sauna and cold plunge — plus outdoor amenities like a forest sanctuary, redwood deck, garden, meditation pond, and easy walking paths.
This listing has one bedroom and can accommodate four guests. Rates start at $294/night.
Stunning Retreat with Country Charm in Kenwood, California
This two-story wine country estate has a wraparound porch, fire pit, and hot tub. Add in a beautiful landscape with mature trees and you've got a picturesque fall getaway. Take in the fall foliage while dining al fresco or sipping wine at one of the nearby wineries located less than one mile away.
This listing has four bedrooms and can accommodate eight guests. The average rate is $694/night.
Eagle Crest in Estes Park, Colorado
There's plenty of fall foliage to see from this renovated historic cabin, but you'll also want to pack a pair of binoculars to check out the mule deer, elk, wild turkeys, and bears that walk by. Stunning mountain views can be enjoyed from the spacious deck and two sunrooms, and when it's time to wind down for the night, you can sit around the wood-burning fireplace in the cozy living room.
This listing has four bedrooms and can accommodate nine guests. Rates start at $450/night.
Jubilee Mountain Homestead Apartment in Black Mountain, North Carolina
This apartment located above the garage of a mountain town home has access to a deck with a private hot tub and grill. It has a great view of the mountains and fall leaves, and renters get a discovery pass to local attractions like the Biltmore Estate and seasonal activities like zip lining, whitewater rafting, and skiing,
This listing has one bedroom and can accommodate four guests. The average rate is $161/night.
Sounds of Silence in Blue Ridge, Georgia
This mountain cabin has a remote feel while also being a short drive from downtown Blue Ridge. It's surrounded by trees and boasts views of the Blue Ridge Mountains from the deck. It has an all-wood interior and all the mountain vibes plus modern conveniences like WiFi and a home theater.
This listing has three bedrooms and can accommodate six guests. Rates start at $189/night.
Trailside Treehouse Riverside in Richmond, Virginia
If you've ever wanted to camp in a treehouse, this rental is for you. It's dog-friendly, and renters have access to complimentary bikes, which are convenient for exploring the nearby trails and river. It's a legit treehouse that was built for the owner's nephew in 2014, and they donate a large portion of rental fees to local nonprofits.
This listing has two bedrooms and can accommodate eight guests. Rates start at $271/night.
Vintage Tugboat in Providence, Rhode Island
This list wouldn't be complete without including a rental in New England. This non-traditional option is a former Canadian Coast Guard tugboat built in the 1950s, and it's filled with woodwork that is equal parts admirable and cozy. Not only do you get surrounding foliage, but you'll experience it with incredible waterfront views.
This listing has one bedroom and can accommodate two guests. Rates start at $189/night.