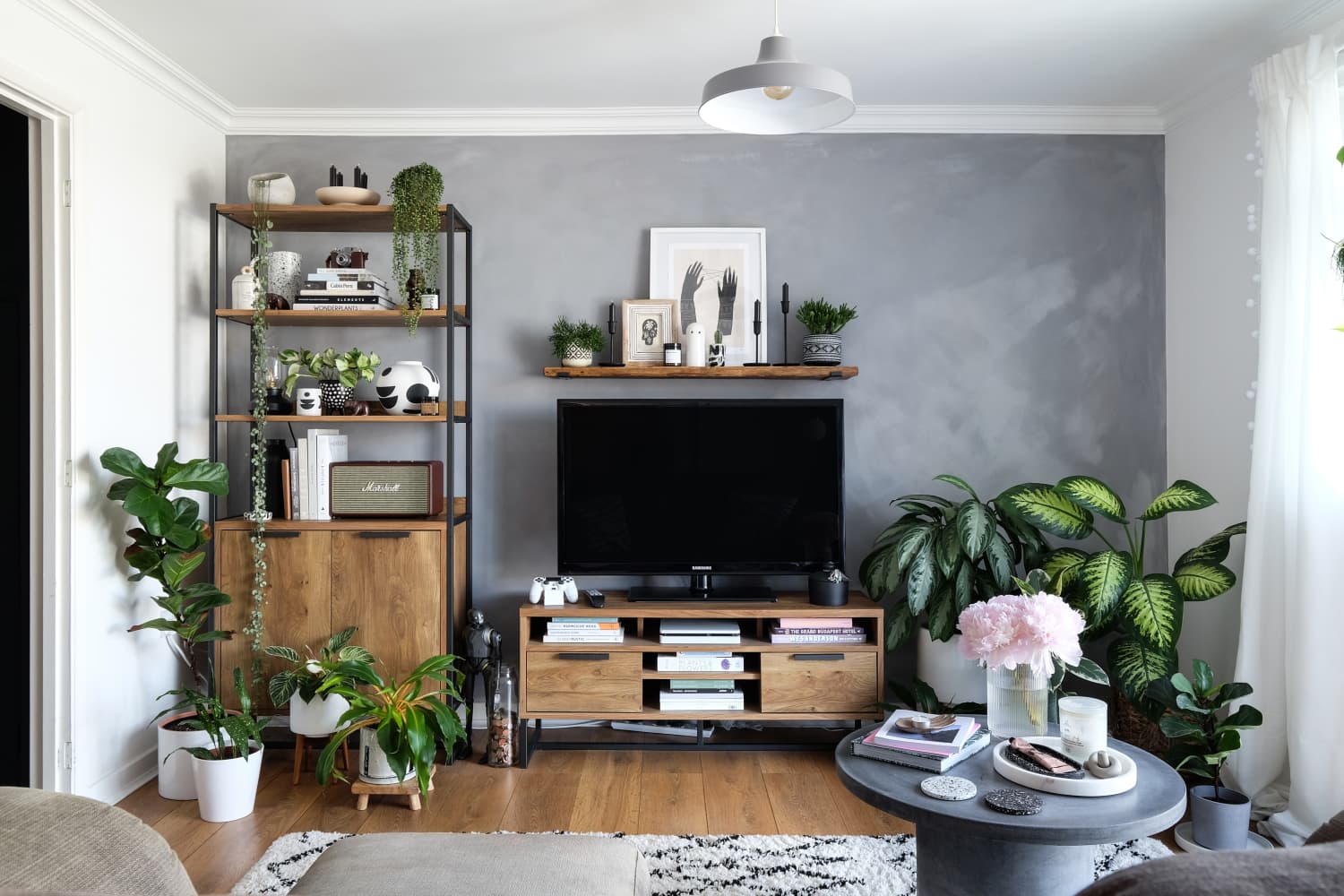 We independently select these products—if you buy from one of our links, we may earn a commission.
If I've learned anything over the past year-and-a-half or so, it's the joys of leaning into all that is soft and comfortable in all facets of life. Just as work trousers have been swapped for joggers, the harsh lines and stark metal accents of modern design are starting to soften, with natural materials, sloping shapes, and warm woods introducing a gentle earthiness to many interiors. Framing the picture of all this coziness in some cases? Color washed walls, a painting method that mimics the look of limewash paint to give a room an organic, aged appearance.
The good news? This effect can be achieved with simple house paint and glaze. Those who decide to try it in their own homes don't have to stick to just neutral colors either. The technique can help to add depth to your walls in a range of tones, from dark grey to bright blue, and hues can even be mixed to create a layered effect. Want to know a little more about this paint trend and how to use it to make a statement in your home? Then you've come to the right place. Ahead you'll find everything you need to know about color washing and expert tips on working this technique into your interiors.
"Color washing is a faux finish painting technique that gives you a very soft, textured color application — much like the transparent look of watercolors," says Nivara Xaykao, the color marketing and development associate manager at Benjamin Moore. "It harks back to the romance of the Old World and elegant interiors with sculptural plaster walls."
Xaykao says the technique is really resonating right now, as interior design continues to trend away from cold perfection and towards warm, homey finishes and furnishings. "It's all about celebrating the beauty in vintage and handmade things and embracing that imperfection," she says. "While furniture and decor are developing more graphic, geometric lines, a color wash on the walls provides soft contrast."
As far as technique goes, color washing calls upon feathered out brush strokes, complementary paint colors, and the addition of glaze to your top-most layer of paint. Peter J. Finglas, President of NYC Fine Finishes, says the technique creates a unique "depth of finish," and is a relatively easy, fun way of experimenting with color. What many love about the technique is its randomness; it's pretty much the antithesis of what you'd typically go for when painting your walls. Color washing looks its best when you allow all the hues to show through, and the more frenetic your brush strokes are, the more successful your end result. Streaks are totally fine here, which means you don't have to be a skilled house painter to achieve striking, beautiful results.
How to pick the perfect hue
Color choice provides another pro of the color washing process; the options of colors are seemingly endless, and you can even create your own combination by adding small amounts of white or black to your base color, which can come from any paint company. Finglas says color washing can work for both light and dark colors, too. "A light color wash can be subtle and soft, whereas a dark color wash can lend to a dramatic and bold look," he says. "If off-whites and light grays are your preference, then you might go with an option like Clare Paint's Whipped and Timeless for that very subtle, light look, but if you want to go more dramatic, then any of their grays are magnificent."
If you plan on color washing your entire home or at least a large part of your space (say, your living room, for example), a more nuanced shade might be best, according to Xaykao. Light neutrals allow for more room for error when there's a lot of wall space to cover. You can also practice first, too, on a piece of drywall or even paper to get the hang of it should you want to use a less forgiving shade. For starters though, Xaykao recommends keeping the base color a basic white like Benjamin Moore's Chantilly Lace or White Dove then grabbing a color with just enough contrast from the white to make the effect look deliberate — rather than dirty. Her preferred accent colors range from light neutrals to grayed out shades, such as Benjamin Moore's Maritime White, Ballet White, Classic Gray, Fog Mist, and French Canvas.
Regardless, you'll need at least two shades to wash your walls with, but don't feel the need to limit yourself to just that, if you'd like a really dimensional look. First, pick a color that you'll use to paint a base coat onto your wall; it's best to stick to a semi-gloss or satin here to start building the glaze finish you'll be creating with your top coat. Next, pick a hue that's around two shades lighter than your base color in an eggshell finish. Using a single paint chip color card or strip can take the guesswork out of finding two hues that will work together seamlessly, but you can always experiment with sample pots first to be sure. Once you've selected your colors, it's all about getting the paint up on the walls.
How to color wash at home
Color washing can be a messy process, so cover your floors and tape off all the surfaces you don't want paint to touch, as well as prep and prime your walls the same way you would for any paint job. Paint your base color on as evenly as possible and let that dry for at least 48 hours. Now you're ready to color wash! First, thin your topcoat/second color out with a glaze product, which will give you more time to work with the paint and provide some extra sheen to add even more depth to your finished look. A good starting ratio for this coat is four parts glaze to one part paint. You can also add one-half or one part water to thin out your mixture even more. The more glaze in your mixture, the more transparent the effect will be.
Next comes the fun part: Grab a brush, dip it into your glaze mixture, and begin making large, x-shaped strokes on your wall. You want to load your brush, but make sure it's not holding so much paint that it drips before making contact with the wall. Don't worry about your strokes looking too defined; bare patches and bristle marks at this point are a-okay, too.
Once your surface is fully covered, you can either use a clean brush, a sponge, or a rag to buff out any harsher markings or bald spots, working while this layer of your glaze paint mixture is still wet. According to Mike Mundwiller, end user product experience manager at Benjamin Moore, a soft cloth will help give the glaze a more subtle look, while a dry brush or dipped sponge will provide extra texture. Regardless of your instrument, dab and swipe around until you've achieved a blend that you like, and voilà! You now have color washed walls that are just crying out for a large vase of pampas grass or a bust-topped pedestal to complement them.
Maybe that's the best part of color washing: Not only is this paint treatment a bit easier than limewashing, but it also works in many different settings, from boho style spaces to more classic, traditional-leaning rooms. Try it anywhere you want a little visual interest, warmth, and charm on the cheap.