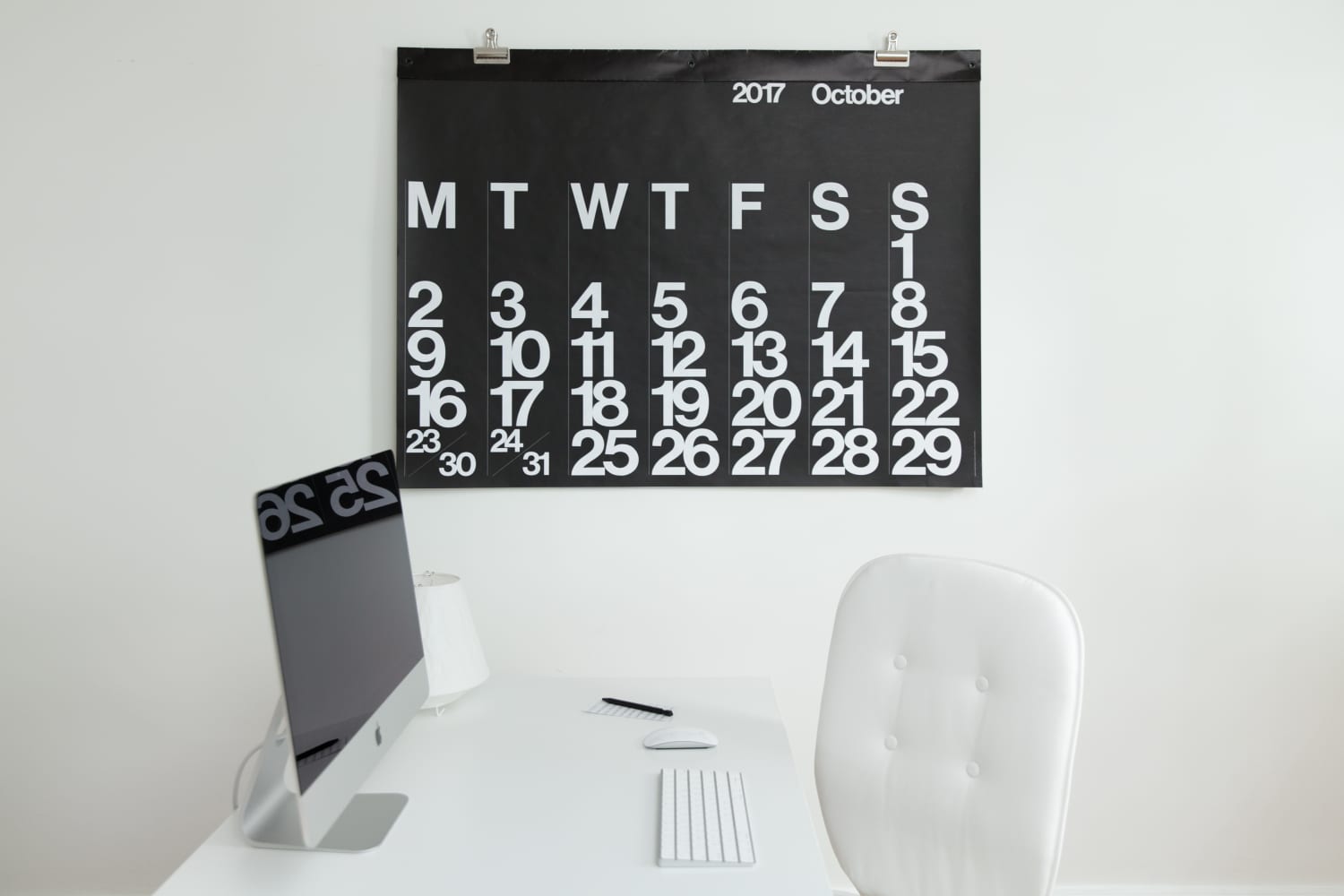 If you've been lucky enough to simply stroll to your "office" from your bedroom each morning for any part of the past few years, the idea of returning to a morning commute can be panic-inducing for just about anyone, morning people included.
Whether you have already returned to your office, are preparing to head back, or were never able to work from home, there is a lot of uncertainty and anxiety surrounding a shift back towards physical workplaces after many Americans spent almost two years working remotely due to the COVID-19 pandemic. (According to MarketWatch, as many as 35 percent of the American workforce switched to working from home in the early days of the pandemic; that number has since diminished to around 14 percent.) And while any change in routine is bound to cause some level of stress, pandemic or not, worries about safety and health are top of mind for many.
Given the rise in COVID-19 variants and ever-changing Centers for Disease Control and Prevention (CDC) guidelines for masks and other COVID-19 precautions, it's hard to feel truly safe, even with plenty of precautions. And, for people with children who aren't able to yet be vaccinated, or who live with someone who is immunocompromised, stress may be extra heightened.
If your boss is insisting that you come back into the office and you're still feeling unsafe, these tips from medical professionals and therapists can help you navigate your own situation with more clarity and peace of mind.
When it comes down to it, your health is the most important thing to consider when it comes to a pandemic. As such, making sure you're following proper safety protocols is imperative, both for yourself and for others. That includes practicing good hand hygiene, social distancing, and wearing a mask. However, with a now readily-available vaccine, there has been some confusion about what still applies, and to whom.
"The most recent CDC recommendations are for masks to be worn indoors, even if you are fully vaccinated, if you are in areas of substantial or high transmission," Dr. Vivek Cherian, an internal medicine physician affiliated with the University of Maryland Health System, tells Apartment Therapy. This recommendation is based on the surge in the Delta variant.
"It seemed for a while that safety precautions were being lifted, particularly if you were fully vaccinated, but the Delta variant is quite contagious, and breakthrough infections have been shown to occur as well," Dr. Cherian adds.
When it comes down to it, the original strategies put in place since March 2020 are still just as effective now as they were back then. "Remember, this virus is transmitted primarily via respiratory droplets. The tried and true mitigation strategies we've been using for well over a year now continue to apply," Dr. Cherian says. This means wearing a mask and socially distancing when possible — and now, getting the vaccine if it is available to you.
Make sure your employer follows safety protocols.
Ensuring your workplace is also on-board with taking care of its employees (and not just engaging in "hygiene theater") will be important to pay attention to as well. Plexiglas barriers and other dividers can offer a false sense of security, and may actually lower people's vigilance when it comes to following proper health protocol.
"Interestingly, there is no evidence or even one single study that supports that Plexiglas barriers are effective," Dr. Cherian explains, adding that they "frankly only function in creating a false sense of security."
Ensuring everyone at the office wears a mask, keeping workspaces distanced, and enhancing the room's ventilation are steps your employer can take to keep everyone healthy. Your employer may also ask people for proof of vaccination before they are allowed back in a building, so ask your human resources contact for more information about the steps the company is taking.
When it comes down to safety practices your company should be adhering to, Dr. Cherian recommends that someone from HR or upper management regularly remind employees of the symptoms of COVID-19 and regular testing. "Testing requirements will vary from business to business because there are many variables in place," he explains. "Variables include whether or not individuals are vaccinated and level of transmission and prevalence in your particular community."
Most importantly, though, your office should encourage workers to stay home if they're feeling sick to avoid potentially infecting others, whether their symptoms point to COVID or a common cold. "You're not being a hero by toughing it out and going into work, potentially exposing others in the workplace," Dr. Cherian says.
Be clear, direct, and honest with management.
If you are feeling worried about returning to the workplace, be open about your concerns. "Speak up. The Delta variant has completely changed the game in how we are responding to the pandemic," Dr. Cherian says.
HR pros recommend talking to your direct manager first, giving them the opportunity to address your concerns and answer any questions you may have about everything from safety protocols to support for employees who are nervous to return to the office. Before your meeting, prepare a list of questions ahead of time and clearly outline the ultimate goals of the discussion so you can keep the conversation productive.
"Get your goal really defined," Stephanie Brubaker, a licensed master social worker based in Ann Arbor, Michigan, recommends. "If your goal is to change something about your role, or how things are being approached by your boss in your workplace, knowing exactly what you're asking for is the first step."
Some changes could include asking clients to wear masks or not meeting with new clients at all if you're unaware of their vaccination status. Of course, what you will need to feel safe and supported will be based on your specific scenarios and work environment.
If you schedule a meeting with your boss, and they are unable (or unwilling) to help, that is your sign it's time to move the conversation to your HR department.
Acknowledge (and accept) feelings of anxiety.
You're living through uncertain, turbulent times, and some level of anxiety is absolutely normal, considering the circumstances. "Anxiety often fits the facts (especially during a pandemic that shut down most of the world) so it is valuable to remind ourselves that feeling anxious, even those heavier feelings of existential dread, are normal parts of being human!" Brubaker stresses.
Dr. Cherian agrees. "Having a sense of anxiety is completely understandable and reasonable," he says. "We're still in the midst of a pandemic that has killed over half a million people in this country, maybe even a friend or a loved one."
Cope with uncertainty in healthy ways.
However normal anxiety may be given the current situation, there comes a point when anxious thoughts can become overwhelming and leave you feeling frozen and stuck. This is when coping strategies come in handy.
"Know your vulnerability factors," Brubaker advises. Being mindful of stimuli that may jazz you up, such as coffee or stressful TV, will be helpful in mitigating the tough feelings you're experiencing. "It's not to say these things [stimuli] are always unhealthy, but when we're coping with anxiety, being extra mindful of them really does help," Brubaker says.
Additionally, being aware of unhelpful thought patterns can help you begin to reroute them. "Try not to get into the cycle of arguing with your own fears or telling yourself how unreasonable they are," Brubaker says. Try to avoid giving worries too much weight; instead, simply observe the anxiety and then find ways to self-soothe. Brubaker recommends paced breathing, counting down, or listening to "something engaging but non-disruptive" as good ways to start.
Despite not knowing what the next year, let alone the next week, will bring in regards to COVID-19, focusing on what you can control (and letting go of what you can't) can help bring you back to earth. Being honest with yourself, your workplace, and your loved ones will also be helpful in navigating this new normal.