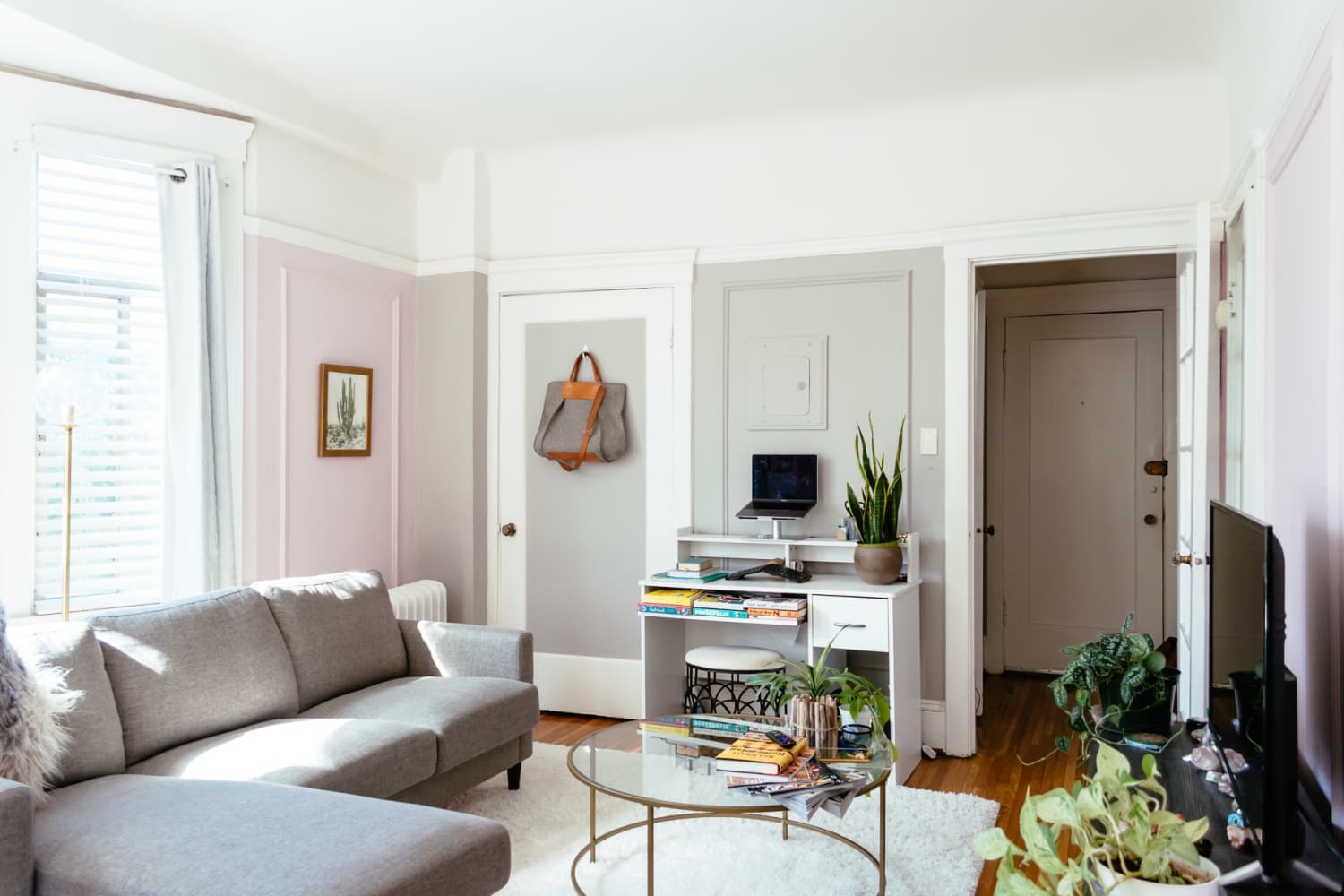 When I was in college, I repurposed a big, beautiful blue antique steamer trunk as my coffee table. I loved that I could store extra blankets and pillows inside it to free up space in my apartment. What I didn't love is that the steamer trunk, when put into my sunroom, dominated the smaller space. It was difficult to see anything other than the trunk when you walked in.
Many of you, I'm sure, share that same problem: a table that seems outsized for a tiny room. If you want to maximize your space while keeping a table in there, take the advice of home stagers and real estate agents and get a glass or acrylic-topped table.
"Most of the coffee tables we use when staging a home are with glass tops, or have an open storage component below," says Peter Riolo, a real estate broker with the Riolo Team at Compass in New York City. "We always want to suggest the living space is large, and visually, glass or acrylic top coffee tables show that there is space for the coffee table without taking up much space. There is also a reflective quality to a glass top table, which shines with the sunlight and illuminates the surroundings."
Clear tables give the illusion of more square footage. "They have the ability to open up the space because of their airy and transparent appearance — allowing you to see the flooring so the room appears more spacious than with a solid surface coffee table that cuts out some of the visual floor space," explain Amy Monroe and Katie Knitter with interior staging and styling service Becoming Home.
The seating is up to you — a few comfortable chairs around a smaller table, for example, will look cozy and inviting — but just remember not to overwhelm your space with it. You've finally opened up the room with an airy and breezy alternative, so try to keep it feeling that way.
As for styling the table itself, go minimal, but definitely add a little something, says Caterina Francisca, owner of staging and interior design company Caterina Francisca Design. Try to bring in some bright hues with whatever you use.
"We always make sure to include a great, colorful coffee table book and a nice arrangement of flowers in a simple vase, so that the glass top table does not look hollow, or like a totally empty space," she says.
And don't put a tablecloth or runner over it — the point of the glass table is to make the room feel airy and more spacious, and if you cover it up with cloth, you're negating that effect.
As for what size and style table to get, that's really going to depend on the size of your room and what you think looks best with everything else you have in the space. But, according to Francisca, there's typically a default to one particular shape.
"The size, dimensions, and shape are all determined based on the room and the rest of the furniture, but I would say that most of the time we wind up using a round coffee table," she says.
Monroe and Knitter, meanwhile, recommend a coffee table that is at least 36 inches in diameter. They "fit nicely into most furniture groupings and room sizes," they say. "That size feels substantial enough to ground a surrounding furniture grouping."