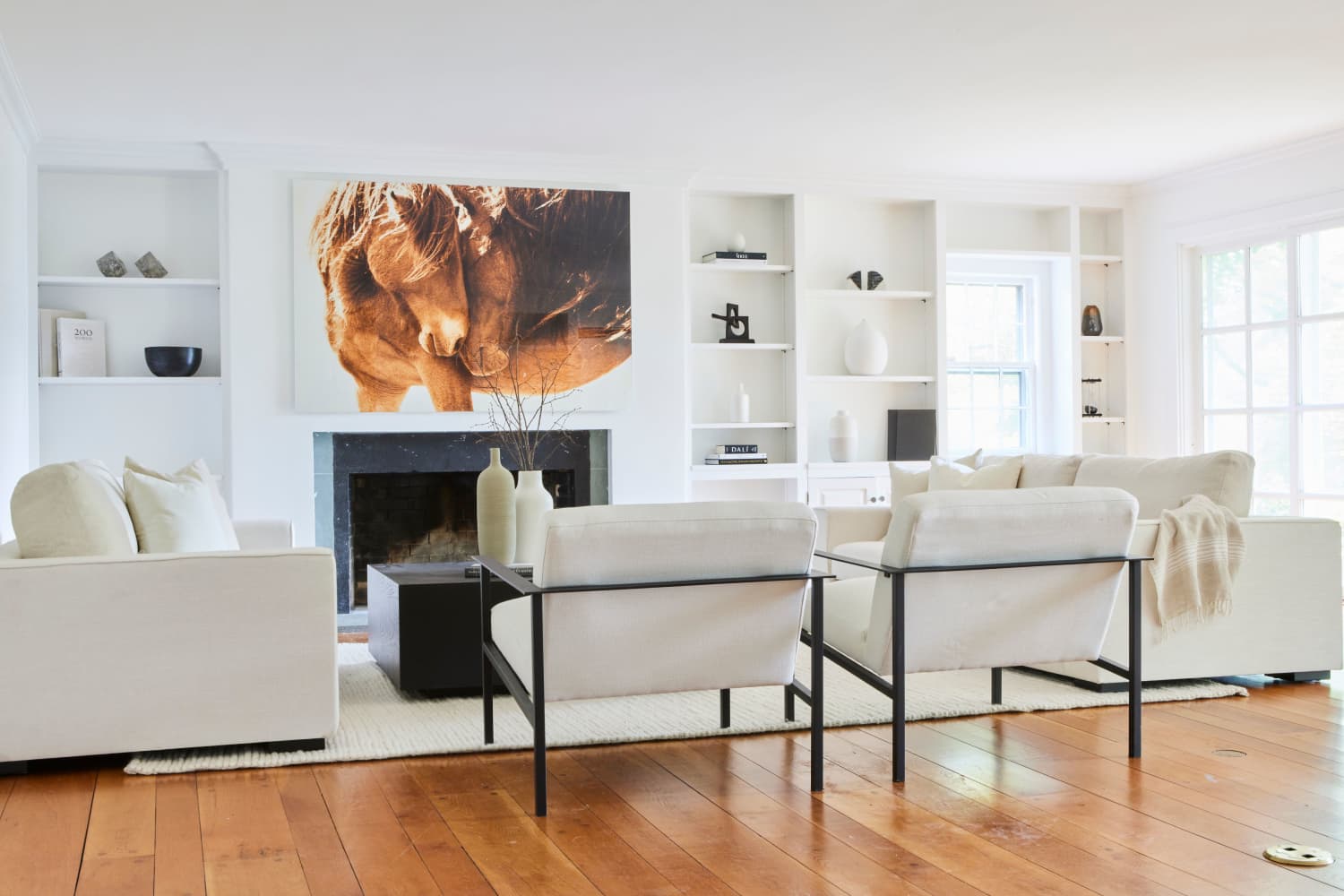 House hunting is a truly wild ordeal. Let's start at the top: You're (in many cases) talking about spending your life savings on a piece of property, so there's just no way it's not going to be stressful. You're invasively walking through people's homes, rifling through their things, and judging their various choices. Add in a global pandemic, where you basically have to act like a shark at feeding time if you even want a chance at scoring a property, and that's the situation my husband and I found ourselves in less than a year ago.
Having spent ten years in New York City, nearly every home was four times larger than anything we were used to, so we were immediately wooed by the square footage. That's where the fantasy stopped though; so many of the places we toured needed serious help aesthetically. While it's true that you're buying someone's shell of a home and not their decor style, it's so easy for the two to impact one another. One home we walked into was so filled to the brim with cat collectibles that we could barely move, and another had a carpet and wall of built-ins so destroyed by the residing pups that you couldn't walk into the space. Needless to say, both of those homes did not make the cut.
After a series of unfortunate first impressions, we walked into an immaculately styled home where every detail was thoughtfully considered. The furniture was proportional to the space; the coffee bar was stocked; there were fresh flowers on the table — it felt lived-in but in a way that made you want to picture your life there. While we didn't end up making an offer on that house, the impact of the staging made a lasting impression on me. Not only does staging make a huge difference when looking to sell your home, but with its practice also comes with sneaky takeaway tips to utilize when decorating — though, make no mistake about, they're definitely not the same thing.
"The number one difference between design and staging is the intention," says Leia Ward, founder of luxury staging design firm LTW Design. "Design is intended to reflect the style of the homeowner and is completely subjective. On the other hand, staging is objective and intended to highlight architectural focal points of the home (among other selling points) and create a lifestyle experience in order for buyers to emotionally attach and make an offer. The priorities are very different."
That being said, many of Ward's best staging tips also make pretty good decorating ideas. I went through the main rooms in a hypothetical home with her, getting her strategies along with the underlying takeaway decor principle behind them, which can help you make the most of any space you come to call "home sweet home."
Kitchens are the heart of the home and often can be a huge deciding factor for prospective buyers. While the finishes (see also: appliances, countertops, and layout) are paramount, Ward emphasizes the importance of adding life to the space, turning to large displays of greenery (often tall branches with leaves) to add freshness without taking away from the necessary features house hunters are truly there to see.
When it comes to decorating your own kitchen, Ward suggests treating the countertops just like you would any other surface in your home. "Even if it's not functional, decorating the kitchen is important, and we like to style surfaces there just as we would a coffee or console table," she says. "Create a little vignette by adding a framed piece of art against the backsplash with two coffee table books and a vase." Don't forget fresh flowers or greenery either; a little bit of life can warm up an otherwise sterile looking kitchen, whether you're looking to sell or in your forever home. You don't have to go over-the-top here, but if you do have high ceilings, for example, why not choose a few dramatic, tall branches?
Perhaps the biggest difference between staging for buying and decorating for living can be seen in the living room layout, according to Ward. "In real life, it's functional to have the sofa facing the TV, so if you're designing for yourself, make the most of the space for day-to-day livability," she says. "However, when staging, the layout must allow for an unobstructed flow, which usually means the sofa is perpendicular to the fireplace or TV so buyers don't have to walk around it to see the focal point. We want to use less furniture to create negative spaces, which make rooms feel bigger and show off more square footage."
Ward also removes any extra clutter and personal photos, encouraging clients to think of it like turning your home into a 5-star hotel. "Nobody wants to go into a hotel room and see a personal item left from the previous guest, right?" she says. "Same concept! Buyers want to walk through your home and envision it as theirs."
The upshot here? Choose a layout that works for the way you regularly interact in your space, and don't worry if your coffee table has remotes, coasters, and magazines on it. Just maybe add a tray or basket to corral said items, so they look a little bit more organized and in their proper places. Could you benefit from losing a chair or an extra side table though, putting to use Ward's staging prerogative on flow? Negative space is never a bad thing, even in a lived-in home.
The powder room or half-bath is one of the few places where Ward's design and staging ethos meet. "My biggest suggestion for your powder room is actually the same whether you're staging it for sale or trying to warm it up for yourself: Add live greenery!" she says. "It's the nicest surprise and is so refreshing when you see live flowers or tall branches with leaves in a bathroom."
The bedroom is another personal space buyers are going to want to "see" themselves in, so Ward cautions against a palette that is too bright or attention-grabbing when staging your home for sale. "For staging, it's all about creating a sanctuary for potential buyers — especially in a primary bedroom," she explains. "Soft neutrals and layered textures (think: cashmere throws, bouclé pillows, linen sheets) will do the job."
When it comes to decorating a bedroom for yourself though, Ward encourages all the cozies mentioned above but with a personality-packed twist unique to your style and a playful outlook on color, pattern, and texture. "When decorating your primary bedroom, go bold and use wallpaper — we especially love a solid textured wallpaper," she says.
If there's one thing most homeowners have on their wishlist when house hunting these days, it's a home office. In fact, the folks behind Rocket Homes reported almost a 17 percent increase in listings mentioning a home office between March and July of 2020, and that trend is only set to explode with the increase in telecommuting. The solution? A design that melds functionality and decor into one serene space — plus, an added dose of organization if you're actually living there.
"When staging an office, it's all about showing the buyer how they want to live — a neat, clean office without desk drawers or clutter tells buyers, 'If you buy this house, you'll live like this,'" says Ward, who shares that she stages offices with small-scale dining tables instead of true desks to cut down on visual clutter, which is a great tip if you like a more streamlined look yourself and can invest in other methods of storage. In fact, for a functional office space you can actually live and work in, Ward absolutely emphasizes the need for appealing organizational solutions. "Style the office with bold accessories that are functional for organization," she suggests. "Don't just buy any old pencil cup holder or paper tray. Use that item to make a statement, whether it's with a concrete, marble, or leather texture."