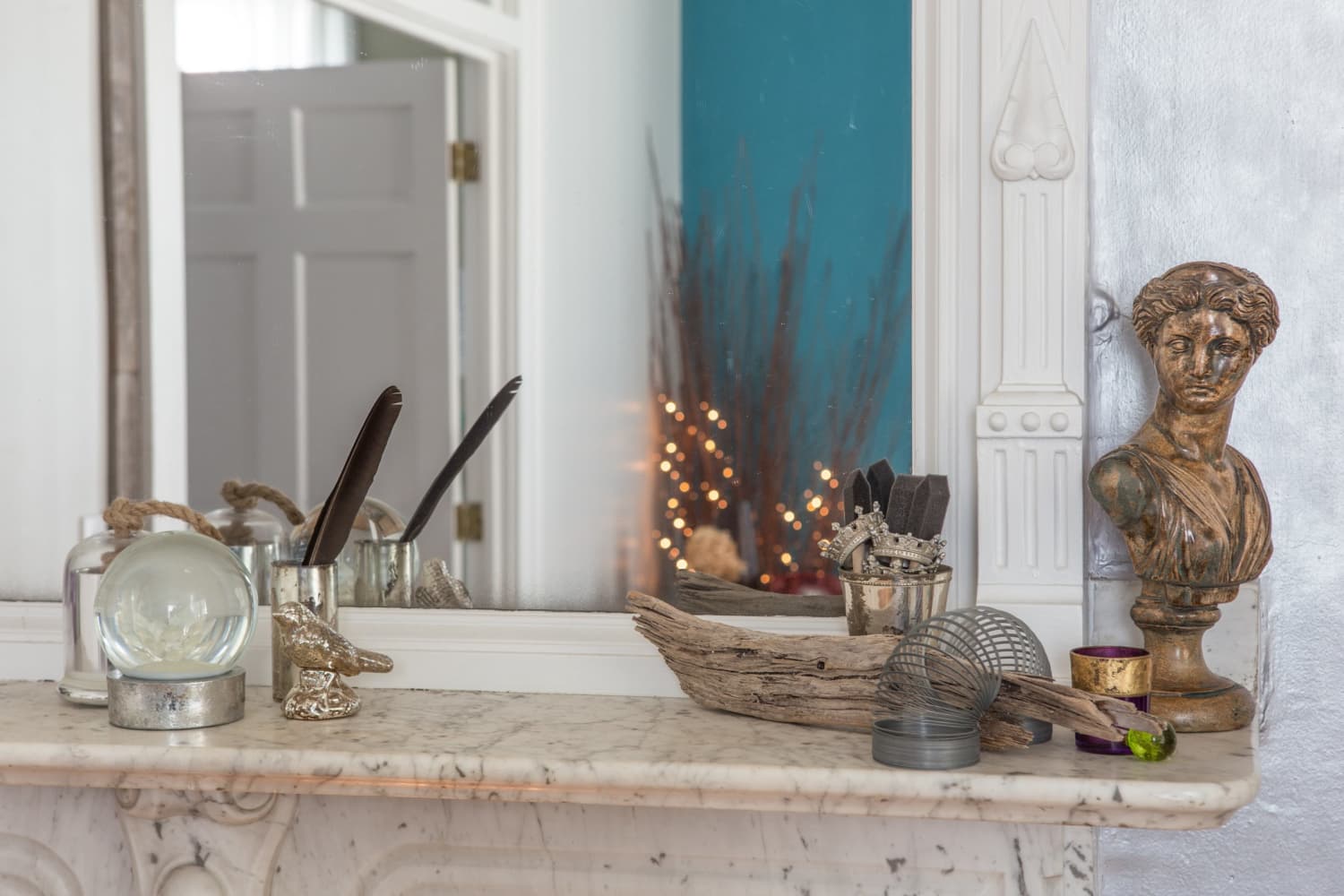 We independently select these products—if you buy from one of our links, we may earn a commission.
You've probably noticed classic design elements like arches and columns popping up in homes a lot over the past few years. But another, way more low-key, ancient Greek and Roman design is equally popular: the bust. Whether styled out on a mantel, pedestal, shelf, or table, these sculptures bring a little personality to whatever spot you put them in. What's especially good about this old-is-new-again trend is that you can get in on it for pennies: you can score older finds at vintage and antique shops, or pick one up from someplace like H&M or Zara Home.
If you got in on the trend in the past year and want to freshen it up by making it both fun and functional, check out what photographer and home design enthusiast Erin Derby did to the one in her home (seen below). She scored a bust on the cheap and then gave it a bit of a makeover with Plutonium Quick Dry Spray Paint just to freshen it up before turning it into a quirky jewelry organizer.
To mimic the look, you can choose any color of paint you like; I've been seeing bold blues, hot pinks, and even lime greens updating the typical white, light gray, and bronzy finishes busts have historically been made in. You can even try adding metallic gold or silver accents with foil or paint as well. The key is cleaning your bust first to ensure proper adhesion of pigment, says Derby, and then looking for a fast-drying formula, which prevents dust in the air from sticking to your project.
As part of her sprucing-up effort, Derby also recommends adding felt to the bottom of your bust, which can prevent scratching on the surface of the furniture that you place the bust on. Use a glue gun or Elmer's to stick your felt to the bust, making sure you cut a piece that's large enough to cover the entire bottom.
Then comes the truly fun part: Turning your piece into an even more artful display with necklaces and accessories! "Try different textures and lengths of necklaces to add visual interest," recommends Derby. "You could even throw some sunglasses on it, bust shape permitting." There you have it: A classic piece with a contemporary twist that keeps your favorite baubles on display and at the ready to wear.